Cajun Andouille Sausage & Vegetable Stew
A nearly wordless Wednesday post …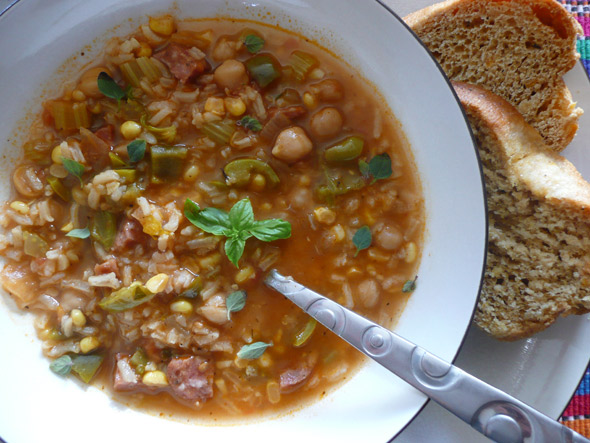 "Do you have a kinder, more adaptable friend in the food world than soup? Who soothes you when you are ill? Who refuses to leave you when you are impoverished and stretches its resources to give a hearty sustenance and cheer? Who warms you in the winter and cools you in the summer? Yet who also is capable of doing honor to your richest table and impressing your most demanding guests? Soup does its loyal best, no matter what undignified conditions are imposed upon it. You don't catch steak hanging around when you're poor and sick, do you?"
~  Judith Martin (Miss Manners)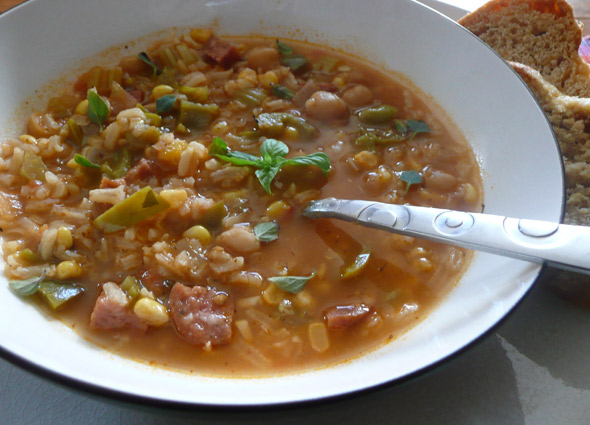 Cajun Andouille Sausage & Vegetable Stew
A hearty, healthy, and spicy soup to warm your bones
1 – 2 teaspoons olive oil
1 cup chopped red onion
7 cloves garlic, peeled & chopped
2 stalks of celery, chopped (about 2/3 cup chopped), with leaves removed and set aside
1 bay leaf
1 1/2 cups canned tomatoes in juices, with the tomatoes chopped into small bits
1 cup chopped bell pepper
1 cup sweet corn (frozen, thawed)
1 cup chickpeas (or other beans)
1 Tablespoon finely chopped jalapeno (optional–add more or less depending on how spicy you want your soup)
1 Tablespoon cajun seasoning (more or less to taste)
2 cups beef broth
1 cup chopped Andouille sausage
1/2 cup uncooked jasmine rice (or basmati or whatever kind you prefer)
1 cup water (or more to get the desired "soupiness")
About 1 tablespoon fresh oregano leaves
About 2 tablespoons fresh basil leaves
Salt & freshly ground pepper to taste
Directions:
Chop the vegies, removing the leaves from the celery and setting them aside for later.
Heat a medium saucepan over medium high heat. Add the olive oil, garlic, onion, and celery and sautee until the onion is soft and translucent.
Add tomato, bay leaf, bell pepper, corn, chickpeas, jalapeno, cajun seasoning, broth, sausage, rice and water.
Bring to a boil, then reduce heat to simmer the soup for about 20 minutes or until the rice is tender.
Right before serving, chop the basil and celery leaves and add the herbs and celery leaves to the soup. Garnish with fresh basil and/or oregano leaves as desired.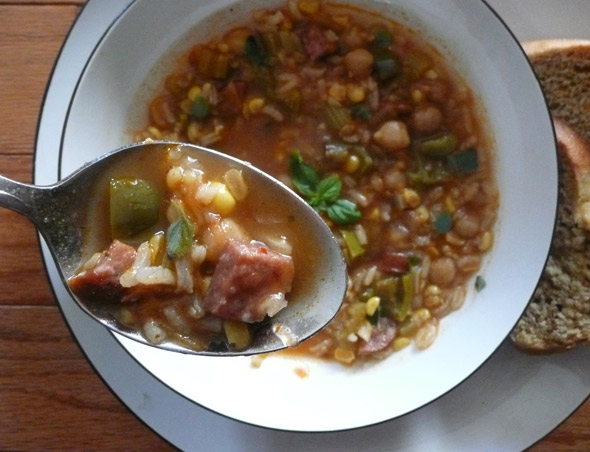 This recipe was shared at Tastetastic Thursdays, It's a Keeper Thursdays, Fit and Fabulous Fridays, Weekend Potluck, and Everyday Mom's Meals.