Chipotle Black Bean Quesadillas with Avocado Cream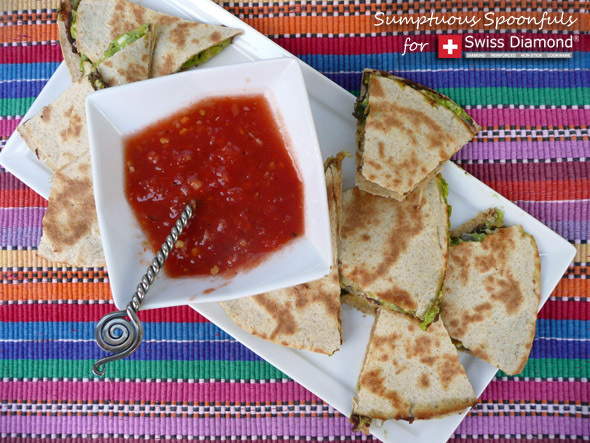 I have some exciting news for you! Well, it's exciting to me, anyway, and I hope you find it exciting too … Sumptuous Spoonfuls is teaming up with Swiss Diamond International. I will be crafting some recipes for Swiss Diamond International using their cookware. They are not paying me to do this, but they are giving me samples of their cookware to use in developing their recipes.
I was really excited when Swiss Diamond International contacted me, and even more excited after I read about their cookware.  I was intrigued by the use of diamonds in cookware. This is from Swiss Diamond's web site:
Diamonds are durable – As the hardest material known to man, diamonds give the coating additional strength and resilience.
Diamonds are a better heat conductor than metal – Four times more conductive than copper, diamonds create even heat distribution across the pan's surface. Diamonds also allow the pan to brown food like stainless steel, creating a "fond" that can be used for gravy – or easily washed away with warm soapy water.
Diamonds are naturally nonstick – One of the most valuable properties of diamonds in a nonstick coating is that very little sticks to them. Coupled with their durability, this creates a lifetime of superior performance.
So I was curious to see if it really works … and I have to say I absolutely love these pans! They cook like a dream … the heat distributes across the pan so well. The food cooks faster and so evenly. And nothing sticks to the pan … with no cooking spray or butter. I tried some of the stickiest, most difficult things (like fried rice) and nothing stuck. And they're so easy to clean too. (By the way, while Swiss Diamond did give me the pans, they did not pay me to say that … this is my honest experience.) I'm curious to see how well they retain that magic nonstick surface … I guess time will tell.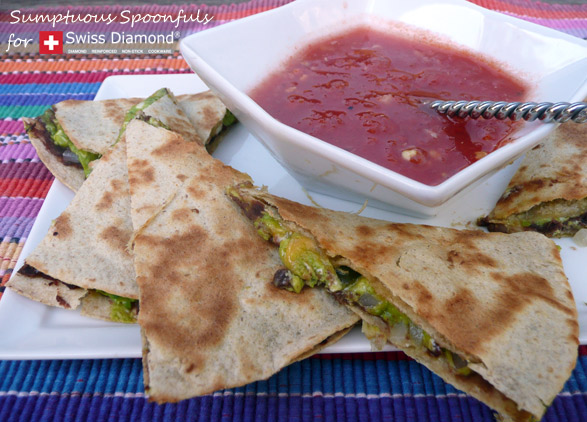 For this recipe, I used the crepe/omelet pan. This little pan is by far my favorite so far. It has a low lip so that it's easy to flip crepes, omelets, and pancakes. (Even the IHOP-style pancakes that have always been a struggle for me to flip … I found I can even make giant  pancakes – bigger than IHOP's! – in this pan and they cook and flip SO nicely.) Anyway, I was craving a quesadilla the other day and thought this pan would be perfect for that. I wanted to try making it without any oil or cooking spray and see if the tortilla got properly crisped and browned on both sides. And you know what? It did.
You don't have to have a crepe / omelet pan to make these quesadillas … any frying pan will do. But it sure makes cooking a pleasure.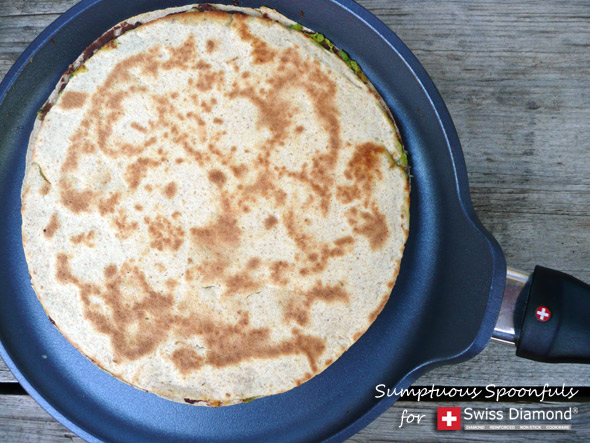 Chipotle Black Bean Quesadilla with Avocado Cream
For each quesadilla:
1/2 of a ripe avocado
1 oz. light cream cheese
1 Tablespoon finely chopped onion
1 clove of garlic, peeled and chopped fine
juice from 1/4 – 1/2 of a fresh lime
1 – 2 teaspoons plain nonfat yogurt (optional)
2 tortillas that fit the size of your pan. I used some whole wheat "wraps" that were a little smaller than my crepe pan.
Refried black beans (homemade or canned)
About a Tablespoon of finely chopped onion
About a Tablespoon of finely chopped chipotle pepper (a jalapeno roasted on the grill would also work)
About 1/2 oz. of finely shredded extra sharp cheddar cheese
For serving: your favorite salsa. A fire-roasted salsa is especially nice with this quesadilla!
Directions:
First, make the Avocado cream by mashing the avocado in a bowl, then mash in the cream cheese, onion, garlic and lime juice and stir until everything is mixed well and the mixture is fairly smooth. Add a teaspoon or two of plain nonfat yogurt if you like to get it to a nice spreadable consistency.
Take one tortilla and spread it with a layer of refried black beans, then spread on a layer of avocado cream. Sprinkle the onion and chipotle pepper over, then sprinkle evenly with the shredded cheddar and top it all off with the 2nd tortilla.
Heat your pan over medium heat. If your pan needs it, spray the pan with cooking spray, then slide the quesadilla into the pan. Cook for about 3 minutes, then check to see if the bottom is nicely browned and crisp. Once it's brown, flip the quesadilla over with a spatula and cook until it's brown on the other side and the cheese is melted. (The bottom half is crisp by now so the quesadilla is fairly easy to flip, but if you are making a large quesadilla, you may need to slide the quesadilla onto a cutting board and then flip it over back into the pan.)
Slide the quesadilla onto a cutting board, cut into wedges, and serve with the salsa.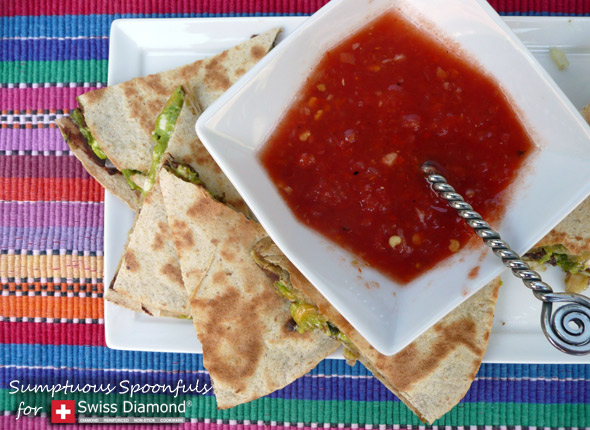 This recipe was shared at Show & Share Wednesday, Cast Party Wednesday, Thursday's Treasures, Gala Dinner Party, Fit & Fabulous Fridays, Friday Food Fight, Weekend Potluck, Melt in your Mouth Monday, Tasty Tuesday, Katherine Martinelli's Avocado Bloghop and Newlyweds Recipe Linky.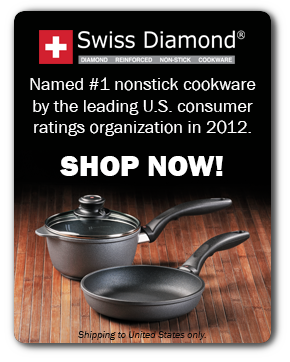 Purchasing Swiss Diamond Cookware through this link helps support this blog. Thank you!