Chocolate, Fruit & Nut Energy Bytes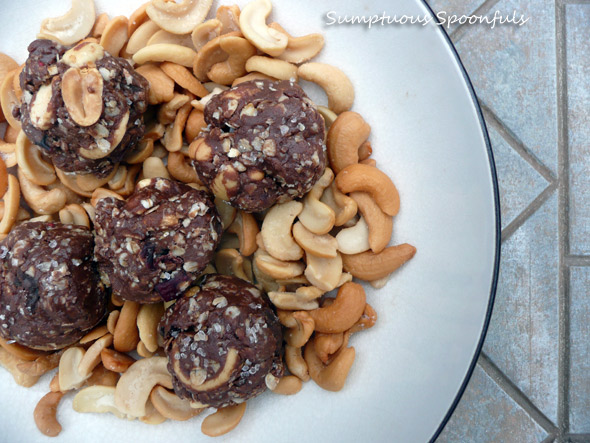 Chocolate craving! Time for something chocolatey good. With nuts. Yes LOTS of nuts. Oh and some peanut butter. Dried fruit in there … ah yes. And to add a little bit more healthy yumminess, some oats.
Roll it all into a little ball and what do you have? A quick, healthy snack. Not one you want to eat a LOT of at one sitting because they are a bit calorific, but something you can grab on the go when you need a little energy, especially before or after a good workout. An energy byte! (Terrible geeky pun intended.)
I like to eat one of these for a bit of dessert after a good meal, or when I am running out the door and need something fast to grab for a quick bit of energy. Or when you need a quick chocolate fix, but you don't want to totally destroy your healthy eating plan. A little bit of chocolate and a few nuts every day are very good for your health.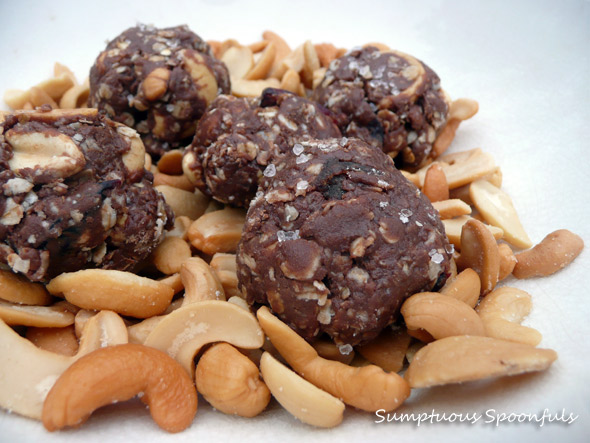 Chocolate, Fruit & Nut Energy Bytes
You could use a good quality dark chocolate in place of the almond bark and cocoa powder. I just didn't have enough on hand, so I decided to make my own "chocolate"!
2 squares of almond bark (or white chocolate)
4 Tablespoons dark cocoa powder
3 Tablespoons of Chocolate PB2 powder
1/2 teaspoon vanilla
1/4 cup peanut butter
1 cup quick-cooking oats
2/3 cup nuts (I used a mix of peanuts and cashews)
1/2 cup dried cranberries
1/2 cup dried apricots, chopped into bits
Coarse sea salt
Directions:
Melt the almond bark in a medium mixing bowl in the microwave by microwaving on high for 1 minute, stir, microwave for 30 seconds, stir again, keep microwaving for 30 seconds/stirring until the white almond bark is completely melted.
Stir in the dark cocoa powder, PB2 powder, vanilla and peanut butter and stir until the mixture is smooth and creamy.
Stir in the oats, nuts, cranberries and apricot bits until everything is coated in chocolate. Form the mixture into balls and set on a tray. Sprinkle the bytes with a bit of coarse sea salt.
Set it in the fridge until the chocolate is set, then transfer to a covered storage container. You can store these at room temperature or in the fridge, as you prefer. I like to eat them at room temperature so I'm not bothering to refrigerate mine. They aren't going to last that long anyway!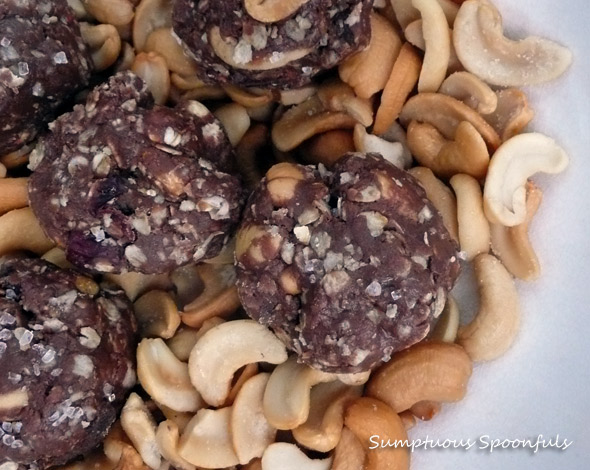 This recipe was shared at Katherine Martinelli's Nut Bloghop, Share it Saturday, Lunch Box Linky and Scrumptious Sunday.