Copycat Nebraska Runzas
Guided by tips from here, the Runza web site and bunches of other posts …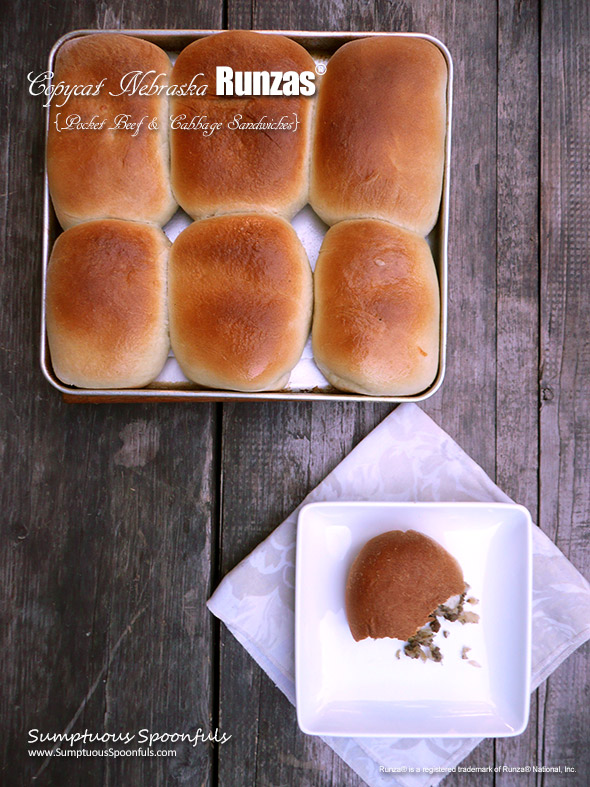 Nebraska is a nearby state. There's a thing in Nebraska that I never quite understood … well, okay, there are a couple things in Nebraska that I don't really get. First of all, they're really really really serious about their football. I don't get football. Never have … and most likely, never will. So people that are completely fanatical about their football sort of baffle me. Nebraskans are like that.
The second puzzle about Nebraska that I didn't really get until I tried making them … is Runza®. I saw the Runza restaurants when we visited Nebraska and I kinda wondered what that was all about. I had no idea what a phenomenon they are in Nebraska. Do a quick Google search for Runza recipes and you will see what I mean. Nebraska people are so crazy SERIOUS about their Runzas!
So yeah, THIS is something I can relate to. It was just pure luck that a couple friends from my cooking class requested we make Runzas at our next class. I had never tasted a Runza, let alone try to make them, but I remembered seeing them on my visits to Nebraska. I spent a lot of time over the past couple months reading various posts about Runzas and studying their web site. It all sounded very do-able, since my daughter and I have mastered Beef Piroshki … how hard could Runzas be? Yeah, you know what? Runzas take some time to make, but they really aren't that hard, especially if you have a bread machine or stand mixer in your kitchen to help you out with the kneading.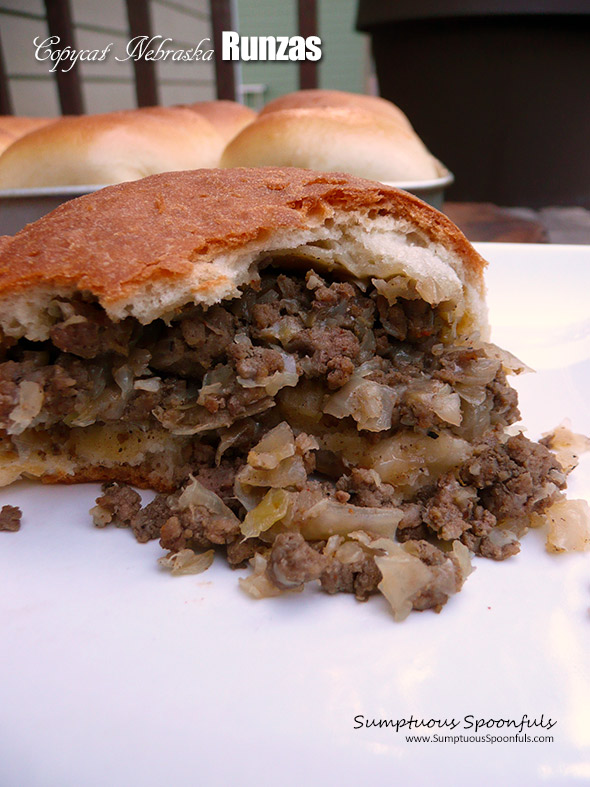 My recipe instructions might LOOK a little long, but I wanted to give you enough information to help you succeed, so please don't be intimidated. Homemade Runzas are superbly delicious and SO worth the effort! I can totally see why people get a little fanatical about them. For my cooking class, I had the dough all made and rolled out and the beef/cabbage filling cooked up and nice and warm, then I offered lots of fun toppings that people could put in their Runzas, like sauteed mushrooms, sauteed sweet peppers and onions, crumbled bacon, salsa, jalapenos, pepperoni, several types of cheese, and sauces, lots of sauces. I had my Japanese Yum Yum sauce, Bacon ranch dressing, Sriracha ranch dressing, some barbecue sauce and marinara too. They went wild personalizing their Runzas and had so much fun. I gave each of them a little piece of dough on the side so that they could do something to help identify their own personal Runza. There were lots of initials, a heart, a star and one person even did a little teddy bear! It was adorable … and so much fun.
By the way, you can refrigerate or freeze your Runzas and they warm up beautifully. While nothing can quite compare to the amazing taste and scent of a Runza fresh from the oven, they are still very good re-heated.
Oh, also, make sure you scroll down aaaaaaaalll the way to the end of this post. I've got a whole bunch of topping ideas to personalize your Runzas and make them super special and extra delicious.
Ingredients
For the dough:

3 1/2 cups bread flour
1 cup whole wheat flour
1/4 cup sugar
1 Tablespoon dry active yeast
1 teaspoon salt
1 cup milk
2 Tablespoons water
1/4 cup melted butter
2 large eggs

For the filling:

2 - 4 cloves garlic, peeled
1 large sweet onion, peeled and chopped into large chunks
1 1/3 lb. lean grass-fed ground beef
1/2 of a medium cabbage, cut into chunks
1/2 teaspoon onion powder
1/2 teaspoon granulated garlic
1/2 - 1 teaspoon ground white pepper
Red Robin Seasoning (or salt), Trader Joe's 21 Seasoning Salute (or Mrs. Dash) & freshly ground pepper, to taste
Instructions
Put the bread dough ingredients into a bread machine and set it on the dough setting. Press the start button. Check in a few minutes in to see if the dough is forming into a ball. If not, add a bit more water or if it is too sticky, add a little more flour.
While the bread dough is forming, make the filling: put the garlic and onions in your food processor and pulse to chop into little bits. Remove from the food processor and add the cabbage. Pulse to chop the cabbage well.
Heat a medium saute pan or wok over medium heat. Add the garlic, onion and ground beef and cook, chopping the meat frequently with a rubber spatula, until the meat is all browned. While cooking, season the meat generously, tasting as you go.
Add the onion powder, garlic power and white pepper and stir to mix. Stir in the chopped cabbage and continue cooking uncovered for about 10 minutes, stirring frequently, then reduce heat to medium low, cover and cook for 20 - 30 minutes, stirring occasionally, until the cabbage is very, very tender and soft. Add seasonings until it tastes just a little too peppery.
When the dough is done, preheat the oven to 375 F. and spray a baking sheet with cooking spray. Separate the dough into 12 pieces. On a floured surface, roll each piece of dough as thin as possible without making holes or tearing (about 1/8 inch thick).
Dust a bowl with flour and put one of the rounds in the bowl, letting it go up the sides of the bowl a bit. Put 1/3 – 1/2 cup of filling in the middle, then pinch the dough up around the filling until it's sealed. When you flip it over, it should be a nice rounded rectangle shape.
Set each Runza seam side down on the prepared baking sheet. Repeat until all the Runzas are formed. Bake at 375 F. for 20 – 25 minutes or until the pockets are nicely browned on top. Spray the tops of the hot Runzas with cooking spray or brush with melted butter. Enjoy!
Notes
Runzas can be frozen or refrigerated and thawed then reheated in 350 oven for 5 – 10 minutes.
RECIPE SOURCE: http://www.sumptuousspoonfuls.com/
© Copyright 2017, Sumptuous Spoonfuls. All images & content are copyright protected. I love it when you share, but please do not use my images on your own site/page without prior permission. If you want to publish any of my images, please ask first. Sharing, pinning, and tweeting is always appreciated as long as the shares and pins link back to here for the recipe. If you want to republish this recipe as your own, please re-write the recipe in your own words or link back to this post for the recipe.
http://www.sumptuousspoonfuls.com/copycat-nebraska-runzas/
Copyright 2012 by Sumptuous Spoonfuls. Recipes are meant to be shared! Nothing makes me happier than to hear about someone who has tried one of my recipes. All I ask is that if you are going to share my recipe online, give me credit and a link. And if you want to use one of my photos, please ask first. You can contact me at http://www.SumptuousSpoonfuls.com/contact/

Runza Topping Ideas
Take any Runza, cut it open and add hot toppings and cheese. Set the top aside. Broil to melt the cheese then add any cold toppings and/or sauce and replace the top.
From the Runza Menu:
Cheese Runza – Just add American cheese. Or mix it up by trying different cheeses like cheddar or smoked gouda.
Swiss Mushroom Runza – Saute fresh sliced mushrooms with garlic and seasonings and top with swiss cheese. Cheeseburger Runza – ketchup, mustard, onions and sliced hamburger pickles (or pickle relish) with American cheese
BBQ Bacon Runza – BBQ sauce, crisp bacon crumbles and swiss cheese
BLT Runza – Crisp bacon crumbles, mayo, fresh tomato slices and lettuce. Take it further by adding your favorite cheese.
Spicy Jack Runza – Crisp bacon crumbles, Sriracha ranch dressing (recipe here), jalapenos, pepper jack cheese
Southwest Runza – Sriracha ranch dressing (recipe here), salsa (recipe here), shredded Mexican cheeses with taco seasoning and crushed tortilla chips (or strips)
More fun ideas:
Pizza Runza – Pizza sauce, pepperoni or Italian sausage and any of your other favorite pizza toppings with mozzarella cheese
Spinach Artichoke Runza – Spinach artichoke dip (recipe here), chopped sun-dried tomatoes, swiss or mozzarella cheese
Buffalo Blue Cheese Runza – Buffalo sauce, blue cheese dressing (recipe here), finely chopped celery
California Runza – Avocado, sun-dried tomato ranch dressing (recipe here), lettuce, tomato, sweet onion, cucumber Philly Cheesesteak Runza – Sauteed bell peppers, onions and mushrooms with provolone cheese
Go Greek Runza – Tzatziki sauce (recipe here) with fresh cucumber, tomato, onion, oregano and crumbled feta.
Runza Banh Mi – Asian pickled veggies (see this recipe), matchstick carrots, sautéed onions, hoisin sauce, Japanese yum yum sauce (recipe here), chopped peanuts, cilantro
Runza® is a registered trademark of Runza® National, Inc. … A note from me to Runza Inc: I just want to thank you so much for creating this delicious pocket sandwich phenomenon.
This recipe was shared at Foodie Friends Friday, What's for Dinner Sunday, Amaze Me Monday and Hearth & Soul Link Party.