#Tomatolove: Sundried Tomato Ranch Dressing

After making Melissa's Sundried Tomato Vinaigrette, I still had a few sundried tomatoes left and I thought perhaps I should try throwing them in some ranch dressing too? Yep, it works. Tastes mighty fine. The sundried tomatoes do make it thicker, so if you want a drizzle for your salad, you'll need to thin it out a bit.
Sundried Tomato Buttermilk Ranch Salad Dressing (or Dip)
1/3 c. light mayonnaise
2/3 to 1 c. buttermilk
1/4 c. nonfat greek yogurt
3 heaping tablespoons chopped sundried tomatoes
2-3 big fresh cloves of garlic
A handful of fresh basil leaves
½ teaspoon sugar
Several fresh parsley leaves or ½ teaspoon dried parsley
A few fresh dill twigs or ½ teaspoon dried dill weed
1/2 teaspoon onion powder
1/2 teaspoon salt
Freshly ground pepper
A sprig of fresh rosemary leaves
2 green onions (tops only)
Whir all the ingredients in a handy chopper or food processor until smooth. Adjust seasonings to taste. Add more buttermilk as needed to get the dressing to the desired consistency. Mine was pretty thick, but I was using it for a pasta salad so that was just perfect.
Use for pasta or potato salad, on green salads or as a dip with vegies. Store in a covered container in the fridge.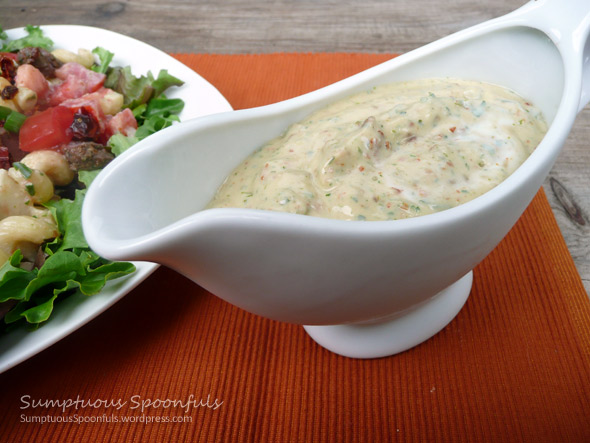 This is a post for #tomatolove.
Powered by Linky Tools
Click here to see all the other great #tomatolove posts…
This recipe was also shared at Summer Salad Sunday, Scrumptious Sundays, Weekend Potluck, Manic Monday, Tip Junkie, Cast Party Wednesday and EveryDay Mom's Meals