Delicious Thai Peanut Noodles in Minutes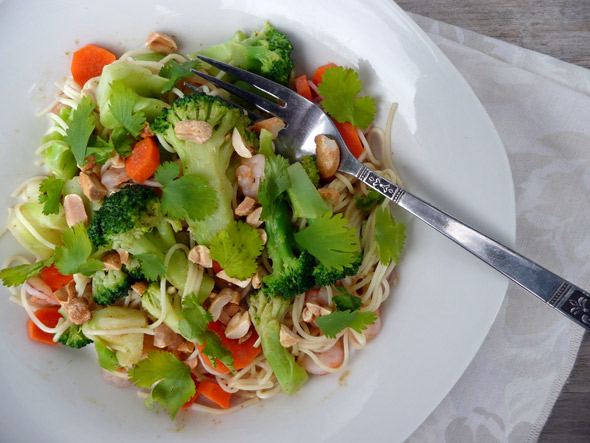 Yes, you DO have time to cook! This is faster than fast food and WAY healthier. You can have it on the table in under 15 minutes.
The "magic" in this recipe is the Super Simple Thai Peanut Sauce. If you make some of this up and keep it in your fridge, you can have delicious meals in minutes … if you haven't made it yet, go do it! Click the sauce picture for the recipe … the sauce itself will take you maybe five minutes to make. It's super simple.
I don't claim that it is truly "authentic" Thai food, but it tastes amazing … and if you are a busy working mom who's starved for Thai food like I am, with no Thai restaurants anywhere within hundreds of miles, well, then I think it's okay to take some shortcuts.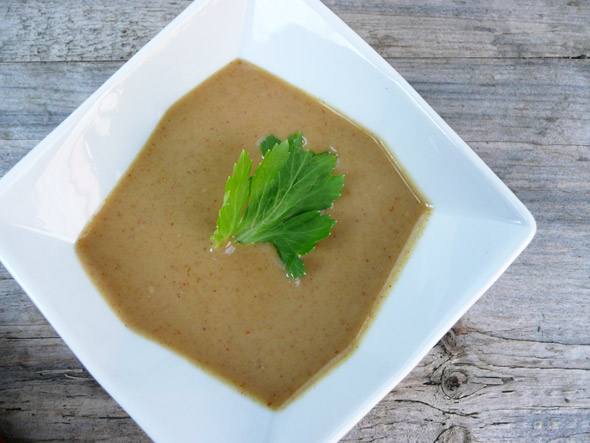 Okay, now that you've got the sauce done, all you have to do is …
1. Cook up some noodles. I used Angel hair pasta. Angel hair is beautiful and fast, and I love the delicate-ness of the noodles! You can use whatever noodles you like, though. (For SUPER expedient gourmet meals, have some noodles pre-cooked in your fridge, then just warm them up when you need a quick delicious meal.)
2. While the noodles are cooking, steam some veggies. You can use whatever vegies you think would go well with Thai peanut noodles. I used broccoli and carrots. Here's my quickie tricky method for doing that in the microwave. Put your fresh or frozen veggies in a bowl. Add a bit of water to the bowl. Just a splash; you don't need a lot. Sprinkle the vegies with a little salt and pepper if you want. Cover it with a plate. Stick it in the microwave. Microwave on high for 1 minute. Take the veggies out and check them. Are they crisp tender? If not, stir, cover, and microwave a bit longer until they are crisp tender. Strain the vegies, or use a fork to remove them from the bowl.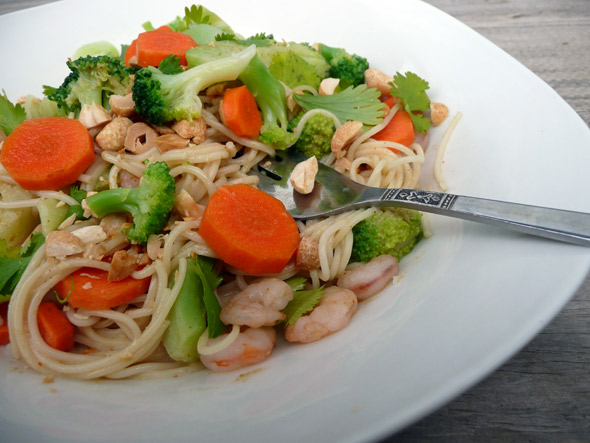 3. Optional! Heat up (or cook up) some shrimp or leftover meat. I've tried this with leftover grilled chicken and also with tiny frozen (thawed) shrimp, but I also think it is just wonderful without meat at all.
4. Toss the noodles and vegies (and meat or shrimp, if you're using them) with the noodles and about 2 tablespoons of the sauce per serving. Top with chopped roasted peanuts and fresh cilantro leaves and serve.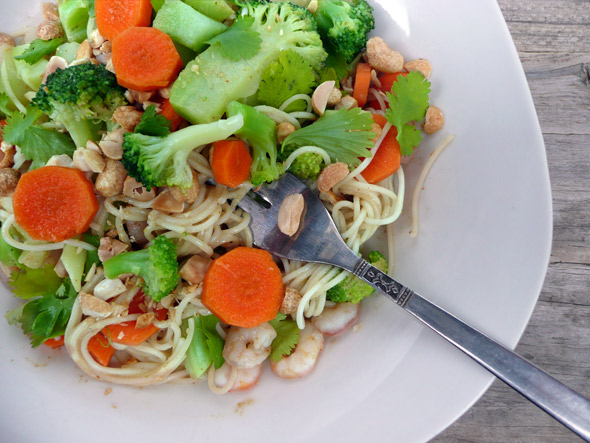 This recipe was shared at Weekend Potluck,  South Asian BlogHop, Iron Chef Mom Carrots and Everyday Mom's Meals.