Double Dark Chocolate Hazelnut Banana Bread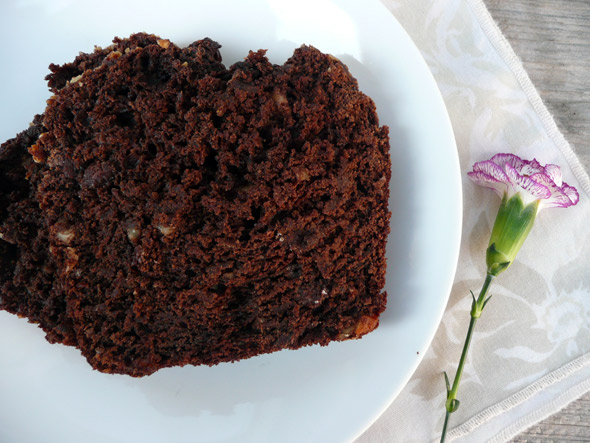 I was having a serious chocolate craving and nothing I had on hand was going to cut it. I was tempted to make something like a chocolate pudding cake until I saw this recipe from Rock Recipes for Chocolate Pecan Banana Bread. I couldn't help but fiddle with the recipe, though. I reduced the fat, increased the amount of cocoa, reduced the sugar and then added honey and Nutella and substituted hazelnuts for the pecans (to go with the Nutella!).
It was just what I needed to satisfy that intense chocolate craving. Yes this is DARK, decadent chocolate. My favorite. Mmmm.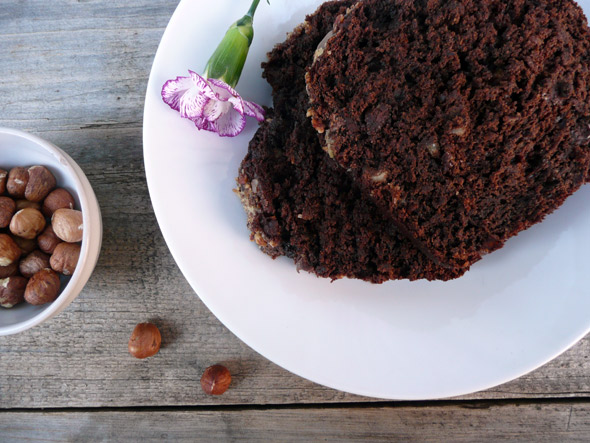 Double Dark Chocolate Hazelnut Banana Bread
Adapted from Rock Recipes
Wet ingredients:
3 medium ripe bananas, mashed
1/2 cup white sugar
2 Tablespoons vegetable oil
2 Tablespoons applesauce
1/4 cup nonfat plain yogurt
2 eggs
2 Tablespoons honey
¼ cup milk
1/4 cup Nutella
2 teaspoons real vanilla extract
Dry ingredients:
3/4 cup flour
3/4 cup whole wheat flour
1/4 cup flax meal
1/2 cup + 2 Tablespoons dark cocoa
1 teaspoon baking soda
½ teaspoon baking powder
½ teaspoon salt
Extras:
1/2 cup good quality chocolate chips
1/3 cup toasted hazelnuts, coarsely chopped
Raw sugar, extra chocolate chips, and/or toasted chopped nuts (for topping)
Directions:
Preheat oven to 350 degrees F.
Mash the bananas with a fork, then add the rest of the wet ingredients and mix well.
Add the dry ingredients and stir just until moistened.
Spray a loaf pan with cooking spray and pour the batter into the pan. Sprinkle with raw sugar, toasted chopped nuts, and chocolate chips, if desired.
Bake for 45 minutes to an hour or until a knife inserted in the center of the loaf comes out clean.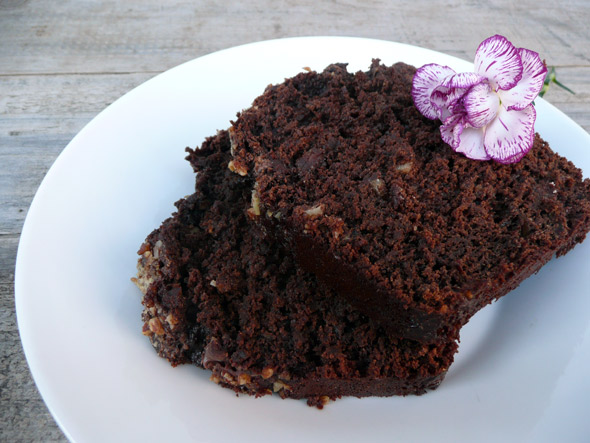 This recipe was shared at Weekend Potluck, Midnight Maniac Meatless Mondays, Tuesday Talent Shows, Nutella Lovers Linky and Katherine Martinelli's Bread Bloghop.