Eggplant Parmesan Layer Dip

I had a big beautiful purple eggplant that was starting to fade, so I had to find a good use for it fast. I decided to make it into a dip … at first I was going to make some more baba ghanoush, but then I thought perhaps I could make something different with it … perhaps something with the flavors of Eggplant Parmesan … except creamier. Something you could spread on little toasts and munch on with a good glass of wine.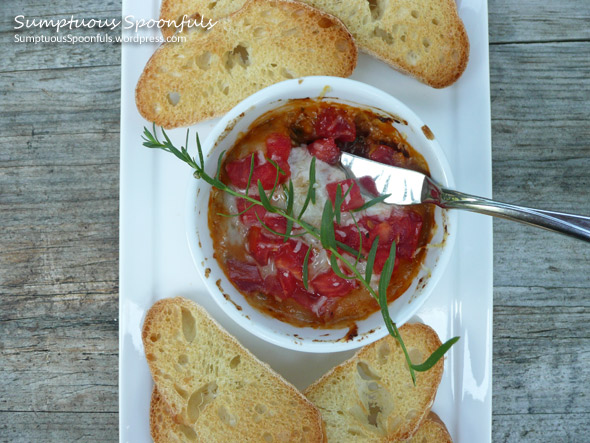 We finished the A-Z Health Challenge on facebook on Saturday … I still need to make my way through all the Zucchini recipes everyone shared, but I was busy with my Mom and Dad's Anniversary party this weekend. The party turned out well, but I'm exhausted. I need a day off. How nice that we have a holiday today so I have a day just to rest. Although I won't really be resting. We'll be harvesting tomatoes and other garden bounty, packing and driving and unpacking, assembling my new chairs that my aunt and uncle brought up for me.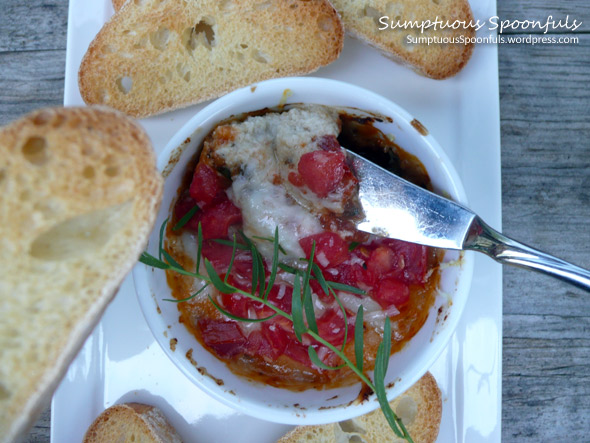 Eggplant Parmesan Layer Dip
2 1/2 cups roasted eggplant (I used 1 large globe + 1 small Japanese eggplant)
4 cloves of garlic
1 Tablespoon chopped fresh basil
1 Tablespoon chopped fresh tarragon
6 oz cream cheese
1/4 cup fat free greek yogurt
1/4 – 1/2 teaspoon salt
Your favorite marinara or pasta sauce (I used my crock pot garden marinara sauce)
Shredded asiago (or parmesan) and mozzarella cheese (maybe a cup of the two cheeses, mixed? I didn't measure the cheese … use enough to cover the sauce)
Fresh garden tomato, chopped fine
Fresh herbs for garnish
Thin slices of toasted ciabatta or french bread
Directions:
To roast the eggplant on the grill, poke the pretty purple fruit all around with a fork, then grill on a hot grill until the outside is black and charred and the eggplant is sagging a LOT … that means it's fully cooked.
Pull off the peel and discard, then chop the pulp roughly and measure it. You will need about 2 1/2 cups for this dip (or you can scale down the other ingredients to match the amount of eggplant you have). Put the eggplant, garlic, herbs, and cream cheese in a food processor or handi chopper and blend till smooth. I had to do this in batches because my handi chopper wasn't big enough to hold it all! Pour the creamy mixture into a bowl and stir in the greek yogurt, then add salt to taste.
You can serve the dip in individual ramekins or in a larger pie or tart pan. Smear a good thick layer of the creamy eggplant mixture on the bottom of the dish, cover with a layer of marinara or pasta sauce, then top with shredded cheese and some chopped tomato on top. Bake at 400 for about 10 minutes or until the cheese is melted and bubbly. Serve with thinly sliced toasted ciabatta or french bread.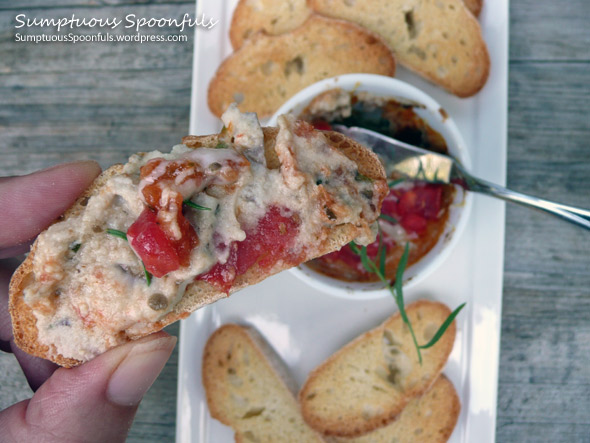 This recipe was shared at Weekend Potluck, Melt in your Mouth Monday, Manic Monday, Talent Show Tuesday. Trick or Treat Tuesday, Newlyweds Recipe Linky, Cast Party Wednesday, Thursday's Treasures, Fit & Fabulous Friday and Katherine Martinelli's Garlic Bloghop.