Fish, Shrimp & Corn Chowder with Bacon
Inspired by Lemony Thyme and my wonderful wonderful parents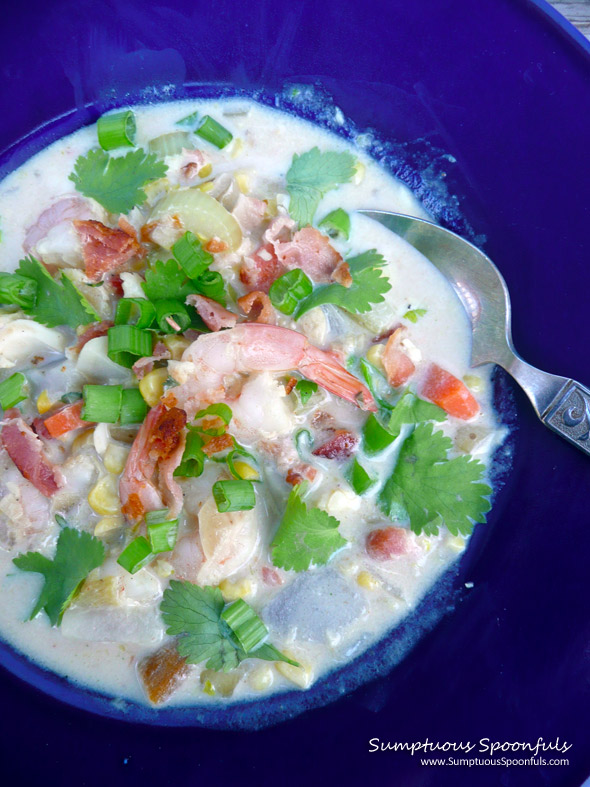 Fish, shrimp and corn chowder, with potatoes, onion, celery, carrot, and green chile, laced with the salty goodness of bacon and a bit of cream: it's a bowl of pure comfort.
I have many fond memories of camping and fishing trips we did when I was young. We used to go to the boundary waters (on the Canadian side) where you had to carry in your canoes, all your camping gear, your camp stove and whatever food you weren't planning to catch. There were no electric motors or cars allowed, you had to paddle your boat wherever you wanted to go.  If you didn't catch fish, well, then, there wasn't going to be much for supper. There were no showers, beds or bathrooms, just mother nature. Sometimes it rained for days and then we were stuck under a rainfly, playing cards because there was no electricity, no wifi, no smartphones or ipods, no TV. I remember bathing in the lake with just a bar of soap–it was SO cold! But the campfires warmed us up.
One time my mother and I went out fishing in one of the canoes … just the two of us … and my mom caught a 13 pound Northern Pike. Northerns are feisty fish that fight a lot, fun to catch, but hard to land and my mom told me to get the net ready as she reeled it in. I saw the size of that fish as she was struggling with it and I told Mom I wasn't so sure I could bring it in with the net. She told me I  could and I would. I was scared, but somehow Mom and I managed to get it into the boat. I don't recall exactly how old I was, but when we laid that fish up beside me, it was the length of my entire leg.
Fishing hadn't been that good so far on the trip so we were really hungry for some fish and that one fish fed us for days. Once we'd had a meal of fresh fish, we usually made the leftovers into fish chowder. That hot fish chowder tasted SO good on those chilly nights by the campfire in the wilderness.
So for my birthday this year, Mom and Dad brought me some freshly caught walleye. I cooked it up for lunch as soon as they got here, but there was more than we could eat. So of course I had to make the leftovers into fish chowder. I'm in the comfort of my own kitchen now, so I can add things like shrimp, fresh thyme and green chile. I have cream in my fridge to add to the soup … and I can garnish it with fresh cilantro leaves and green onions. On one hand, it's nice to have these comforts of home, but I also miss the naked beauty of nature and the stillness and purity of life without motors, electricity, and devices to entertain us. We had to make our own fun. It was marvelous.
Fish, Shrimp & Corn Chowder with Bacon
Ingredients
1 cup of diced, peeled potatoes (about 2 medium potatoes)
2 cups chicken or vegetable broth
10 oz. frozen sweet corn
2 slices bacon
2 stalks of celery, chopped
2 cloves of garlic, peeled and chopped fine
1 onion, peeled and chopped (about 3/4 - 1 cup)
1 1/2 Tablespoons flour
1 carrot, peeled and chopped
1/2 teaspoon Old Bay Seasoning
1 large bay leaf
several sprigs of fresh thyme
1/4 cup frozen chopped NM green chile + 1/4 cup juice from the container (you can use canned, undrained green chile if you don't have access to New Mexico green chile, but you may want to add some cayenne or other hot pepper to give the soup a little zing)
1 cup fat free half & half
1 cup cooked boneless fish, roughly chopped or flaked
1/2 lb peeled shrimp
Salt & fresh ground pepper, to taste
For garnish: fresh cilantro, snipped green onion and a few extra bits of bacon
Instructions
Peel and dice the potatoes and place them in a medium saucepan. Add the broth, bring to a boil, and cover (leaving the cover slightly cocked to allow steam to escape). Boil for about 10 - 15 minutes or until the potatoes are fully cooked. Add the corn and cook until the corn is heated.
Meanwhile fry the bacon in a frying pan over medium heat until crisp. Remove the bacon and set it on a clean towel, pressing the towel gently over the bacon to soak up excess fat.
Pour off most of the bacon fat from the pan, leaving about a teaspoon or so in the pan. Set the pan back on the heat and add the celery, garlic and onion. Sautee until the onion is soft and translucent. Sprinkle with flour and stir to coat the onion and garlic with flour.
Add the onion mixture, carrot, bay leaf, thyme and green chile to the pot with the potato, corn and broth and heat over medium heat, stirring frequently, for 5 - 10 minutes until the broth has thickened and the vegies are all cooked a bit.
Chop the bacon into small bits. Add the bacon, half and half and fish to the soup pot and stir to heat, then add the shrimp and heat just until the shrimp are hot and a pretty pink in color. Add salt and pepper to taste.
Serve immediately with cilantro, green onion and bits of crisp bacon for garnish.
http://www.sumptuousspoonfuls.com/fish-shrimp-corn-chowder-with-bacon/
Copyright 2012 by Sumptuous Spoonfuls. Recipes are meant to be shared! Nothing makes me happier than to hear about someone who has tried one of my recipes. All I ask is that if you are going to share my recipe online, give me credit and a link. And if you want to use one of my photos, please ask first. You can contact me at http://www.SumptuousSpoonfuls.com/contact/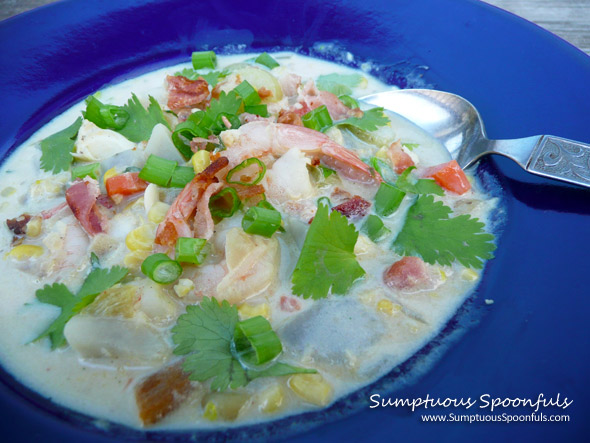 This recipe was shared at Thursday's Treasures, Tasty Thursday, Leftovers Bloghop, Seafood Frenzy Friday and Scrumptious Sunday.