Gluten-free Dark Chocolate "Hummus" Cake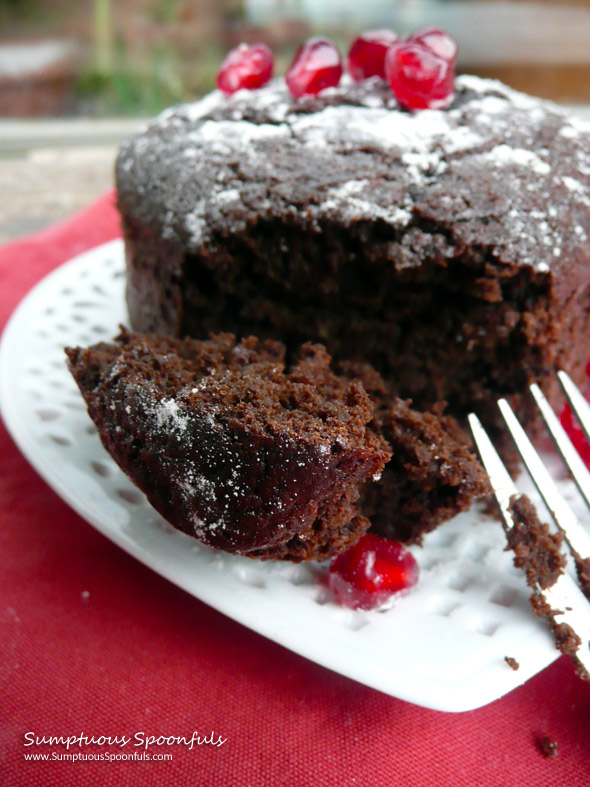 This recipe is from my friend Carol the Pampered Chef Consultant. If you haven't met Carol yet, I highly encourage you to like her on facebook. She has such wonderful recipes!
This is a rich, dark chocolate, totally luscious cake … and it really tastes like a CAKE! I really seriously cannot believe there is no flour in it …  I finally succeeded in making a gluten free cake, and the most magic part is I didn't even TRY. The "secret ingredient" here is … chickpeas. Garbonzo beans. Whatever you prefer to call them … those little round tan-colored beans that make hummus so good can also make a totally healthy chocolate cake.
The other marvelous this is there is no oil or butter in this lovely cake either! The only fat comes from the yolks in the eggs. If you want to eliminate the fat, use egg whites or eggbeaters.
I've had a lot of requests for gluten free recipes, but I've not posted very many … mostly because I don't have much of a reason to eat gluten free. Grains are just fine in my diet and they have always served me well.  But I have to say, this gluten free cake is lovely. I think I cooked mine for just a little TOO long because the toothpick came out completely clean and the cake was not quite as moist as I thought it should be, so I drizzled a little red wine on it and it was fine. See, there is a solution for everything!
Carol, my friend, you are a genius. But then, I already knew that. 🙂
Gluten Free Dark Chocolate "Hummus" Cake
Ingredients
1 (15 oz can) garbanzo beans (aka chick peas), drained
4 eggs
2 teaspoons pure vanilla extract
1/2 cup dark cocoa powder
2 Tablespoons cornstarch
3/4 teaspoon baking powder
1/4 teaspoon baking soda
1/2 teaspoon salt
1 cup granulated sugar
For garnish: powdered sugar and pomegranate seeds or raspberries
Instructions
Preheat the oven to 350 degrees and spray a 9 inch round spring form pan (or three smaller 4-inch springform pans) with cooking spray. I used my little heart-shaped spring form pans.
Put the chickpeas, vanilla and eggs in a food processor or handi chopper and blend until the beans are finely pureed.
Combine the dry ingredients in a medium bowl and mix them until all the lumps are gone (Carol suggests a sifter for this ... I used a spoon.) Add the dry ingredients to the food processor and process for about a minute or until completely blended. (If your handi chopper doesn't fit all the ingredients, just keep the sugar out when you mix the dry ingredients and process, then dump the batter into a bowl and mix in the sugar by hand.)
Pour the batter into your prepared pan. Bake approx 40-55 minutes or until a toothpick inserted into the center of the cake comes out not quite clean.
Remove your cake(s) from the oven and let set for 10 minutes before transferring onto the serving platter. At serving time, dust the cake with powdered sugar and serve with berries or pomegranate seeds.
Notes
I cut down the sugar in this recipe because I don't like things too sweet. If you want a sweeter cake, add 1/2 cup of sugar.
http://www.sumptuousspoonfuls.com/gluten-free-dark-chocolate-hummus-cake/
Copyright 2012 by Sumptuous Spoonfuls. Recipes are meant to be shared! Nothing makes me happier than to hear about someone who has tried one of my recipes. All I ask is that if you are going to share my recipe online, give me credit and a link. And if you want to use one of my photos, please ask first. You can contact me at http://www.SumptuousSpoonfuls.com/contact/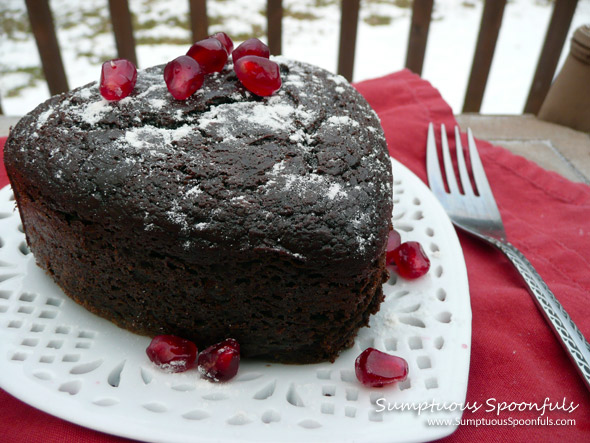 This recipe was shared at Foodie Friends Friday, Weekend Potluck, Scrumptious Sunday, The Bulletin Board, Melt in your Mouth Monday, Manic Monday, Totally Tasty Tuesdays, KM's Chickpea Bloghop, and Everyday Mom's Meals.