Havarti Cheddar Kale Omelet with Bacon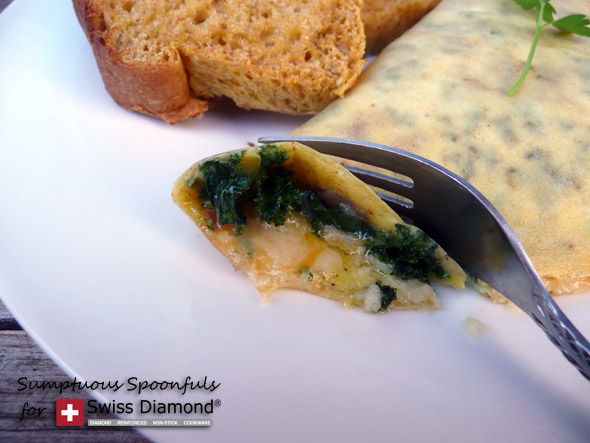 I made my girlfriends these omelets when they were visiting and they all declared these were the best omelets they had ever eaten. One of my friends had never had kale before and she was really surprised to find she liked it. I was really pleased they liked the omelets since I didn't ask them what they wanted in their omelets. They asked for omelets, so I just started cooking.
When I made these omelets for my friends, I used a mix of white extra sharp white and sharp orange cheddar cheese. I think I like the havarti / cheddar mix better, but they were both delicious. The secret to a really good, fluffy omelet is to add a little water to the eggs, a spoonful for each egg. Everyone thinks you should add milk, but water works SO much better. Choose a good cheese and some fresh vegies and meats and you'll be rockin' the omelets … especially if you have a good omelet pan to cook it in.
Speaking of which, I made this omelet in my Swiss Diamond omelet/crepe pan. I just LOVE this pan! The low edge on the pan and the nonstick surface make it soooo easy to cook and flip omelets and pancakes and it cooks like a dream. Swiss Diamond gave me this pan in exchange for a good recipe or two … personally, I thought that was a pretty good deal.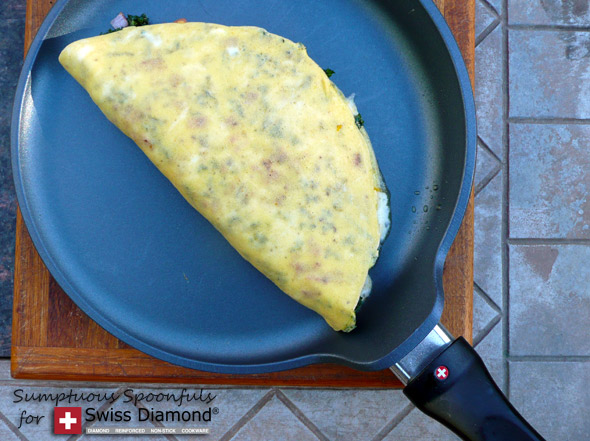 Havarti Cheddar Kale Omelet with Bacon
Ingredients
1/4 cup red onion
1 large rib kale (about 2 cups, lightly packed)
1 teaspoon olive oil
1 strip lean bacon
2 eggs
2 spoonfuls of water
Red robin seasoning or your favorite seasoned salt & freshly ground black pepper
1/2 cup shredded Havarti cheese
1/2 cup shredded sharp cheddar cheese
Instructions
Toss the kale with the red onion and olive oil. Let set for a few minutes while you gather the rest of the ingredients.
Heat a pan over medium heat and cook the bacon until crispy. Move the bacon to a clean towel, cover, and squeeze gently to remove excess fat. Chop the bacon into small bits.
Heat a saucepan or other sautee pan over medium heat, add the kale & onion and sautee for about 5 - 10 minutes or until the onion is soft and the kale has changed color from a flat dark green to an intense shiny green. Remove from heat and set aside.
In a small bowl, whisk the eggs with two spoonfuls of water (use one of your eating spoons) until the white is fully mixed in. Sprinkle with seasoning and pepper and whisk a little longer.
Heat your omelet pan over medium low heat and, if needed, spray with cooking spray (I didn't use any). When the pan is warm, pour the eggs in, then sprinkle with the kale mixture, the bacon, and then the cheeses. I like to use one of my large glass pan covers to cover the pan loosely at this point. Cook until the cheese is melted and the eggs are mostly set.
With a spatula, flip half of the omelet over onto the other side and let cook for just a couple minutes longer to finish cooking the eggs. Slide the omelet onto a plate and serve immediately.
Notes
For another delicious flavor dimension, I would suggest some chopped tomato on top of the cheese just at the start of cooking the omelet.
http://www.sumptuousspoonfuls.com/havarti-cheddar-kale-omelet-with-bacon/
Copyright 2012 by Sumptuous Spoonfuls. Recipes are meant to be shared! Nothing makes me happier than to hear about someone who has tried one of my recipes. All I ask is that if you are going to share my recipe online, give me credit and a link. And if you want to use one of my photos, please ask first. You can contact me at http://www.SumptuousSpoonfuls.com/contact/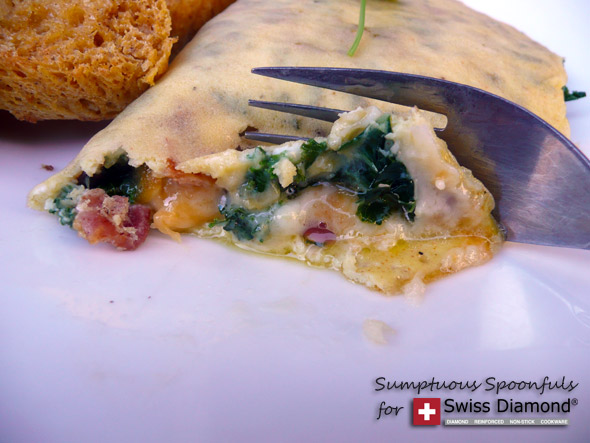 This recipe was shared at Full Plate Thursday, Frugal Food Thursday and Recipe Box.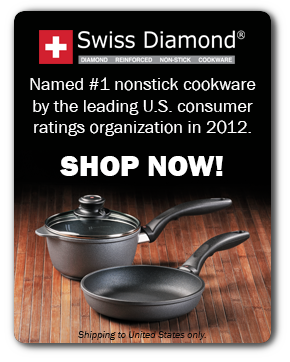 Purchasing Swiss Diamond Cookware through this link helps support this blog. Thank you!