Hearty African Lentil & Vegetable Stew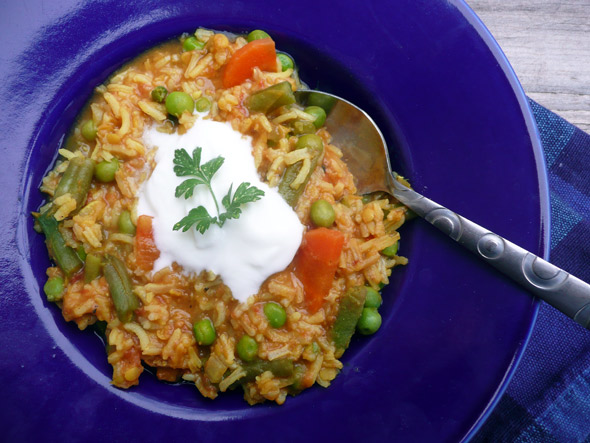 A long time I found this cookbook on a clearance table and looking through it, I just couldn't believe my luck. There are so many recipe treasures hidden in this book … I snatched it up and took it home and it's one of those cookbooks that I pick up and browse through every once in a while and find even more recipes I want to try. I don't even read cookbooks like I used to, now that I have thousands of creative foodie friends and so many recipes marked online that I want to try … but still, I cherish my cookbook collection. And this one is one of the best on the shelf.
What's the cookbook, you ask? It's Betty Crocker's New International Cookbook.
Okay, I know that's kind of an odd combination … Betty Crocker  … and International food? Really? … I mean we are talking food from ALL over the WORLD here … Africa, Sweden, Greece, Haiti, Japan, India, Turkey, France … you could travel completely around the world in just a couple pages of this book.
There are a bunch of bookmarks in this cookbook, recipes I marked years ago to make someday in the future … some of them I have never made. But this one I've made several times. Because it's really, really good, not to mention it's warm and hearty, colorful and nourishing and healthy. There's no meat, but it's got so much flavor that you wouldn't even remember to care.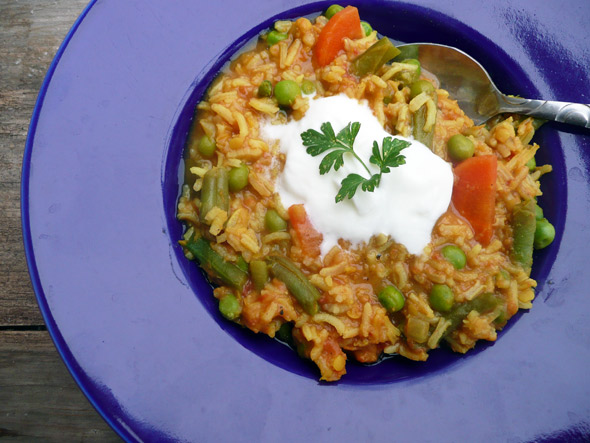 Heart African Vegetable Stew
Adapted only slightly from Betty Crocker's New International Cookbook. 
Makes 6 to 8 servings, maybe more, if you're a small eater like me … this will be enough to feed me all week!
2 tablespoons butter
1 cup chopped onion
1/2 cup snipped fresh parsley
2 cloves garlic, finely chopped
1 teaspoon ground cinnamon
1/2 teaspoon ground turmeric
1/2 teaspoon fresh ground pepper
1 tablespoon fresh grated ginger
5 cups of water
1 cup sliced carrots
1/2 cup dried red lentils (brown or yellow lentils will do, too … I just love the color of the red ones)
1 cup uncooked basmati rice
2 cups canned tomatoes with juices (or 1 15-oz. can)
3/4 teaspoon salt (or more to taste)
1 10-oz. package frozen green peas
1 9-oz. package frozen green beans
3 sprigs fresh mint (or 2 teaspoons dried mint)
1/2 teaspoon ground cayenne pepper (optional)
Plain yogurt for topping
Directions:
In a stockpot, dutch oven or very large saucepan, melt the butter, then cook and stir the onion, parsley, garlic, cinnamon, turmeric, pepper, and ginger until the onion is tender.
Stir in the water, carrots, and lentils. Heat to boiling, then reduce heat, cover, and cook for 25 minutes, stirring occasionally.
Ad the rice, tomatoes, and salt. Heat to boiling, reduce heat, cover and cook for 20 minutes or until the rice is tender. Stir in the green beans, peas, mint and cayenne. Cover and cook until the peas and beans are tender, about 5 minutes. (You may need to add more water at this stage if the stew gets too thick. I think I added 2 cups more of water.)
Serve each bowl with a dollop of yogurt and a sprig of fresh parsley.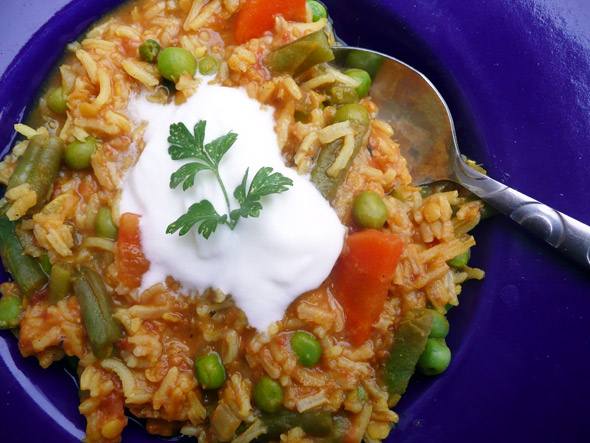 This recipe was shared with Midnight Maniac Meatless Mondays, Totally Tasty Tuesdays, These Chicks Cooked, Newlyweds Recipe Linky, Katherine Martinelli's Pea & Fava Bloghop and Fit & Fabulous Fridays.