Hot & Cheesy Kale & Salmon Dip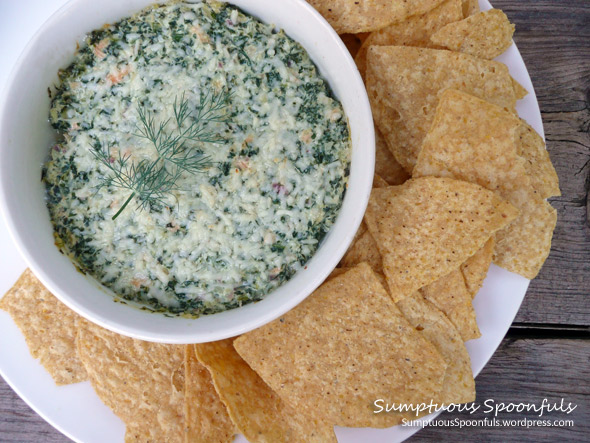 I was seriously craving spinach artichoke dip yesterday … but alas! I am all out of spinach. Hmm, but I have kale … and it occurred to me … why does spinach get all the attention? Shouldn't kale get to play in the dip too?
I also had some salmon that we had barbecued the other night that needed using, so I threw that in the dip too. By this time, it was getting pretty tasty, so I skipped the artichokes altogether and threw it in the toaster oven to bake. It totally satisfied my craving, and then some. I'm kinda wishing I hadn't eaten it all … I would really like some more now … these pictures are making me hungry!
I think this dip would be fantastic with shrimp or crab in place of the salmon …
Hot & Cheesy Kale & Salmon Dip
This makes a small portion, just right for 2 people snacking (or one hungry muncher). Double (or triple) the recipe if you are serving to several people.
1 heaping up of kale leaves, chopped roughly (about 2 ribs of kale)
3 cloves of garlic
1/4 cup chopped red onion
Several sprigs of fresh dill
3 Tablespoons white wine
3/8 cup of salmon, flaked
1/4 cup fat free plain greek yogurt (or more if you want a creamier dip … I like lots of "stuff" in my dips)
about 2 oz. of goat cheese
1/3 cup shredded Dubliner cheese (or parmesan)
A bit of shredded mozzarella or Italian blend, for the top
Directions:
Put the kale leaves, garlic, onion, and dill in a food processor or handi chopper and process till the kale is chopped into tiny bits.
Heat a frying pan to medium heat, spray with cooking spray, then add the kale mixture and the wine. Stir it around a little and cover to cook for just a few minutes, then remove the cover and cook a minute longer to evaporate the moisture from the wine.
Mix the kale mixture with the greek yogurt, salmon, goat cheese and shredded Dubliner cheese.  Put in a small casserole or oven-safe bowl and top with a little bit of shredded mozzarella cheese.
Bake at 350 for about 10 – 15 minutes or until the cheese is all melted and bubbly. Serve with chips, crusty slices of bread, or vegies for dipping.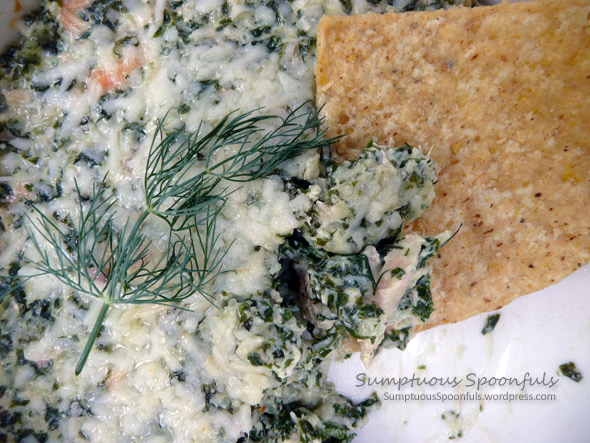 This recipe was shared at Melt in your Mouth Mondays, Makin' you Crave Mondays, Katherine Martinelli's Salmon Link Party and Totally Tasty Tuesdays.