Hummus Shawarma Layer Dip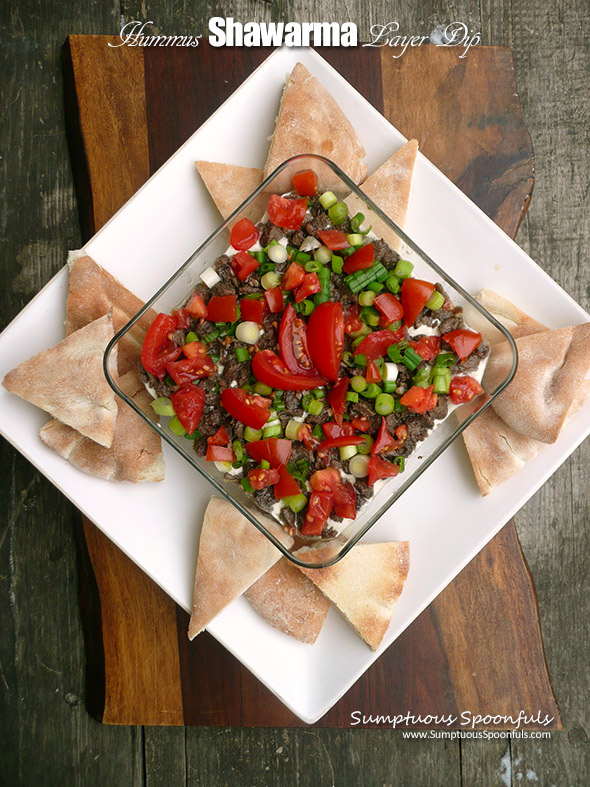 This is a leftovers recipe. I made Venison Shawarma for the all day potluck at work last month. There was a lovely lemon tahini yogurt sauce to go with it … and homemade pita bread. Hell, I made a DOUBLE batch of lemon tahini yogurt sauce because I really really didn't want to run out of the essential sauce to go with the tasty meat.
And then the reality of the "all day holiday potluck" set in. We had over 30 participants in the potluck. Food … was … freaking … everywhere! I came home with over 1 1/2 pints of lemon tahini yogurt sauce, about half the pita bread and about a cup of leftover shawarma meat in lots of juices. I froze the meat along with all the juices and the pita bread. The yogurt sauce went in my fridge. I munched on the yogurt sauce with potato chips (… don't judge), but really didn't make much of a dent in it. Don't get me wrong, this lemon tahini yogurt sauce is the BOMB! But there's only so much lemon tahini yogurt sauce one can eat.
And then … it hit me. I remembered a Gorgeous Greek Layer Dip that I made years ago … and THIS was a situation that was just screaming for a layer dip! "DO it! DO it!" my internal voices screamed. But my practical voice argued with them, saying … "yeah, okay, that sounds like it might be fabulous, but it's not like we have a crowd over every Sunday for football or poker or anything." Sigh. Yeah, she had a point … so the sauce sat in my fridge and I chipped away at it, slowly. I'm grateful that it's still just as delicious as it was the day I made it, but my god, is there any END to this sauce?
The new year came around and since I graduated from yoga teacher training in November, I figured it was time to spread my wings and teach. The big thing I wanted to do was to offer yoga dinners and brunches, but after investigating the legal hoops and licenses I'd have to jump through to sell food and alcohol, I got frustrated. I just wanted to have a few friends over for yoga and a snack! Getting my kitchen certified and inspected sounded insane … yes, I have a nice home kitchen, but could it be food safe certified? And then they also require another "food safe" certification on top of that. Totally reasonable for a restaurant, but way more than I wanted to go through just to teach yoga. It all sounded so HARD. (And hey, yoga teacher training alone was hard!) Okay, then, I thought … for now we'll just charge for the yoga and offer complimentary beverages and snacks afterwards.
So yes, I just finished teaching my first "official" yoga class on my own. Two friends came over, one brought her mom (so there were three! … four if you count me), and we did some yoga. And then we had some of this dip afterwards. And hummingbird cocktails (my latest obsession, but I need friends to help me polish off a whole bottle of Prosecco). My tastebuds were definitely happy and everyone else said it was good too. One friend said she totally wouldn't mind if I brought this dip to work tomorrow (which I most probably will do …)
I'm so grateful for the few friends that braved the cold weather to come to class on a snowy January day when there was football … and I'm so grateful to my kids for helping clean the house and moving furniture to make it happen. They were a huge help. I'm looking forward to more wonderful, delicious Sunday yoga classes. This is EXACTLY what I wanted! I'm looking forward to getting to know all the beautiful souls that come to yoga a little better. Here's to yoga. To knowing yourself better. To community. To loving your neighbor. And to good food and drink.
Hummus Shawarma Layer Dip
Ingredients
About 1 cup (or more) of spicy red pepper hummus (recipe here)
About 1 cup (or more) of lemon tahini yogurt sauce (recipe here)
1/2 - 1 cup of chopped leftover venison (or beef) shawarma, chopped (recipe here)
1 green onion (with green top), chopped
2 campari tomatoes, chopped
Instructions
Spread the hummus evenly across a glass bowl or pie plate.
Smooth the yogurt sauce over the hummus.
Sprinkle with the chopped shawarma meat, then the onion and tomato.
Serve with toasted pita crisps or crackers.
Notes
RECIPE SOURCE: http://www.sumptuousspoonfuls.com/
© Copyright 2017, Sumptuous Spoonfuls. All images & content are copyright protected. I love it when you share, but please do not use my images on your own site/page without prior permission. If you want to publish any of my images, please ask first. Sharing, pinning, and tweeting is always appreciated as long as the shares and pins link back to here for the recipe. If you want to republish this recipe as your own, please re-write the recipe in your own words or link back to this post for the recipe.
http://www.sumptuousspoonfuls.com/hummus-shawarma-layer-dip/
Copyright 2012 by Sumptuous Spoonfuls. Recipes are meant to be shared! Nothing makes me happier than to hear about someone who has tried one of my recipes. All I ask is that if you are going to share my recipe online, give me credit and a link. And if you want to use one of my photos, please ask first. You can contact me at http://www.SumptuousSpoonfuls.com/contact/