Irish Ale Corned Beef n Cabbage w Bacon Mashed Potatoes
with a drizzle of Irish ale gravy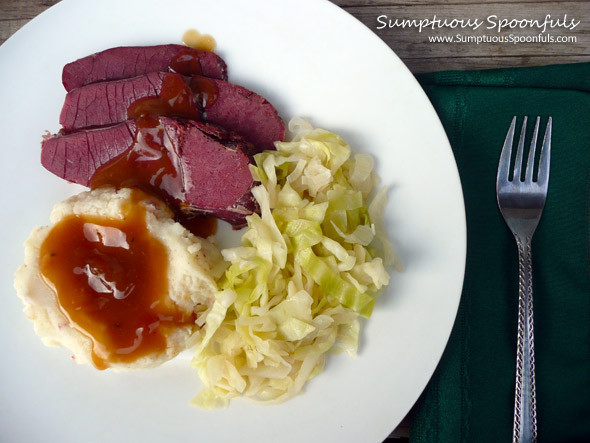 Every year for St. Patrick's Day I make Corned Beef and Cabbage. I just enjoy celebrating St. Patty's Day. It's such a fun holiday. My kids have grown up with this tradition, and I try to do it every year on March 17. There have been times when we didn't have much money, and I had to buy a cheaper corned beef that was too fatty. We didn't like that too  much, but still we carried on the tradition. There were other times when we had too many activities going on to have corned beef on March 17, so then I would do it as close to the 17th as possible.
Now that we live closer to my parents, I am quite lucky because I don't even have to buy corned beef. My dad takes some of his venison roasts and corns them. This is a marvelous way to enjoy venison because all the seasonings from corning the venison completely overpowers any gamey taste and they are nice and lean. I need to try corning one myself some year … so far my experiences are just cooking up the corned beef brisket. Normally I just toss it in a crockpot, cover it with water and potatoes and cabbage and let it cook all day. This year I thought I'd try something a little different … and it turned out so good, I think I'll do this every year!
I thought about separating this post out into 3 or 4 posts, because it really is 4 recipes in one, but it all just goes together … when you make corned beef, you have to have potatoes and cabbage! I especially liked the buttery braised cabbage and the buttermilk bacon mashed potatoes, but then, I'm a "sides" kind of girl. I could usually skip the main course (or have just a few bites) and just go for the sides. My kids, they prefer the meat.
The butter braised cabbage recipe is from Katherine Martinelli.
Irish Ale Corned Beef w Bacon Buttermilk Mashed Potatoes
Ingredients
For the corned beef:

One 2 -3 lb corned beef brisket
1 12-oz. Irish ale (such as Smithwick's or Killian's ... whatever you prefer ... or use Guinness if you want a darker beer flavor)
4 cloves of garlic
1/2 of a large onion
the leaves from several small twigs of thyme
8 whole cloves
1 bay leaf

For the Bacon-Buttermilk mashed potatoes:

3 baking potatoes
1 slice of reduced-fat bacon, cooked till crisp and chopped
1/2 cup of buttermilk
extra milk, if needed
salt & pepper to taste

For the cabbage:

1/2 Tablespoon butter
1/2 of a medium cabbage, slice thin
1/2 of a yellow onion
1 large clove of garlic
a splash of Irish ale

For the gravy:

2 Tablespoons cornstarch
Juice from cooking the corned beef & some extra Irish ale
Instructions
Set the corned beef in your cooking pan and pour the Irish ale over the meat. Smash the cloves of garlic with the side of your knife, pull off the garlic peel, then set the whole cloves of garlic in the pan with the beef. Next take the onion and push the whole cloves into the side of the onion, and set that in the pan as well. If your corned beef came with a seasoning packet, add that to the pan too. Cover and bring to a boil, reduce the heat to a simmer (medium-low -- or low, depending on your stove and your pan) and cook for 2 1/2 hours.
Meanwhile, wash your baking potatoes, then while they are still wet, sprinkle them with salt. Set them in the oven to bake at 350 F for about an hour or until when you pierce them with a fork, they are easily pierced and soft inside.
When your potatoes are done, remove them from the oven and allow them to cool slightly. Cut the potatoes open and, using a spoon, scoop out all the flesh from the potato into a bowl. Start mashing the potatoes with a fork, adding buttermilk, then add the bacon and, using a mixer, beat the potatoes till they are smooth, adding in a bit of extra milk if needed for moisture. Keep the potatoes warm or set them in the microwave to warm right before serving time.
Now, you're ready to make the cabbage: heat a saucepan over medium heat, then add the butter, garlic, onion and cabbage. Add a splash of beer, cover, and let cook for a few minutes. Stir, then cover and cook for a couple more minutes. The cabbage should still be crisp tender. Remove from heat.
Time to make the gravy! Remove the meat from the cooking pan, set it on a plate or serving platter, cover it immediately and let it rest. This is critical to keeping the meat moist. It needs time to rest, but to retain the moisture, you must cover it.
Now, using a slotted spoon, remove the onion, bay leaves, and garlic cloves from the cooking pan, then take out 1/4 cup of the cooking juices and pour them into a small bowl. Mix this 1/4 cup of meat juice with 2 tablespoons of cornstarch till well mixed.
Taste the juices from the meat. If they are too salty, mix with Irish ale till you get a reasonable taste for a gravy. Pour the juices back into the pan and heat till hot and bubbly, then whisk in the cornstarch mixture, whisking constantly until the mixture starts to thicken. Remove from heat and pour the gravy into a gravy boat.
Heat up your mashed potatoes in the microwave if they have gotten cold, then slice the meat cross-grain and serve it all marvelously together.
http://www.sumptuousspoonfuls.com/irish-ale-corned-beef-n-cabbage-w-bacon-mashed-potatoes/
Copyright 2012 by Sumptuous Spoonfuls. Recipes are meant to be shared! Nothing makes me happier than to hear about someone who has tried one of my recipes. All I ask is that if you are going to share my recipe online, give me credit and a link. And if you want to use one of my photos, please ask first. You can contact me at http://www.SumptuousSpoonfuls.com/contact/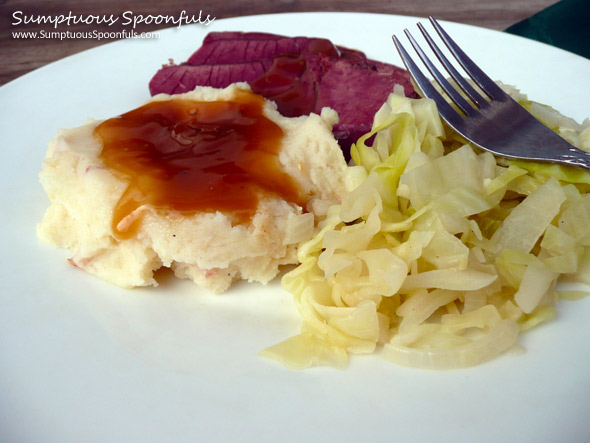 This recipe was shared at Show & Tell Saturday, Scrumptious Sunday, Weekend Potluck, Mop it Up Monday, Kitchen Dreaming Crockpot Party, St Patrick's Day Green Recipes, Food of the World-Ireland and Clever Chicks Bloghop.