Long Live the Modern Taco Salad!
My favorite salad of all time … shredded slow-cooked bourbon chipotle pork, crispy Romaine lettuce, shredded  Mexican cheese, chopped sweet peppers and avocado, black beans, corn and Nacho cheese Doritos with cashew cilantro salsa and Sriracha Ranch dressing. (salsa and dressing not pictured)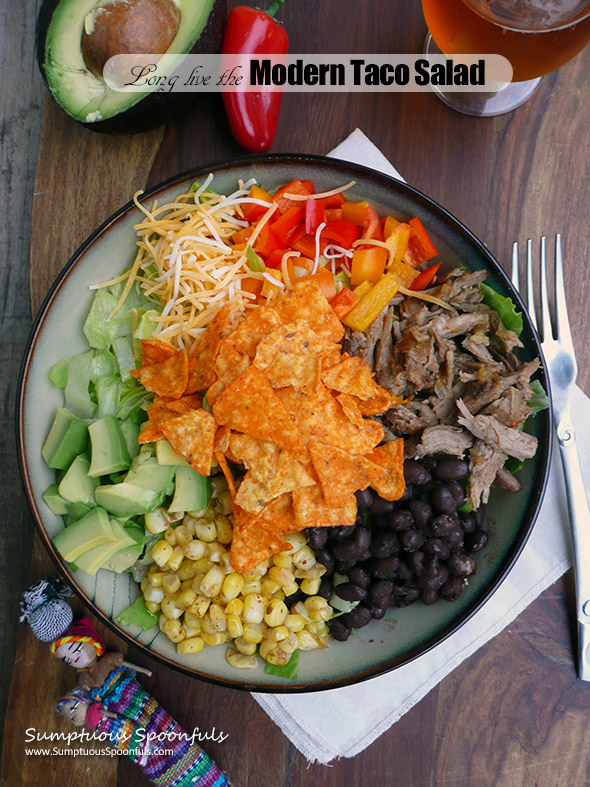 This recipe is a takeoff copycat recipe from a favorite restaurant that may have just fallen from grace, in my books. For years, my kids and I have been going to this place (The Diner) … my kids would always order a burger with fries and often one of their (kinda pricey but really good) shakes and I would get the Modern Taco Salad. It was awesome because we could all find something to send us to our happy place there.  The service was pretty much always really good, the food was consistently wonderful, and we could all revel in the tastes that we love. We always brought friends and family there, too, when they came to visit, because everyone could find something that they loved on the menu.
But last Friday, I took the day off of work and my son and I went to the Diner for lunch … I don't usually even look at the menu because I just know what I want, but this time, for some reason, I did look … and in the salads section there was something conspicuously missing. My favorite thing, the Modern Taco Salad was GONE! I asked the waitress about it and she seemed almost pleased as she answered that yes, they revamped their menu and are no longer offering the Modern Taco Salad. The "new" salads look quite ho-hum (IMHO), definitely nothing to write home about and I didn't see anything I was even interested in ordering, so I just had water while my son ate his burger, which he said was good, but still, it put a serious damper on our whole experience. I posted about it on facebook and several of my friends expressed their dismay since it was their favorite salad too …
I'm so lucky that I know how to make the salad at home (in an even better form), so I went home and made it myself … I didn't get to enjoy it until two days later (after my daughter's birthday party was over), but when I did, my taste buds were back in pure heaven.  The original classic salad from the Diner has no black beans or corn or sweet peppers … those are my additions and I think they are damn good ones!
I'm so saddened that (perhaps) the only place on the planet that is now serving this Modern Taco Salad is now my kitchen because it's something that really should be shared far and wide. I am hoping that the Diner reverses their decision and brings it back … in the meantime, here's the "secret recipe" to bring it to your home. Let me know if you make it so I know that mine is not the ONLY kitchen that serves it. Long live the Modern Taco Salad!
Modern Taco Salad w Avocado & Sriracha Ranch Dressing
Ingredients
For the slow cooker bourbon chipotle pork:

1 - 2 Tablespoons brown sugar
1 Tablespoon chili powder
1 teaspoon cumin
1 teaspoon thyme
1 teaspoon chipotle powder (or smoked paprika ... or both)
1/2 teaspoon granulated garlic
1/4 teaspoon cinnamon
1 medium sweet onion, peeled & cut into chunks
3 cloves garlic, peeled
3 mini sweet peppers, cored and seeded
1/4 cup bourbon (or wine ... or water)
1 small pork shoulder roast (one that will fit in your crockpot)

For the salad:

Chopped romaine lettuce
Chopped mini sweet peppers (or red or orange bell peppers)
Shredded Mexican cheese
Black beans
Sweet corn (frozen/thawed is fine)
Shredded pork
Ripe avocado, cut into chunks
Nacho cheese Doritos, crumbled into small chunks (for Gluten free: use gluten free chips)
Sriracha ranch dressing (recipe here)
Salsa (I recommend Cashew cilantro salsa-recipe here or Cilantro almond salsa-recipe here)
Optional toppings: cilantro, chopped green onions, fresh chopped sweet tomatoes
Instructions
Mix together the brown sugar with the spices in a small bowl.
Put the onion, garlic and sweet peppers into a mini food processor and pulse to chop. Make a bed of these in the bottom of your slow cooker. Pour the bourbon over the onion/pepper mixture.
Rub the roast all over with the brown sugar spice mix and set in the crockpot, fat side up. Set the slow cooker on low (8 hrs) and let cook for 8 hours. Unplug the slow cooker after 8 hours and leave it covered for 30 min - 1 hour to let it resoak up some of the juices. Shred with two forks (or your fingers), removing any fatty bits and/or bones. Stir in some of the juices/peppers/onions from the pan into the shredded pork.
To make the salad: Line your plate or fill your salad bowl mostly with chopped romaine. Arrange the peppers, cheese, beans, corn, pork and avocado around the bowl. Top with Doritos and serve with the Sriracha ranch dressing and salsa (and optional toppings). Enjoy!
Notes
If you want to kick up the flavor a notch, toss the black beans with a sprinkle of chipotle powder and a bit of garlic. Also, add a bit of cumin and a touch of butter and green chile powder to the corn.
You can make this salad in a jar too! Put all the "reheat-able" ingredients (pork, black beans, corn, peppers) at the bottom of the jar, and top with lettuce and cheese. (Keep the avocado, chips and dressing separate.) To eat, dump out the lettuce and cheese onto a plate, keeping the rest in the jar. Heat the jar in the microwave for 1 - 2 minutes until hot and dump over the greens. Top with Doritos, avocado, dressing and salsa.
RECIPE SOURCE: http://www.sumptuousspoonfuls.com/
© Copyright 2017, Sumptuous Spoonfuls. All images & content are copyright protected. I love it when you share, but please do not use my images on your own site/page without prior permission. If you want to publish any of my images, please ask first. Sharing, pinning, and tweeting is always appreciated as long as the shares and pins link back to here for the recipe. If you want to republish this recipe as your own, please re-write the recipe in your own words or link back to this post for the recipe.
http://www.sumptuousspoonfuls.com/long-live-the-modern-taco-salad/
Copyright 2012 by Sumptuous Spoonfuls. Recipes are meant to be shared! Nothing makes me happier than to hear about someone who has tried one of my recipes. All I ask is that if you are going to share my recipe online, give me credit and a link. And if you want to use one of my photos, please ask first. You can contact me at http://www.SumptuousSpoonfuls.com/contact/