Maple Spice Pumpkin Cranberry Granola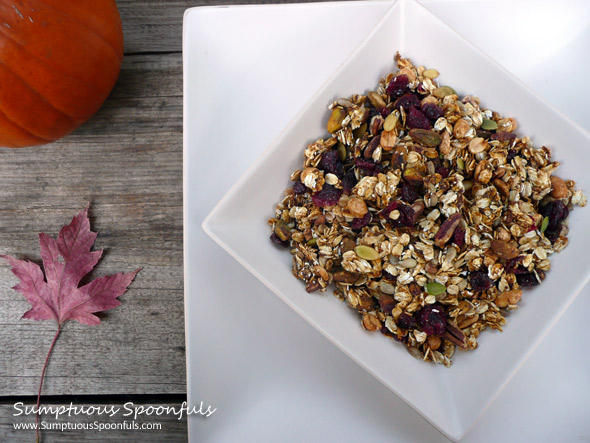 Eeek! I'm so excited! I did it … I finally got my own domain, my own home for my blog. I've been researching, thinking, dreaming of what I could do if I only had a REAL site of my own. Today I took the plunge and just did it. It really wasn't as hard as I thought it would be. Welcome! I'm so glad you came to see my new home! Yes, I know it looks pretty much exactly the same as the old one … that was intentional, for now. I have a lot of ideas for where to go from here, but I really didn't want to mess with the site TOO much …
Oh, but you wanted to talk granola, didn't you?
I've been dreaming of this granola for weeks it seems … dying to make it … looking for pumpkin seeds at the store. I thought about toasting up some out of one of these little pumpkins I have here, but I really wanted those lovely little softly crunchy green ones, not the big seeds you pull out of your pumpkin and roast.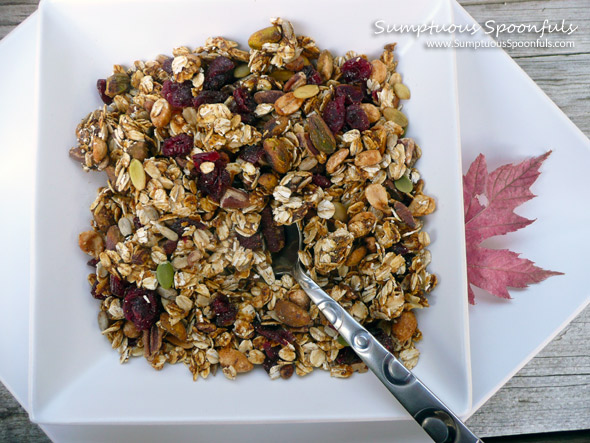 I knew I saw some at the grocery store, but every time I went back, they were gone … FINALLY, this morning, I found some! It's granola time, baby! This is the absolute perfect granola to get you in the mood for the holidays. Munch on it for a snack. Eat it for breakfast with milk. Make a fancy granola yogurt parfait. Dip some apple slices in peanut butter and then coat in granola.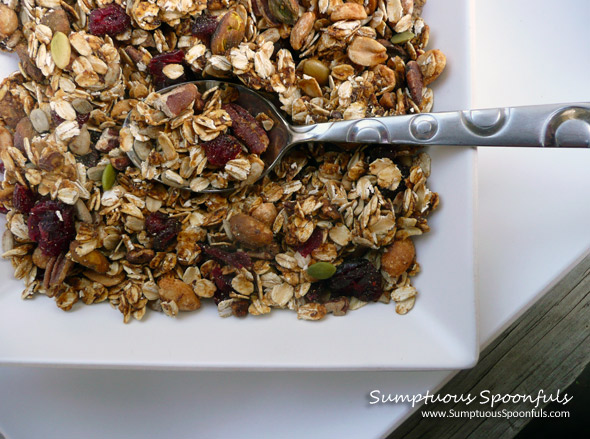 Maple Spice Pumpkin Cranberry Granola
4 1/2 cups old fashioned oats
2 1/2 cups mixed seeds and/or nuts ~ I used 1/2 cup sunflower seeds, 1/2 cup pecans, 1/2 cup peanuts, 1/2 cup pistachios, 1/2 cup pepitas (pumpkin seeds)
1/2 cup pumpkin puree
2 teaspoons vanilla
1/4 cup maple syrup
2 -4 Tablespoons honey (depending on how sweet you want it … I used 2 T because I don't like it overly sweet)
2 teaspoons pumpkin pie spice
1/4 cup flaxmeal
1 teaspoon olive oil
1/2 teaspoon coarse sea salt (optional … skip this part if you're watching your sodium)
6 oz. dried cranberries and/or cherries (or other dried fruit)
Directions:
Preheat the oven to 275 degrees. In a large bowl, mix the oats and nuts. Set aside.
In a separate small bowl, mix the pumpkin, vanilla, syrup, honey, pumpkin pie spice, flaxmeal and oil. Microwave on high for a minute, stir, and then microwave 30 seconds more until the mixture is good and hot. (Or heat the mixture in a saucepan. Either way will work.)
Pour the hot pumpkin mixture over the nutty oat mixture in the bowl. Stir it all up until it's well mixed.
Spread all this wonderful stuff out into a thin layer on a large jellyroll pan (or other big flat baking pan with an edge to it). Sprinkle with sea salt.
Set it in the oven and bake for about an hour and 15 minutes, stirring every 15 minutes. It should be browned to a lovely brown color and smelling fantastic. You can taste a little sample to see if it's crunchy enough. If it's not, bake it a little longer.
Let the granola cool before stirring in the dried cranberries. Store in an airtight container. It will keep for about a month or so.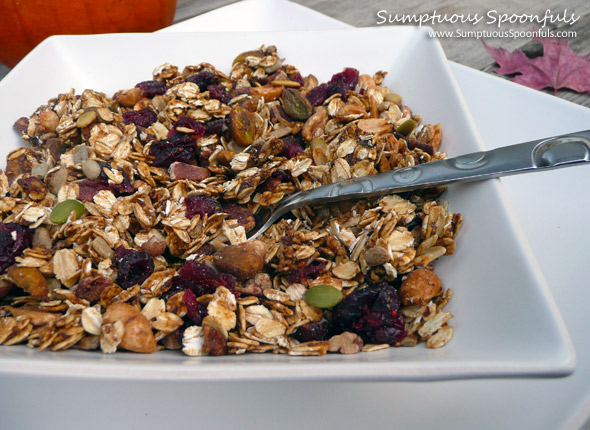 This recipe was shared at Melt in your Mouth Monday, Mix it Up Monday, Totally Tasty Tuesday, Tuesday Talent Show, Tasty Tuesday, All my Bloggy Friends, Newlyweds Recipe Linky, Foodie Friday, Weekend Potluck, Monday Menu Plan, All Things Pumpkin and the Fall Recipe Roundup.