No Knead Peasant Bread
Adapted just slightly from Alexandra Cooks, with a big thank you to Cooking with Mary & Friends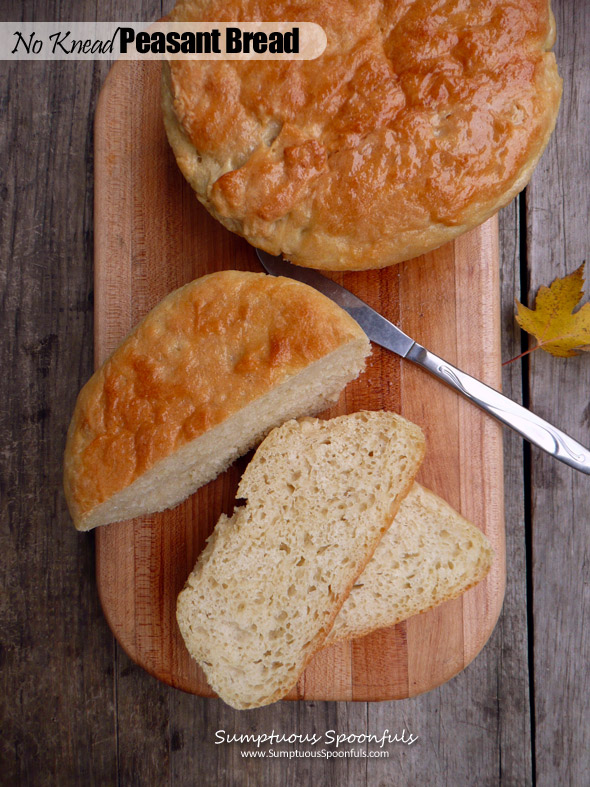 A lovely white bread with a soft, tender inside and a crunchy outside. It requires no bread machine, no kneading, and roughly 3 hours of time to make, from start to finish and most of that time is waiting for the dough to rise. It takes very little "work" time.
For those of you who know me, I'm a bread machine die-hard. I adore my bread machine. It takes care of all the hard work and fussing with temperatures … all I have to do is dump in the ingredients and turn it on. Well, my beloved bread machine that I've had for YEARS finally died. All bread machines die eventually (if you use them very often) and this one had been "on its last legs" for over a year. No time to go shopping, I immediately went on Amazon and ordered a new one. A few days later it arrived and it was a very nice looking bread machine. However, it was defective and lazy. The lights lit up just fine, the heating element worked well too, but the machine simply did not mix or knead the dough AT ALL. I've got it packaged up and ready to send back now, but in the meantime we've been eating store bought bread. I actually drove to a specialty bread store and bought a loaf there once. It was marvelous, but I don't have time to be running to the bread store all the time, and it was SHPENDY too! $5 for a loaf I could have made at home for probably 50 cents, if I only had a bread machine.
Yes, I could have run out and bought another bread machine at a retail store and I'm not quite sure what was stopping me except that I was feeling like maybe I ought to wait. My friend Russ was trying to convince me I didn't need a bread machine and sent me some of his recipes for no-knead bread in a pot. I'd tried that once and it was a great flop. Also, the timing of it just didn't work for me … how the heck was I going to fit that into my busy life? So when Mary shared this recipe from Alexandra Cooks that she had tried, I was ecstatic. Only 3 hours to make it–I could do that on a busy weeknight even if I had things to do that night. As long as I had time to get the first rise started, I could certainly manage it. I ended up making my first trial on a Saturday night and I was totally enthralled with the bread. Right out of the oven, it had this marvelous crunchy crust, and the inside was perfect and soft. It was bread heaven. I had the crusty crunchy piece straight away … and then I had another slice with some raspberry jam. I woke up this morning and made a piece of toast with it to go with my egg. The edges are no longer crunchy like they were hot out of the oven, but this bread is just perfect for toast.
Alexandra Cooks does a marvelous job explaining (and showing photos) of every step in making this bread, so you're clear on what it should look like and what size bowl to use, so if you want more information, please do go visit her. She also offers information on using whole wheat and other flours … and a faux foccaccia which I'm dying to try. But we better eat up these two loaves first. I don't think my daughter and I are going to mind that one bit.
Ingredients
2 cups lukewarm water (use 1 1/2 cups cold tap water + 1/2 cup boiling water for the perfect temp)
2 teaspoons sugar
3 teaspoons active dry yeast
4 cups bread flour or all purpose flour
1 1/2 teaspoons salt
About 2 Tablespoons butter, softened
Instructions
Preheat the oven to 170 F. (or the lowest temp your oven will go), let it heat up, then turn the oven OFF. This will create the perfect "rising" temperature for bread.
In a small mixing bowl, dissolve the sugar in the water, then add the yeast. Let sit for 10 - 15 minutes or until the mixture gets nice and bubbly. (This is how you know your yeast is good.)
In a large mixing bowl, mix together the flour and salt. Pour in the yeast mixture and stir to mix well.
Spray the top of the dough with cooking spray, cover the bowl with a moist (not wet) towel and let rise in the oven for 1 1/2 - 2 hours. The dough should rise to almost the top of the bowl and be wet and bubbly.
Punch the dough down using two forks. I poked it all over the place and scraped up from the sides of the bowl. Preheat the oven to 425 F.
Using the softened butter, generously butter two small Pyrex (or other oven-safe) mixing bowls (about 1 to 1.5 qt in size), cut the dough in half and put half the dough in each bowl. Spray the top of the loaves with cooking spray, cover with a clean dry towel and set the bowls ON TOP of the oven for the second rise. Let rise for about 30 minutes or until the dough has risen to just below the rim of the bowls.
Remove the towel and set the bowls in the oven. Bake at 425 for 15 minutes, then turn the oven down to 375 F and bake for 15 - 18 minutes longer or until nicely browned on top.
Using oven mitts to protect your hands, immediately turn the bowls over onto a baking rack to remove the bread from the bowls. If the underside of the bread (the "bowl" side) is too white, set the bread back into the oven (bowl side UP) for about 5 minutes to brown it.
Let cool just briefly, then cut and enjoy!
Notes
RECIPE SOURCE: http://www.sumptuousspoonfuls.com/
© Copyright 2014, Sumptuous Spoonfuls. All images & content are copyright protected. Please do not use my images without prior permission. If you want to publish any of my images, please ask first. If you want to republish this recipe as your own, please re-write the recipe in your own words or link back to this post for the recipe.
http://www.sumptuousspoonfuls.com/no-knead-peasant-bread/
Copyright 2012 by Sumptuous Spoonfuls. Recipes are meant to be shared! Nothing makes me happier than to hear about someone who has tried one of my recipes. All I ask is that if you are going to share my recipe online, give me credit and a link. And if you want to use one of my photos, please ask first. You can contact me at http://www.SumptuousSpoonfuls.com/contact/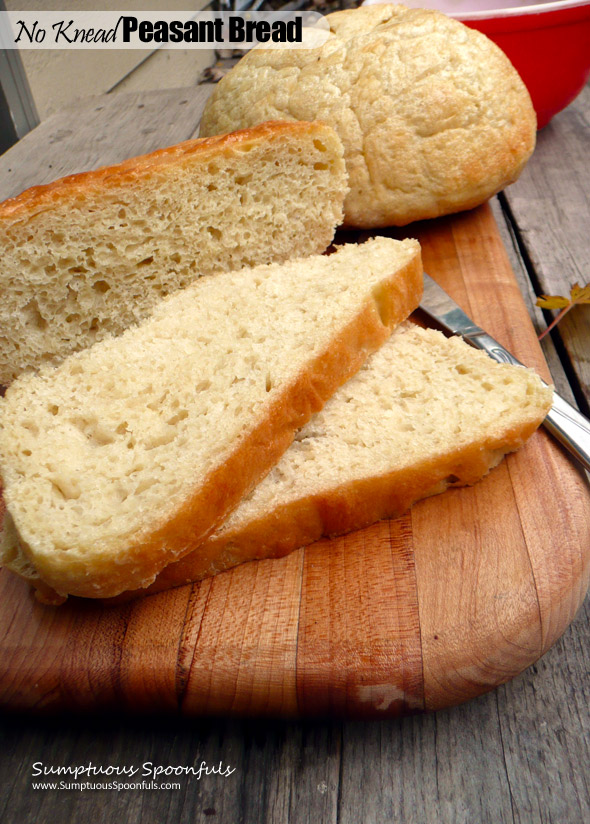 This recipe was shared at Munching Monday, Mostly Homemade Monday, Treasure Box Tuesday, Simple Supper Tuesday, Tuesday's Table, The Gathering Spot, Spooktacular Halloween & Fall Recipe Linky and Hearth & Soul Bloghop.