Nutty Oatmeal Loaf
Adapted from My New Roots' Life Changing Loaf of Bread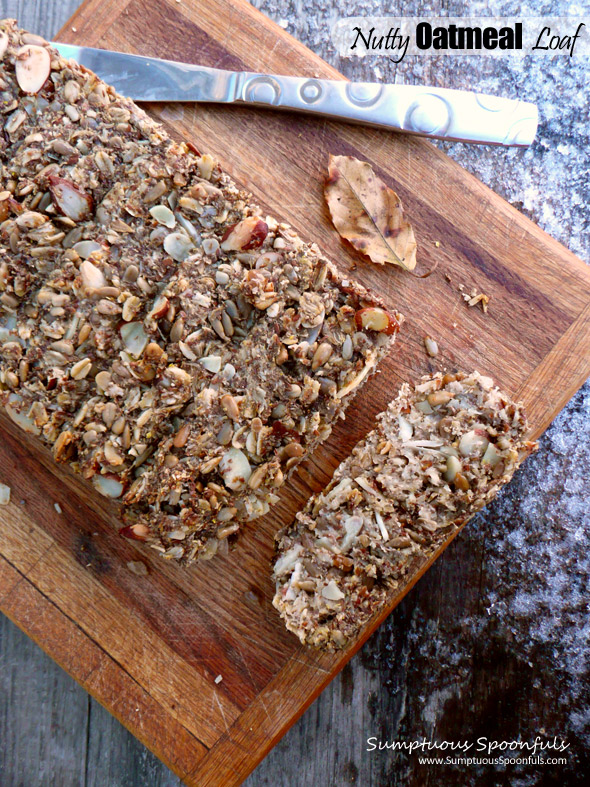 It was a little over a week ago when my friend at work emailed us a link to this very interesting recipe entitled: "The Life Changing Loaf of Bread." I was immediately intrigued.
I took my lunch hour to find and acquire some psyllium husk with which to make said "life changing loaf of bread" … The whole experience did not start out well. I had a hard time finding psyllium husk, even though I had called the health food store ahead of time to make sure they carried it. I had to go ask at the front desk where it was. She led me away from the foods to the supplements, where they had psyllium either in pill form (um, that's NOT gonna work) or in a large can that cost about $15. I explained to her that I really didn't want a LOT of psyllium … I just wanted to make this bread which calls for 4 Tablespoons of psyllium husk.
Well, then, let's go see if we have it in the bulk section. Which, luckily, they did. Not over on the flour and grains side, where I had been looking, but in the herbs & spices & loose-leaf tea section. She went away and I pulled out the jug of psyllium husk. First, the lid wasn't fastened on the container, so of course I had to drop it and spread psyllium husk all over the floor. Argh! And THEN the dang stuff kept sticking to the bag, so it was hard to get into the little baggie, and doubly hard to seal. Of course in my efforts to close it, I dropped the little bag and alas, psyllium all over the counter. This is not boding well … I did my best to clean up after myself and went to purchase my little baggie of psyllium.
The third little mishap occurred when I skipped over the word "silicon" in the recipe, where she said "in a flexible silicon loaf pan" … she says to mix the bread right in the bread pan. That's odd, I thought, what keeps it from sticking to the pan? Well, if it's a regular loaf pan like mine, NOTHING! So when you have to pull the loaf out of the oven in the middle of baking and attempt to remove it from the pan while it's still hot, well, let me just tell you it's not all that pleasant trying to get a stuck loaf out of a steaming hot bread pan. Lots of the "loaf" stayed in the pan. I scraped it out and tried to pat the "dough" back into the "holes" in the loaf, and fortunately, my loaf didn't really care. It stuck together just fine.
So I managed to get the loaf OUT of the pan and onto the rack where she said to place it to finish baking. Of course, once finished baking, it sticks to the rack as well. More fun!
Despite all the trouble I went through to create this loaf, I quite like it. It's hearty and nutty and dense, full of fiber and protein. It satisfies your hunger and fuels your body. I think it's more like a "baked oatmeal" than bread, though, and I would love to try it again with the addition of some dates and/or other dried fruit, more sweet and some spices like cinnamon and nutmeg. I mean, how handy would it be to have a nice "loaf" of oatmeal that you could slice off a piece and take it with you as you rush off to yoga or work or choir practice or wherever it is you find yourself rushing off to this morning? I've offered some tips below to help you avoid the struggles I went through. 
Ingredients
1 cup / 135g sunflower seeds
½ cup / 90g flax seeds (I used flax meal)
½ cup / 65g hazelnuts or almonds
1 ½ cups / 145g rolled oats
2 Tbsp. chia seeds
4 Tbsp. psyllium seed husks or 3 Tbsp. psyllium husk powder (I used psyllium husk powder)
1 tsp. salt (less if you are using salted sunflower seeds)
1 Tbsp. maple syrup
3 Tbsp. melted coconut oil or ghee
1 ½ cups / 350ml water
Instructions
If you have a flexible silicon loaf pan, you can mix the batter right in the pan. If not, spray your loaf pan liberally with cooking spray (or line it with parchment paper) and stir together all the ingredients in a mixing bowl. Pour it into the loaf pan, cover and let sit for at least 2 hours or up to overnight. The psyllium husk will soak up all the moisture and be the "glue" that holds together the loaf.
When you're ready to bake your nutty oatmeal loaf, set a pizza stone (if you have one) in the oven and preheat the oven to 350 F. Uncover the "dough" and set it on the pizza stone. Bake for 20 minutes.
Remove the loaf from the oven, turn the pan upside down and thump to remove it from the pan. (Hopefully it won't need too much coaxing!) Brush a little oil on the top of the loaf or spray with cooking spray (to keep it from sticking), then carefully set the naked loaf upside down on the pizza stone (or right on the rack of your oven) and bake for another 30 - 40 minutes. The loaf is done when it sounds hollow when tapped.
Store the loaf in the fridge. It re-warms nicely in the microwave or you can even toast it in the toaster. Or you can eat it cold.
Notes
RECIPE SOURCE: http://www.sumptuousspoonfuls.com/
© Copyright 2013, Sumptuous Spoonfuls. All images & content are copyright protected. I love it when you share, but please do not use my images on your own site/page without prior permission. If you want to publish any of my images, please ask first. Sharing, pinning, and tweeting is always appreciated as long as the shares and pins link back to here for the recipe. If you want to republish this recipe as your own, please re-write the recipe in your own words or link back to this post for the recipe.
http://www.sumptuousspoonfuls.com/nutty-oatmeal-loaf/
Copyright 2012 by Sumptuous Spoonfuls. Recipes are meant to be shared! Nothing makes me happier than to hear about someone who has tried one of my recipes. All I ask is that if you are going to share my recipe online, give me credit and a link. And if you want to use one of my photos, please ask first. You can contact me at http://www.SumptuousSpoonfuls.com/contact/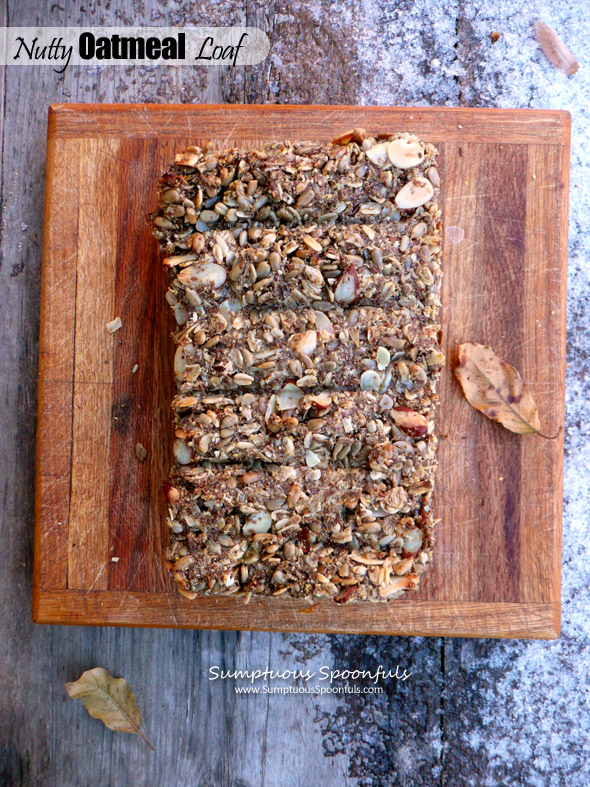 This recipe was shared at Bloggers Brags Pinterest Party, Tuesday's Table and Gluten Free Friday.