Peach Banana Coconut Ice Cream Sandwiches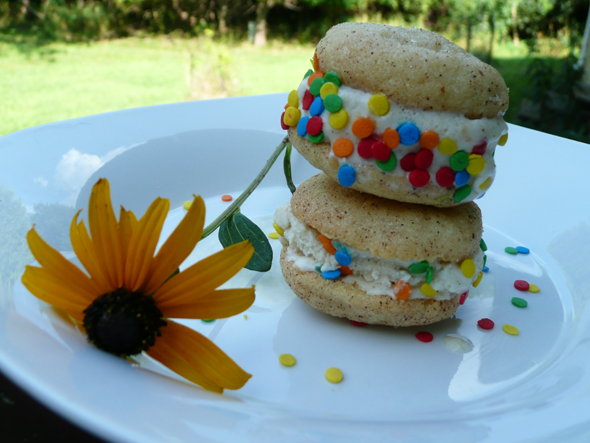 It's National Ice Cream Sandwich Day today … what food screams summer fun better than that!
So I made some ice cream sandwiches for you for the occasion. And an ice cream that can be made either in either the regular version or lactose-free. Both are low in fat and sugar and full of good juicy fruit. With a little bit of rum.
The taste of this ice cream is a mild creamy tropical flavor.
Peach Banana Coconut Ice Cream
Ingredients:
2 c. Silk Vanilla creamer (made with soy milk for a lactose-free ice cream) … OR … 2 c. fat-free half & half + 1/4 c. sugar
1 egg, beaten
1 big ripe, juicy fresh peach
1 over-ripe banana that's turning mushy
1 t. vanilla
1/4 t. ginger
1/4 t. nutmeg
1/8 c. coconut rum (such as Malibu) … or if you want to make it alcohol free, use 1 t. coconut extract.  (If you choose to leave out the alcohol, the ice cream will get much harder in the freezer. The alcohol keeps it from freezing too hard.)
Directions:
In a medium saucepan, mix half & half & sugar or just add the vanilla Silk creamer. Heat, stirring frequently, until small bubbles form at the edge of the pan.
In a separate bowl, beat the egg with a whisk or mixer until frothy.
Slowly drizzle a stream of the hot cream mixture (about 1 cup of it) into the egg, whisking or beating constantly.
Gradually add the egg mixture back into the remaining hot cream mixture in the saucepan, whisking as you go.
Cook over medium-low heat, stirring frequently, until mixture thickens slightly and is thick enough to coat the back of a spoon–roughly 5 minutes.
Remove from heat, transfer into a glass jar and refrigerate until thoroughly chilled–at least 2 hours.
Meanwhile, peel the peach and banana and blend in a handy chopper or food processor till smooth. Add the ginger, nutmeg, vanilla, and coconut rum. If you want some hunks of peach or banana in the ice cream, leave a bit of the fruit out when you are puree-ing, or you can always add a bit of extra chopped peach and/or banana!
Add the pureed fruit mixture to the cooled cream mixture and shake well to mix.
Freeze in your ice cream maker till good and frozen. With my little Cuisinart ice cream maker, it takes about 20 minutes but the ice cream is still soft-serve texture, which is great for eating, but not quite hard enough for sandwiches.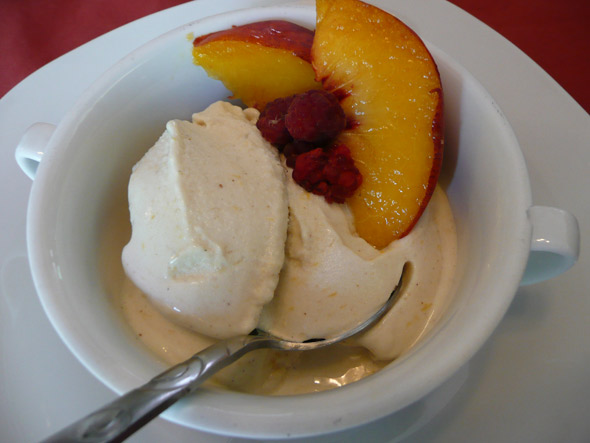 To make the ice cream sandwiches:
Ingredients:
Soft snickerdoodles, sugar cookies, or nilla wafers
Peach Banana Coconut Ice Cream
Sprinkles for the sides, if desired
Directions:
Freeze the ice cream in the freezer a couple hours till it's fairly hard. Once the ice cream is the perfect texture, call in the guests or kids so they can join in the fun of putting the sandwiches together!
Put a scoop of ice cream on a cookie, then flatten with another cookie. Roll or sprinkle on the sprinkles and serve immediately.
Nutrition information for the ice cream:
with one recipe = 6 servings made with the fat-free half and half. This does NOT include the cookies!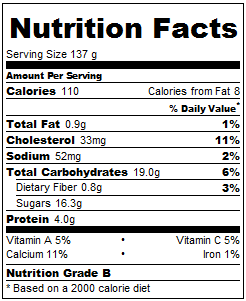 Nutrition facts generated at http://caloriecount.about.com/cc/recipe_analysis.php
This is a Family Fresh Cooking Happy Post. This post was also shared at Katherine Martinelli's Coconut Bloghop.