Peach-y Perfect Caramel Rolls
I made these caramel-icious peach rolls last summer when I had a bunch of fresh, ripe, sweet peaches in my fruit bowl. I think you could substitute frozen or canned peaches if you don't have fresh ones available. (I'm re-posting them because this is one of the recipes that got screwed up when I moved the blog over to its new host.)
My picky kids didn't like the idea of peaches in their caramel rolls, so I did one pan with peaches, one without. They don't know what they're missing! These peachy little wonders take a while to make, but they are the perfect treat for brunch on a cold winter … or rainy day.
Peach-y Perfect Caramel Rolls
Ingredients
Sweet Roll Dough

1 1/3 cups cold water (or warm, if your bread machine wants warm water or you are using a mixer to prepare the dough)
4 t. yeast (or about 2 packets)
1/3 cup brown sugar
1 teaspoon salt
2 T. canola oil
1 egg
2 cups bread flour
2 cups whole wheat flour
1 t. cinnamon
1 t. vanilla

Simple Caramel Sauce

1 cup brown sugar, packed
6 T. butter
1 t. cinnamon
1-2 T. water
1 t. vanilla

And the peaches ...

About 10 ripe, sweet peaches, peeled and chopped (or just 5 if you're making one pan without peaches)
Toasted pecans (optional)
Instructions
Put all the ingredients in the bread machine and start it up on the dough setting. Now get to work on the peaches and prepare the caramel.
Peel, pit and chop about 10 medium peaches into small pieces (or just 5 if you have picky kids like me and you're doing one pan with peaches, one without).
Put the brown sugar, cinnamon and butter into a microwave-safe bowl and microwave on 50% power until the butter is melted. Stir together to mix, then add 1 T. water and vanilla. If the caramel sauce looks too thick, add a bit more water.
When the dough is ready, dust a large clean surface with flour and roll it out into a long rectangular shape. The dough will resist getting any bigger after a while and will want to spring back into a smaller shape.
Now spray the dough with cooking spray, then sprinkle with cinnamon sugar so you get it all covered with the cinnamon sugary goodness.
Now sprinkle on a layer of chopped peaches all over the dough.
Prepare your pan(s). I had to use two pans to hold all the rolls: one was a glass pie pan and the other was a round inch baking dish. Spray them with cooking spray, then pour in the caramel sauce and sprinkle with peaches. I sprinkled some pecans on one, and left the other one without nuts.
Now take the dough and roll it into a long log-shape. You can pinch the edges to "seal" if you like, but I usually don't bother.
Get some dental floss and pull out a long string. This is what you're going to use to cut the dough. About 1 1/2 - 2 inches from the end of the roll, wrap the floss around the roll so it crosses on top, then pull on the strings to cut the dough.
Take the roll and place it in the pan with the loose edge up against the side of the pan. Then cut the rest of the log into rolls about 1 1/2 - 2 inches long and place them in the prepared pan(s) leaving some space between them to allow them room to rise. Try to place the loose edges of each roll either up against the edge of the pan or next to another roll.
Now spray the tops of the dough with cooking spray and set them somewhere to rise. Cover them with a towel and put them somewhere warm. If you have an over-the-oven microwave, you can put them the microwave with the stove light on. The stove light just under the microwave makes it a nice place for the dough to rise. (You don't need to cover them if you rise them in the microwave.) ... Another great place for rising dough is in the oven. Preheat the oven to the lowest setting (usually 170 degrees F.) and then turn the oven off. Place the rolls in the warm oven covered with a towel. ... It takes a while for the dough to rise. At least an hour, sometimes two. Once the rolls are big and poofy and they have filled up all the empty spaces in the pan, they are ready to bake.
Put the caramel rolls in an oven at 325 degrees F. for about 40- 50 minutes. I like to cover them with aluminum foil for about the first 20 minutes to keep them from getting too brown. You want the dough to be cooked through and the tops to be a lovely golden brown. If you press on one of the middle rolls lightly, it should be firm, not gooey.
Immediately place another pan or serving tray on top of the rolls and turn them upside down to invert them. It's important to invert them right away to allow the caramel sauce to drip down over the rolls and to keep them from getting stuck in the pan you baked them in. These rolls are best eaten fresh and hot from the oven, but they can be covered, saved and reheated briefly in the microwave.
Notes
To see step-by-step photos for making rolls like this (along with some cute little helper hands!), see my Caramel Apple Sweet Rolls recipe. (This is a really fun project for kids, by the way. If you have little ones, they can help sprinkle and cut the rolls. If you have teenagers like me, they'll probably sleep in till mid-afternoon and roll out of bed long after the rolls are done.)
http://www.sumptuousspoonfuls.com/peach-y-perfect-caramel-rolls/
Copyright 2012 by Sumptuous Spoonfuls. Recipes are meant to be shared! Nothing makes me happier than to hear about someone who has tried one of my recipes. All I ask is that if you are going to share my recipe online, give me credit and a link. And if you want to use one of my photos, please ask first. You can contact me at http://www.SumptuousSpoonfuls.com/contact/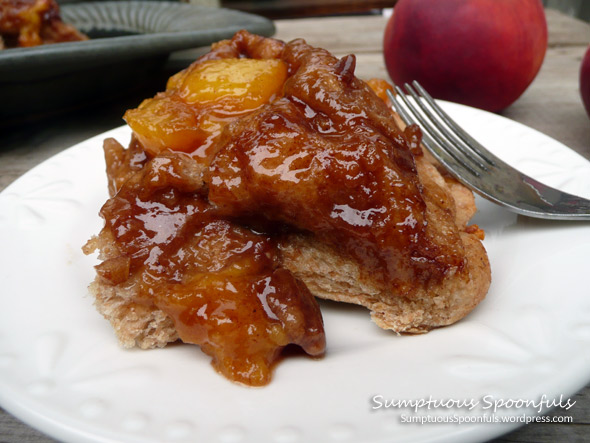 This is a #peachlove post.
Powered by Linky Tools
Click here to see all the other lovely #peachlove recipes …
This recipe was also shared at Tastetastic Thursday, Thursday's Treasures, Foodie Friends Friday, Scrumptious Sunday, Mop it Up Monday and Weekend Potluck.