Purple Hashbrown Mushroom Casserole Au Gratin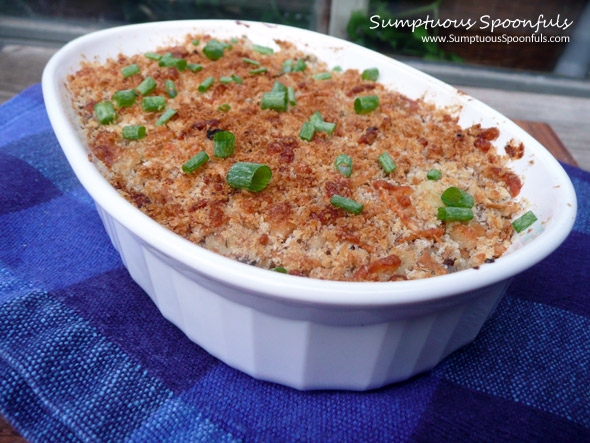 Shredded potatoes, red onions, and juicy sauteed mushrooms in a light creamy cheese sauce topped with crunchy breadcrumbs and more cheese.
This is a lovely way to dress up your potatoes for Thanksgiving. A little changeup from your everyday mashed potatoes, or perhaps you could use it as a breakfast casserole for the morning after the big feast when you really don't feel like cooking. You can pull out of the fridge, pop in the oven and serve to the crowd  Get someone to cook up some eggs to go alongside and you have a beautiful savory breakfast.
You can use any kind of potatoes for this casserole. I just happened to have a bunch of my dad's purple potatoes from his garden. The only problem with purple potatoes is they look so intensely beautiful, a vibrant purple when you cut them, but then the color fades when you cook them. Purple potatoes have a lot of extra antioxidants in them (my dad says as many as blueberries!), and the lavender tone that they turn when they are cooked isn't such a bad color either. I could just drown in the gorgeous purple of a freshly cut purple potato, though.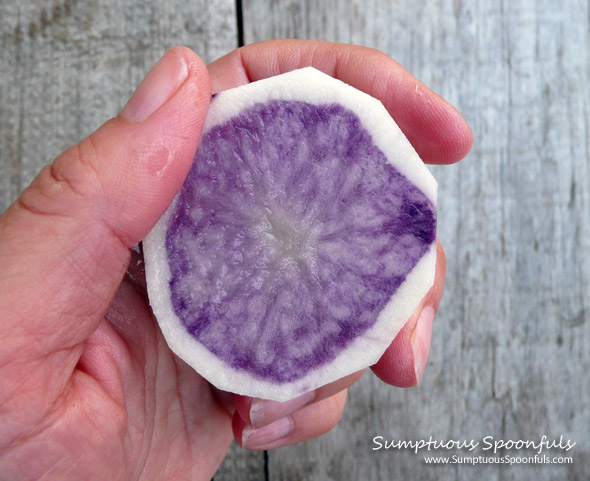 This one has a beautiful purple center, with a white ring around it. Some of the others are just mottled purple all the way through … I love how each one is different so you get a little surprise when you cut into them … But enough about purple! Let's get back to that cheesy hashbrown mushroom casserole …
Au Gratin Purple Potatoes with Mushrooms
Ingredients
3 cups shredded potatoes
1 1/2 teaspoons olive oil
1 1/2 cups sliced mushrooms
1 cup sliced red onion
1 clove garlic, peeled and chopped fine
2 - 4 Tablespoons dry red (or white) wine (I used Cabernet to stick with the purple color.)
Bruschetta seasoning, Red Robin Seasoning (or other seasoned salt), fresh ground pepper
1 1/2 cups Light & Luscious Cheese Sauce

For the crunchy topping:

1 cup whole wheat breadcrumbs
3/4 cup shredded cheese (I used a mix of extra sharp white cheddar & pepper jack)
For garnish: snipped green onions or chives
Instructions
Clean the potatoes and shred them using a box grater or other grating tool, placing them in a medium mixing bowl after shredding them. (You can peel the potatoes if you like, but the casserole will be more flavorful and healthier for you if you leave the peels on, especially if you are using purple potatoes!)
Drizzle the olive oil over the potatoes, sprinkle with salt and toss to coat the potatoes in the oil. Cook the potatoes on high in the microwave for 5 - 7 minutes or until the potatoes are tender and cooked through, stirring halfway through to make sure they get evenly cooked.
While the potatoes are cooking, spray a frying pan with cooking spray (if needed), then heat to medium heat and add the mushrooms, onion and garlic. Pour a splash of wine over the mushrooms and sautee, stirring constantly. Sprinkle with bruschetta seasoning, Red Robin seasoning and freshly ground pepper. Add another splash of wine if needed to keep the mushrooms moist. Keep sauteeing until the mushrooms are cooked through and the onions are soft. Taste the mushrooms and adjust the seasonings if needed.
When the potatoes and mushrooms are done, stir them all together in the bowl to mix well. Add the cheese sauce and stir to mix.
Spray a casserole dish, several ramekins or an oven-proof bowl with cooking spray, and pour in the cheesy potato mushroom mixture, using a spatula to evenly spread the mixture across the dish.
Mix the breadcrumbs with the shredded cheese and sprinkle it over the top of the casserole.
At this point, you can cover the casserole and refrigerate it until about 30 - 40 minutes before serving time. Preheat the oven to 350. Bake the casserole for 20 - 40 minutes or until the casserole is heated through, the crumbs on top are nicely browned, and the cheese sauce is hot and bubbly.
Garnish with snipped green onions or chives if desired. Serve hot.
http://www.sumptuousspoonfuls.com/purple-hashbrown-mushroom-casserole-au-gratin/
Copyright 2012 by Sumptuous Spoonfuls. Recipes are meant to be shared! Nothing makes me happier than to hear about someone who has tried one of my recipes. All I ask is that if you are going to share my recipe online, give me credit and a link. And if you want to use one of my photos, please ask first. You can contact me at http://www.SumptuousSpoonfuls.com/contact/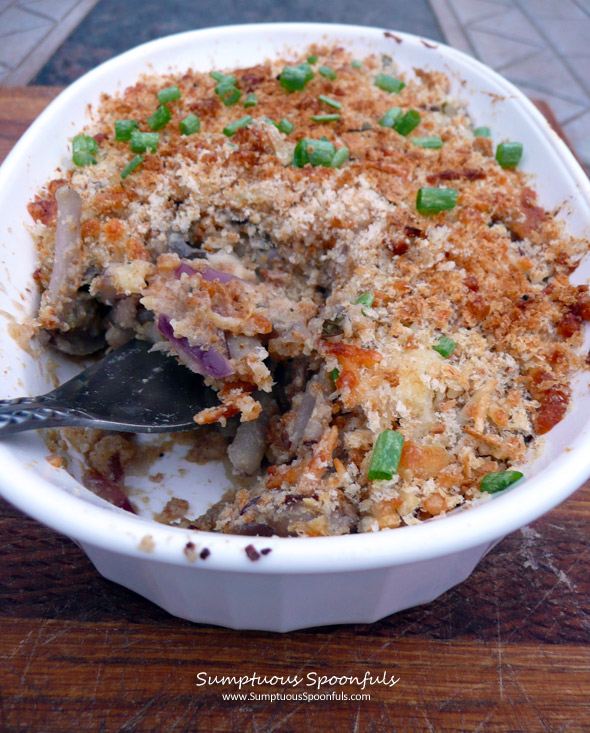 This recipe was shared at Strut your Stuff Saturday, Show & Tell Saturday, Scrumptious Sunday and the Thanksgiving Linky.