Rhubarb Rosemary Country Cocktail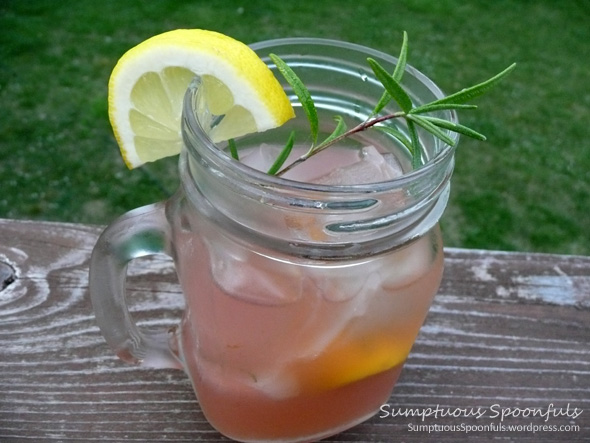 In the continuing saga of my search for something "different" to do with rhubarb, I discovered this cocktail recipe from Bon Appetit that really intrigued me. They call it a Double R Daiquiri, and I had a little time last night and it was SO hot outside that a nice cold cocktail sounded totally perfect. So I decided to give this little cocktail a try.
Now, I didn't follow the recipe exactly — I accidentally threw all the sugar into the rosemary syrup, leaving none left for the rhubarb. Also, I didn't wait several hours after cooking up the syrups like the recipe said. The two contrasting liquids seemed quite cool enough within a half hour or so to throw over rocks to me …
But really, I have to say the taste of this drink struck me more like a country cocktail than an upscale daiquiri. Perhaps it had something to do with the mason jar glass I put it in, but that light pink lemonade-ish tone along with the combination of sour, sweet, and earthy flavors just said "country roads" to me. I could almost break out singing a John Denver tune when I sip on this one … so forgive me, Todd Thrasher (the creator of this drink), I love your drink recipe and I hope I don't offend you by doing so, but when I serve it, I'm going to call it a country cocktail.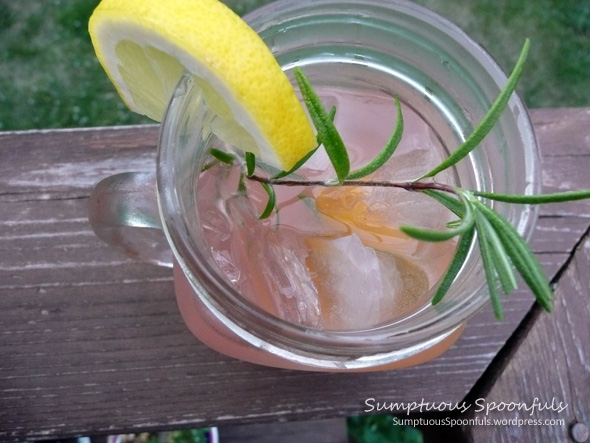 Rhubarb Rosemary Country Cocktail
Recipe adapted from Bon Appetit
Rosemary syrup
1/2 cup + 2 Tablespoons sugar
1 cup water
1/2 cup rosemary leaves (I just cut a bunch of twigs from my little rosemary plant … I didn't measure them, and I didn't bother to take them off the stalks either … they are going to get strained out in the end, after all)
Rhubarb juice
1 1/4 cups water
3 cups chopped rhubarb
1 Tablespoon fresh squeezed lemon juice
For the cocktail:
1/2 cup rhubarb juice
1 shot rum (I used Bacardi golden rum)
2 Tablespoons rosemary syrup (more or less to taste)
1/4 of a lemon
Slice of lemon and sprig of rosemary, for garnish
Directions:
In a saucepan, mix together the sugar and water for the rosemary syrup and heat to boiling, stirring till the sugar is dissolved. Remove from heat and add the rosemary. Let the rosemary sit and steep for at least 15 minutes, then strain out the rosemary.
Meanwhile, combine the rhubarb, water, and lemon juice in a blender and pulse into a coarse puree. Strain through fine-mesh sieve into a medium bowl. I strained it through a cloth, then squeezed the cloth to release most of the juice out of the puree.
Now, the recipe says to refrigerate the rhubarb for 4 hours or more … I didn't have THAT much time last night! So stick them in the fridge (or freezer?) and wait until both the liquids are cooled down enough to make a cocktail. You can make these in a pitcher if you want … see the original recipe for instructions on that. I wasn't going to drink a pitcher-full last night by myself, so I had to improvise on an individual serving. This is what I came up with: fill a tall glass (or mason jar) most of the way with ice. Pour in 1/2 cup of the rhubarb juice, add a shot of rum, a couple tablespoons of rosemary syrup, then squeeze the juice out of 1/4 of a lemon and put it in the glass along to release the oils from the peel as well. Garnish with a sprig of rosemary and a slice of lemon (or a lemon peel twist) and enjoy!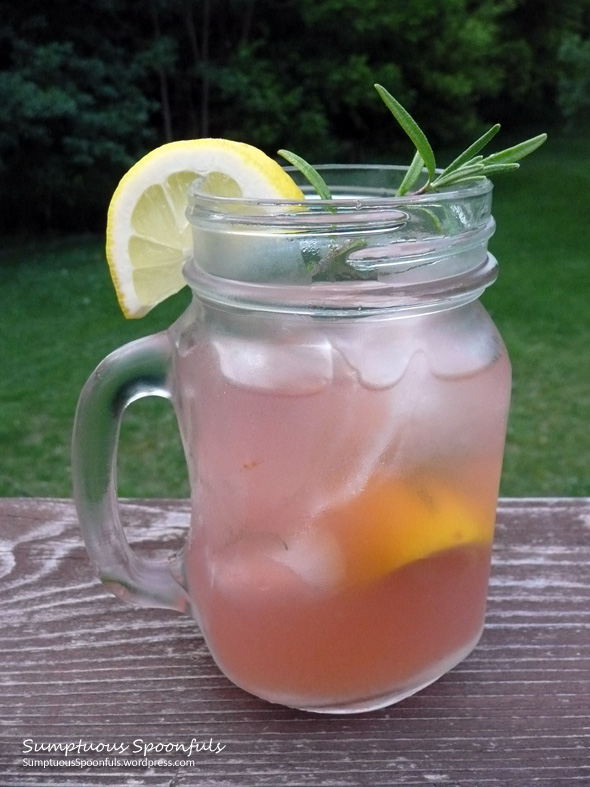 This recipe was shared at Summer Drinks Potluck Party.