Simple Stovetop Tomato Paste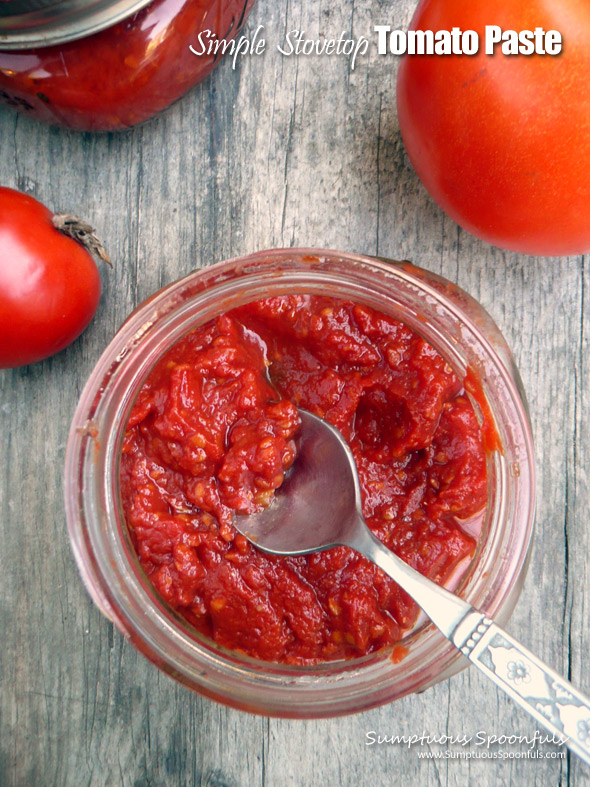 Tomato paste is one of those things that kind of catch me off guard. When I'm ready to make a good sauce, I start in on it and then find in the midst of cooking that it calls for tomato paste and I have NONE in my house! Part of this is because I'm concerned about the BPA lining that is used in cans, part of this is because I have this attitude of well, I'll just use regular tomatoes and cook them down, but then sometimes you just really need that thick tomato paste in order to make your recipe work properly.
It's been a good tomato year … my own little potted tomatoes are producing nicely and my parents have loads and loads of tomatoes from their large garden. They've done all the canning they care to do (which, believe me, is a LOT) and  still there are SO MANY MORE. I took a box off their hands one week, brought them home and ate some, canned them, gave some away. I went back up to visit mom and dad again and the garden didn't even look like I'd taken any!  So I took 2 1/2 boxes more, trying to clean out the ones that were on the ground because the vines were so heavy with tomatoes they couldn't hold them up (and the ones on the ground tend to rot if left there very long). The tomato vines were still fairly loaded, but this time the garden looked a little cleaner when I was done picking. I decided it was time to fix my tomato paste conundrum. First thing in the morning, I got out my Swiss Diamond soup pot and started filling it with tomatoes. I looked at all the tomato paste recipes online. They all looked so complicated! Why do you need to go through all that trouble of using a food mill, then putting the paste in the oven and cooking it in there. It all seemed so messy and lengthy. Not to mention I have no food mill. I decided just to peel the tomatoes using the old boiling water method and not bother taking out the seeds. If you're using tomato paste in a recipe, you're probably using tomatoes too so you're going to have seeds.
So once I'd filled my soup pot as full as I could, I turned on the burner and let it cook for hours, stirring whenever I walked by it in the kitchen. I sort of pondered stopping at the "tomato sauce" stage, but decided to keep going–I mean, after all, what was it hurting? I was home all day anyway, might as well let it keep cooking down. After about 6 hours, I decided it was thick enough to be tomato paste and declared my simple stovetop tomato paste a victory. As I was canning it, I took a little taste of my tomato paste and oh, did it taste GOOD! Usually I avoid tasting tomato paste because it just, well, doesn't taste very good, but this, this I found myself running my finger across every little bit left in the pan so it would land on my tongue … I was like a kid licking the bowl of cookie dough batter. Mmmmmmm …
Simple Stovetop Tomato Paste
Ingredients
Lots of tomatoes - enough to fill your biggest soup pot
Instructions
Heat a pot of water to boiling in a saucepan over high heat. Give each tomato a "bath" in the boiling water for about 20 seconds or so, then use a set of tongs to remove them and set them on a towel.
After its bath, let each tomato sit until it is cool enough to handle. Pull the skin off the tomato, and cut out the core. Put the tomatoes in your soup pot until it is full.
Set the soup pot on the stove over medium heat. After a bit of cooking, the tomatoes will start to release their juices. Use a ladle or small measuring cup to skim off some of the juices. I skimmed off about 1 quart of juice.
Increase the heat then to bring the tomatoes to boiling, then reduce to a simmer. Let cook uncovered for several hours, stirring occasionally.
At some point in the cooking process, use an immersion blender to blend up the tomatoes so there are no large chunks left.
After about 4 hours of cooking, your tomatoes should have reduced significantly. As the mixture gets thicker and thicker, you may have to reduce the heat in order to keep the mixture from splatting too much (the taller your pan is, the better!). Keep cooking until the tomatoes have cooked down to a thick paste. For me it took about 5 - 6 hours.
Freeze your tomato paste in small containers or can it in small jars using a hot water bath (as you would tomatoes).
Notes
Romas or other meaty tomatoes yield more tomato paste than the big heirloom tomatoes; however, you should use tomatoes that you enjoy the taste of because as the tomatoes cook down, the taste is magnified. I used a mix of Romas, Siberian tomatoes, and others from my mom's garden.
RECIPE SOURCE: http://www.sumptuousspoonfuls.com/
© Copyright 2014, Sumptuous Spoonfuls. All images & content are copyright protected. Please do not use my images without prior permission. If you want to publish any of my images, please ask first. If you want to republish this recipe as your own, please re-write the recipe in your own words or link back to this post for the recipe.
http://www.sumptuousspoonfuls.com/simple-stovetop-tomato-paste/
Copyright 2012 by Sumptuous Spoonfuls. Recipes are meant to be shared! Nothing makes me happier than to hear about someone who has tried one of my recipes. All I ask is that if you are going to share my recipe online, give me credit and a link. And if you want to use one of my photos, please ask first. You can contact me at http://www.SumptuousSpoonfuls.com/contact/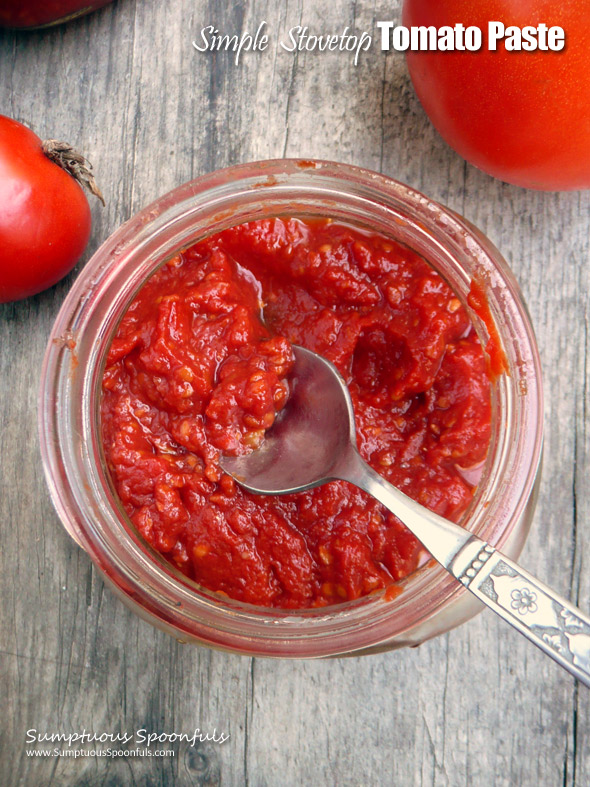 This recipe was shared at What to Do Weekends.