Teriyaki Chicken with Basmati Rice, Broccoli & Carrots
In Albuquerque, there is this fast food chain called Teriyaki Chicken Bowl. We called it TCB. It's not a New Mexican thing, really, but they are all over Albuquerque. We went there a lot for lunch. It wasn't anything fancy: just some chicken, broccoli, carrots, and cauliflower in a delicious sauce over rice. There was no ambiance or decor. Just a bit of chicken, vegetables and rice in a bowl. TCBs were always packed at lunchtime. You usually had to wait in line to get your bowl.
I haven't been to Albuquerque in years, but I still remember the taste of that chicken.
When my son and I went to California last month, my friend served us this Teriyaki Chicken. My son loved it, and when we got home, he asked me to make Teriyaki Chicken. I was so excited that he was asking for something besides pizzas and burgers.
I found lots of recipes for Teriyaki Chicken and there were so many variations on the recipe … some were really complicated, some were overly simple. I settled on one I found at Itsy Bitsy Foodies. It seemed about right to me. And when I added the steamed broccoli and carrots, to me, it transported me right back to TCB.
Teriyaki Chicken with Basmati Rice, Broccoli and Carrots
Adapted from Itsy Bitsy Foodies
For the marinade:
1/4 cup soy sauce
3 Tbsp honey
2 Tbsp rice vinegar
2-3 cloves garlic, chopped fine
2 tsp ginger, shredded (You can substitute 1 1/2 tsp ground ginger but fresh ginger is SO much better.)
1-2 Tbsp oil
About 5 drops of sesame oil
7 chicken thighs, trimmed of excess fat, and cut into large chunks
1/2 Tablespoon cornstarch, dissolved in 1 Tablespoon water
Steamed broccoli and carrots
Cooked basmati (or white) rice
Directions:
Mix the marinade ingredients together. Put the chicken in a bowl and pour the marinade over. I then dug my hands in there and squeezed the chicken to infuse the marinade into the chicken. Besides that I just like to feel my food. I know, that's weird, but I love to get messy in the kitchen. (Yes, I always wash my hands after touching meat.)
Allow the chicken to marinade at least 2 hours or overnight.
Start the rice cooking and the vegies steaming.
Spray a frying pan and heat over medium-high heat.
Turn the heat down to medium, dump the chicken and sauce into the pan and cook the chicken for 10-15 minutes or until the chicken is cooked through.
Remove the chicken pieces from the heat.
To the remaining sauce in the pan, stir in a drizzle of cornstarch/water mixture a little at a time, stirring constantly, until it boils and thickens.
When the sauce is thickened to your liking, slide the chicken back into the pan and stir to mix.
Serve the chicken on a bed of hot cooked rice, topped with steamed broccoli and carrots (and cauliflower if you like!). It's also nice sprinkled with sesame seeds.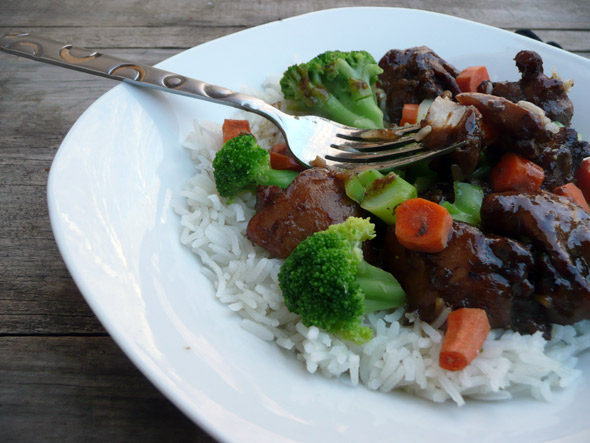 This recipe was shared at Everyday Mom's Meals, Fat Tuesdays, Totally Tasty Tuesdays, Wonka Wednesdays, Gooseberry Patch Inexpensive Recipes, Wednesday Eats,  Thursday's Treasures, Midweek Fiesta, Gooseberry Patch Trip Around the World, Iron Chef Mom Carrots and Fit and Fabulous Fridays.