The Gluten Free Chocolate Chip Cookie Test
Alton Brown's gluten free "The Chewy" cookie goes head-to-head against Mrs. Field's Blue Ribbon Chocolate Chip Cookies in "The Cookie Test"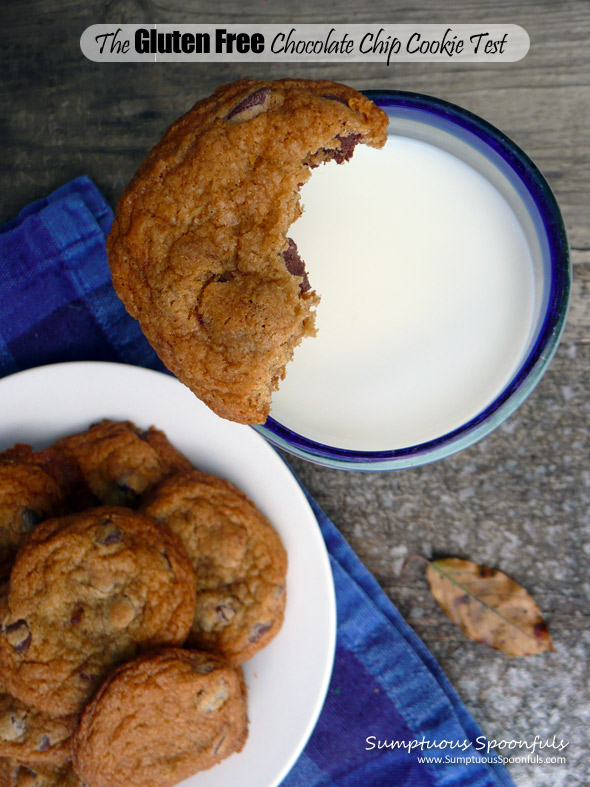 I have a couple friends at work who have given up gluten. It wasn't anything their doctor told them to do … in fact, the doctors never "discovered" the gluten intolerance. They just decided to try it to see if it would make a difference, and avoiding gluten has made a HUGE difference in their health. Mitch's fiance made him a batch of these gluten free cookies  (isn't that sweet?) and he brought them into the office to share with us. Oh they were good … we decided amongst the three of us that you could NOT tell at all from the taste that they were gluten free. I was delighted when Mitch shared the cookie recipe with me … and then even more delighted when Kelly bought me the special flours and chocolate chips. I decided to make this gluten free cookie baking into a fun experiment: how about making a batch of my other "best" chocolate chip cookies and doing a blind taste test to see if people could tell the difference?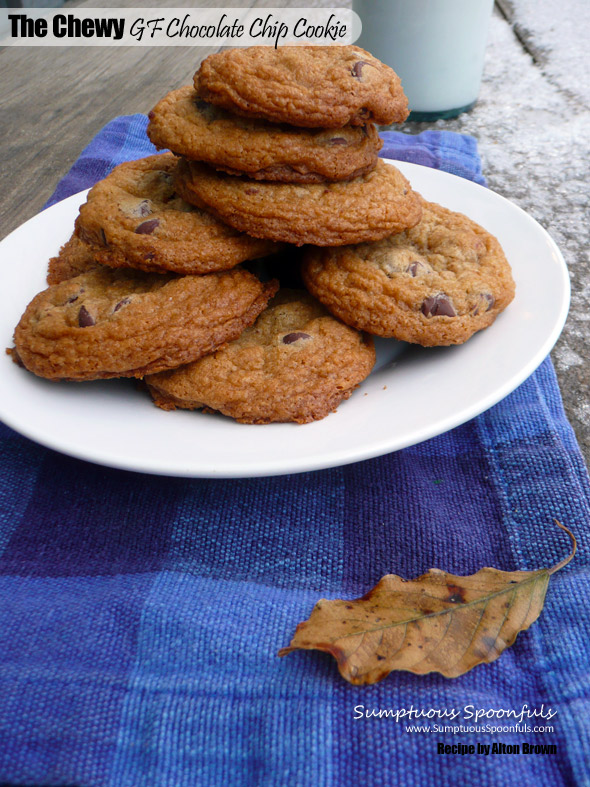 We did two days of "The Cookie Test" at the office: I had people try one of each of the cookies and tell me which one they thought was gluten free and why. The cookies competing were Alton Brown's Gluten Free Chocolate Chip Cookies  (recipe below) vs. Mrs. Field's Blue Ribbon Chocolate Chip Cookies (click for the recipe).
It was a tough competition! On the first day, 7 people guessed "wrong" (they guessed that Mrs. Fields cookies were gluten free) and only 1 person guessed right. Someone claimed that the test was flawed because I had reduced the sugar in the "regular" (Mrs. Fields) cookies and they weren't as chewy as the gluten free ones. So I went home that night, put a bit more sugar in the "regular" cookie dough and baked up another batch of each kind of cookies. Now they were much more "alike". This is what Mrs. Fields cookies looked like: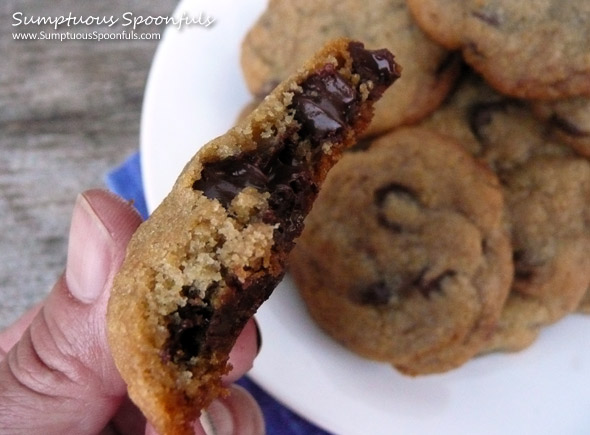 On the second day, the results were more even: 7 people guessed right and 5 people guessed wrong. There was quite a lot of uncertainty and guessing both days. Everyone unanimously agreed that Alton's gluten free cookies are delicious … oh and yes, Mrs. Fields Cookies are wonderful too.
Conclusion: you won't notice that these perfectly chewy cookies are gluten free … and if you happen to be (or know someone who is) on a gluten free diet, you will be ECSTATIC that you can eat them.
Thanks to all my cookie testers and to my gluten free friends who have broadened my horizons and gotten me to use things like brown rice flour and xanthan gum. It's kinda fun playing with gluten free ingredients and learning (more) cookie-ology.
Alton Browns Gluten Free THE CHEWY Chocolate Chip Cookie
Ingredients
1 cup (two sticks) butter
1/4 cup white sugar (2 oz.)
1 1/4 cups light brown sugar (10 oz.)
1 whole egg
1 egg yolk
2 tablespoons milk
1 1/2 teaspoons real vanilla extract
2 cups brown rice flour (11 ounces)
2 Tablespoons tapioca flour (1/2-ounce)
1/2 cup cornstarch (1 1/4 ounces)
1 teaspoon xanthan gum
1 teaspoon salt
1 teaspoon baking soda
1 - 2 cups semisweet chocolate chips
Instructions
In a large mixing bowl, melt the butter, then cream it together with the sugars until well mixed and a bit fluffy. Stir in the eggs, milk and vanilla completely. Your batter at this point will look and smell quite like a bowl full of caramel.
Add the flours, cornstarch, xanthan gum, salt and baking soda and stir until everything is well mixed and the mixture is a soft batter. Stir in the chocolate chips. Put the soft batter into a covered container and chill for at least an hour or until the dough is firm.
Preheat the oven to 375 F. and get out a couple of cookie sheets. Scoop up a ball of dough with a spoon and, using your hands, form it into a ball about an inch in diameter. (Alternatively you can weigh your balls of dough ... Alton says they should be 2 oz. each.)
Repeat until you have six balls of dough. Arrange those six balls on the cookie sheet leaving LOTS of space between cookies. These babies need their space. Put six balls of dough on your other cookie sheet. Bake the cookies at 375 for 10 - 14 minutes. (Baking time will vary by oven. I found the ideal cooking time for mine was 11 minutes.) Let cool for a few minutes, then remove the cookies from the sheet to make room for more.
Once the cookies are cool, move them to an airtight container for storage.
Notes
Directions posted here are the way I made the cookies. Alton likes to do everything by weight; I didn't weigh anything. Alton called for sifting the dry ingredients and using a mixer to mix the batter. I didn't use a mixer or a sifter. Alton Brown's Recipe is here.
RECIPE SOURCE: http://www.sumptuousspoonfuls.com/
© Copyright 2013, Sumptuous Spoonfuls. All images & content are copyright protected. I love it when you share, but please do not use my images on your own site/page without prior permission. If you want to publish any of my images, please ask first. Sharing, pinning, and tweeting is always appreciated as long as the shares and pins link back to here for the recipe. If you want to republish this recipe as your own, please re-write the recipe in your own words or link back to this post for the recipe.
http://www.sumptuousspoonfuls.com/the-gluten-free-chocolate-chip-cookie-test/
Copyright 2012 by Sumptuous Spoonfuls. Recipes are meant to be shared! Nothing makes me happier than to hear about someone who has tried one of my recipes. All I ask is that if you are going to share my recipe online, give me credit and a link. And if you want to use one of my photos, please ask first. You can contact me at http://www.SumptuousSpoonfuls.com/contact/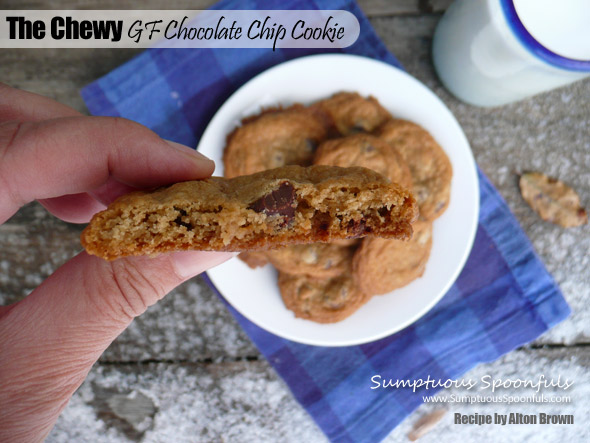 This post was shared at What to Do Weekends, Sweet & Savoury Sunday, Weekend Potluck, Munching Monday, Treasure Box Tuesday, Tuesday's Table and Talking Tuesday over the Fence.