Twisted Apple Braid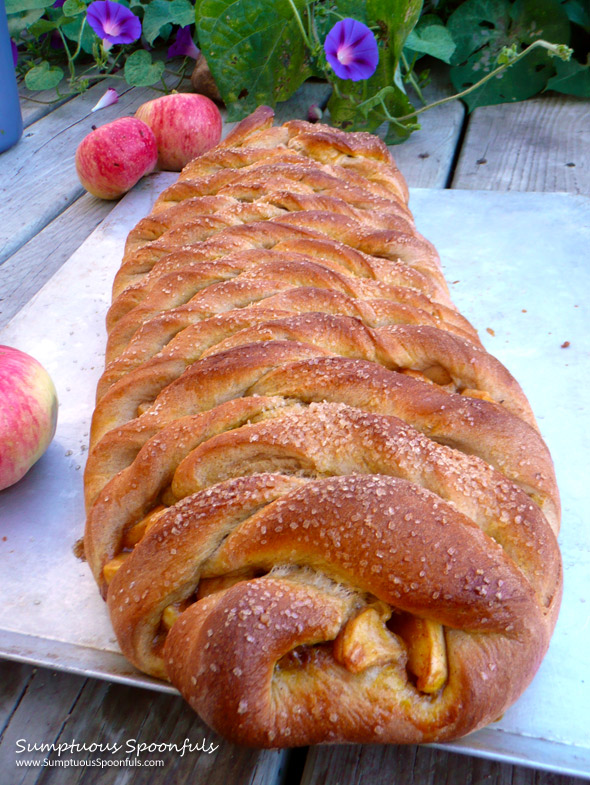 I love to do cooking projects with my nieces and nephews whenever I see them. They are just the cutest little kitchen helpers! My 4-year-old niece especially loves to hang out in the kitchen with me (she also loves to do yoga poses … a girl after my own heart) and she sticks around through the whole process. No kitchen task is too daunting for her!
On Labor Day weekend I was up at my parents' place with the whole crowd, all the kids, all the sisters, all the dogs were there. Sunday morning I woke up at 6 am and the house was still quiet. I had woken even before the little ones (who usually get up at five and they are NOT at all quiet), which was amazing in itself. I got myself a glass of water and looked  out at the lake, intending to go back to bed. But then my sister and her two littlest ones (including my cutie kitchen helper) quietly appeared. They looked out at the sliver of the moon still hovering over the lake with me, so peaceful and serene, as the glow of the sunrise was just beginning to appear.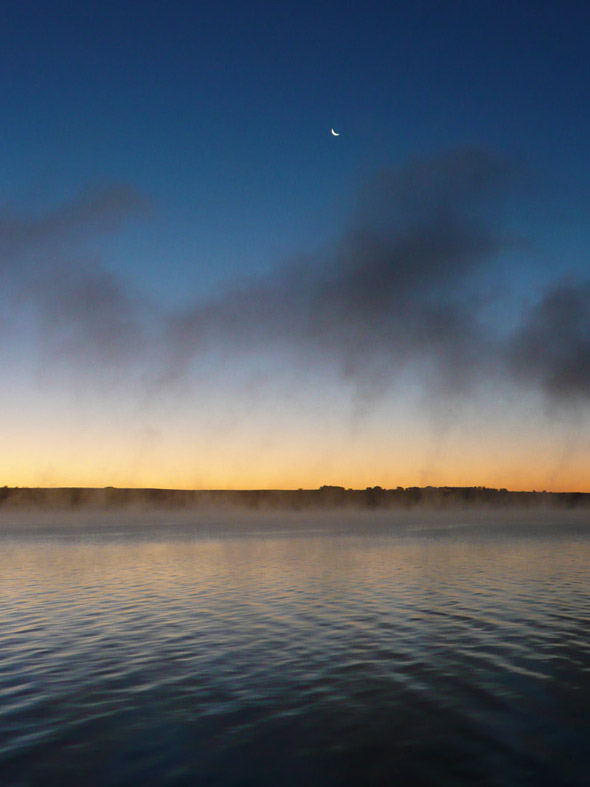 There had been wishes for cinnamon rolls that morning, so I started the dough and went back to my bed, intending to rest while the bread machine prepped the dough for me. I laid there for about 15 minutes before it struck me what I should do with that dough. Not cinnamon rolls! This bread dough was going to be a braid … an apple braid.
I got up, borrowed my daughter's hoodie to keep off the chill of the morning and headed out to the apple tree in that pre-dawn darkness when the sky is just beginning to glow. I found some apples, came back in and started peeling, peeling, peeling. What are you making, Auntie Ann? they asked. You'll see, I smiled. Chopped up the apples, put them in a bowl, added some spices and vanilla and sugar, cooked them a bit in the microwave and set them out on the patio to cool a bit.
Before I knew it the dough was ready and my little helper was right there to help. Her mom wanted to whisk her off to the bath, but I claimed I needed my helper … could her bath wait just a little bit? She helped roll out the dough. Then we let it rest and rolled some more till we got it as big as we wanted. We poured the apples down the middle and cut the strips of dough down the sides. My little helper and I took turns twisting and braiding the sides of the dough, first her side, then mine. Then we brushed the top with egg and sprinkled it with raw sugar and put it in to bake. Now, time for her bath. Somehow between the bath and the cooking project the two little ones managed to stay quiet enough to let the others sleep in a bit.
And then we got to eat the apple braid, and that made for an even better start to the day. My nephew loved it so much he asked for the recipe (because he'd slept right through this whole project), so I promised him I'd put it on my blog for him.
So this recipe is for my wonderful nieces and nephews, with love from Auntie Ann. If you need a little help knowing how to cut the strips of dough, go look here. There are some nice photos there that show you how. If you want that extra pretty effect, just twist the pieces of bread when you braid them. And don't forget the raw sugar on top.
Ingredients
For the dough:

2 cups bread flour
1 cup whole wheat flour
1 Tablespoon yeast
1 Tablespoon oil
1 teaspoon salt
1 teaspoon cinnamon
1/3 cup sugar
1 egg
3/4 cup water

For the filling:

5 cups of chopped, peeled apples
1/2 cup brown sugar
1 teaspoon cinnamon
2 Tablespoons lemon juice
2 Tablespoons flour
1 teaspoon cinnamon
1/4 teaspoon ginger
1/8 teaspoon allspice
1/8 teaspoon cardamom
1/8 teaspoon nutmeg
1 teaspoon vanilla

For the top:

1 egg, beaten with a teaspoon or so of milk
A couple Tablespoons of raw (turbinado) sugar
Instructions
Put the ingredients for the dough in a bread machine (or mixer with a bread hook) and put it on the dough setting.
While you are waiting for the dough, peel your apples and chop them up and put them in a microwave safe bowl with the rest of the filling ingredients. Stir it all up good, then put it in the microwave for 2 minutes. Take it out and stir, then cook for 2 more minutes. If the apples look like they are starting to soften, well, that's a good thing. If not, then cook them a little longer. Now set them somewhere to cool off a bit. You want them still warm, but not hot when you put them on the bread dough.
When the bread dough is done, roll it out into a rectangle shape on a large floured surface. You may have to let it rest a couple times so it will stretch more. Just make sure you cover it with a clean towel while it's resting so it doesn't dry out.
Pour the warm apple mixture down the middle and then cut strips of dough down each side about 1 inch wide, trying to make the same number of strips on both sides of the apple filling.
Now comes the fun part: the braiding! It's simple, just alternate strips of dough down the middle, twisting each strip and then laying it down in the center, overlaying the strips in a sort of braid. Keep going until you get to the end.
Now put the oven on the lowest setting it will go on (170 F) and when it's warm, switch it off. Spray the braid with cooking spray, cover, and set it in the oven for 20 - 30 minutes or until it's puffy.
Whisk together the egg with a bit of milk and brush over the top of the braid, then sprinkle with raw sugar.
Bake at 350 for about 40 - 45 minutes, covering loosely with foil about half the time so that it doesn't get too browned on top. Let cool just slightly before you cut off slices for your hungry crowd.
Notes
RECIPE SOURCE: http://www.sumptuousspoonfuls.com/
© Copyright 2013, Sumptuous Spoonfuls. All images & content are copyright protected. Please do not use my images without prior permission. If you want to publish any of my images, please ask first. If you want to republish this recipe as your own, please re-write the recipe in your own words or link back to this post for the recipe.
http://www.sumptuousspoonfuls.com/twisted-apple-braid/
Copyright 2012 by Sumptuous Spoonfuls. Recipes are meant to be shared! Nothing makes me happier than to hear about someone who has tried one of my recipes. All I ask is that if you are going to share my recipe online, give me credit and a link. And if you want to use one of my photos, please ask first. You can contact me at http://www.SumptuousSpoonfuls.com/contact/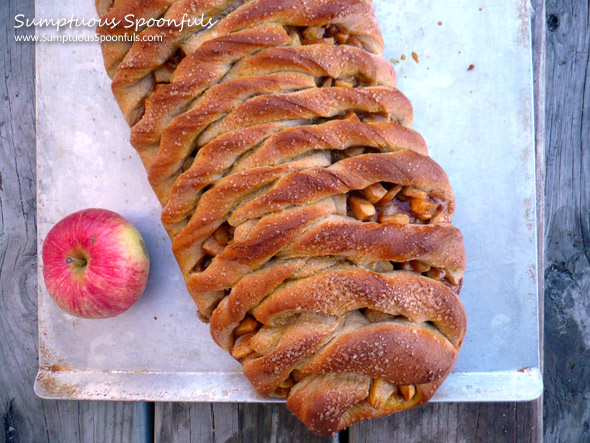 This recipe was shared at Scrumptious Sunday, What to Do Weekends, Munching Monday, Marvelous Monday, Tuesday Talent Show and All my Bloggy Friends.