Very Berry Italian Cream Sodas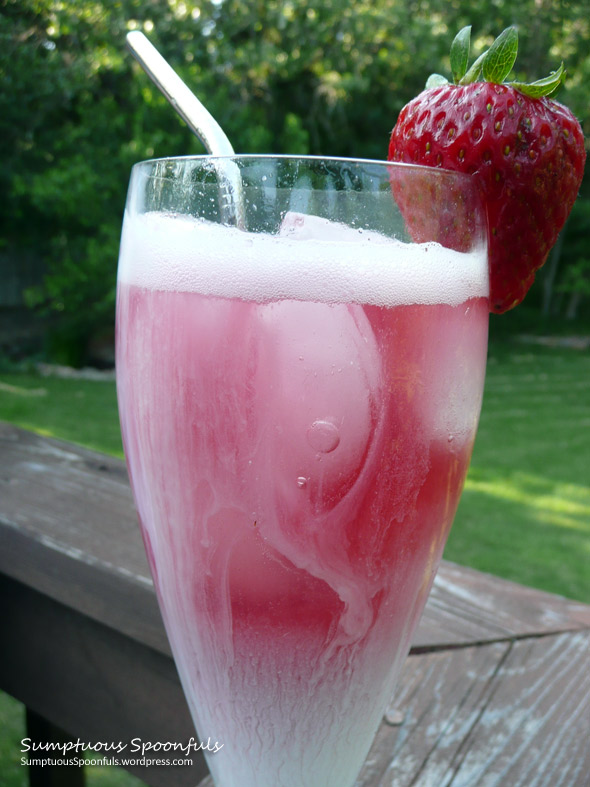 One day my daughter and I were shopping downtown and we got thirsty, so we stopped at this cute little coffee shop where they make all sorts of wonderful things and I suggested she try an Italian Cream Soda. She wasn't really sure she wanted to, but I talked her into trying one … especially since they had several berry flavors to choose from. One taste and she was totally hooked. She has loved Italian Cream Sodas ever since. Every time we go to that little coffee shop … or any Italian place … she wants a cream soda.
So with all these berries in my house lately, I couldn't help but think of making some syrup for her favorite sodas. And then last night we were going over to my friend's house for dinner, so we brought along the syrup and the club soda and some half & half and everyone had a cream soda. or two. or three. I wasn't really counting …
I'll share the normal (non-alcoholic) version first and then at the end I will give you a grownup version.
Very Berry Italian Cream Sodas
Syrup:
1 pound strawberries, washed, hulls removed (frozen unsweetened strawberries would work too)
1 cup fresh or frozen mulberries (you could substitute raspberries or blackberries if you don't have mulberries)
A big handful of fresh basil leaves (the basil is what makes these so amazing …)
1 cup of water
1/2 – 3/4 cup of sugar (or you can use a sugar/stevia mix … I think honey or another sweetener would work well too)
1 teaspoon real vanilla extract
Put all the syrup ingredients in a saucepan and heat over medium high heat till boiling, stirring occasionally. Reduce heat to medium and simmer for about 15 minutes or until the berries are soft and mushy and the liquid is bright red. Strain through a cheesecloth into a bowl, then funnel the sweet syrup into a bottle, cover and put it in the fridge to cool. Don't toss the berries, though! You can blend those up and make a nice berry sauce. I have great plans for those berries …
Anyway, now that you have this beautiful red syrup, you're ready to make a cream soda … oh you are going to love this.
For each soda:
Ice
1/2 cup Club soda
2 Tablespoons Very Berry Syrup
2 Tablespoons Fat free (or regular) half & half (we used the fat free version)
Fill a tall glass mostly with ice, then add about 1/2 cup of club soda and 2 tablespoons of the syrup. The glass should be mostly full at this point. (If not, you can add more soda & syrup.) You could drink it just like this, but you would be missing the BEST part! I had to enlist my daughter's help for this photo shoot …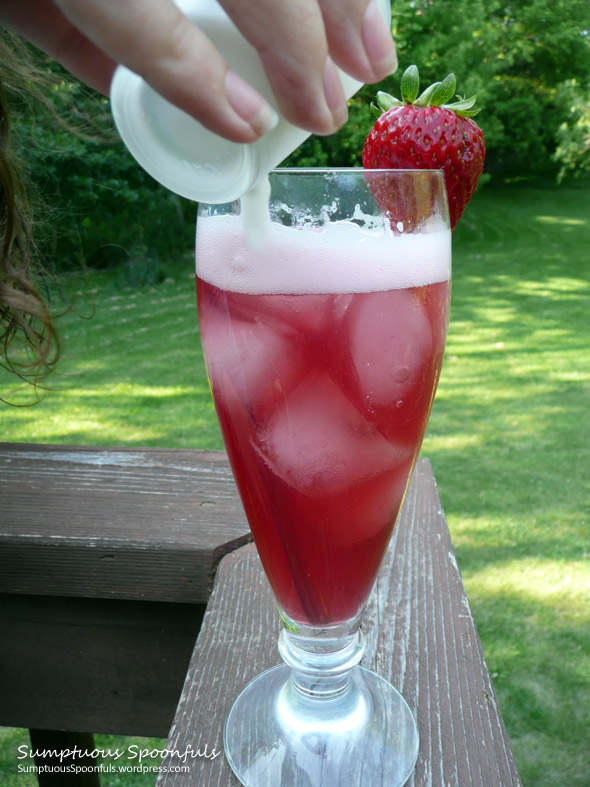 Gently pour 2 Tablespoons of cream over the top of the soda … it will start to swirl around in the glass, making a beautiful display …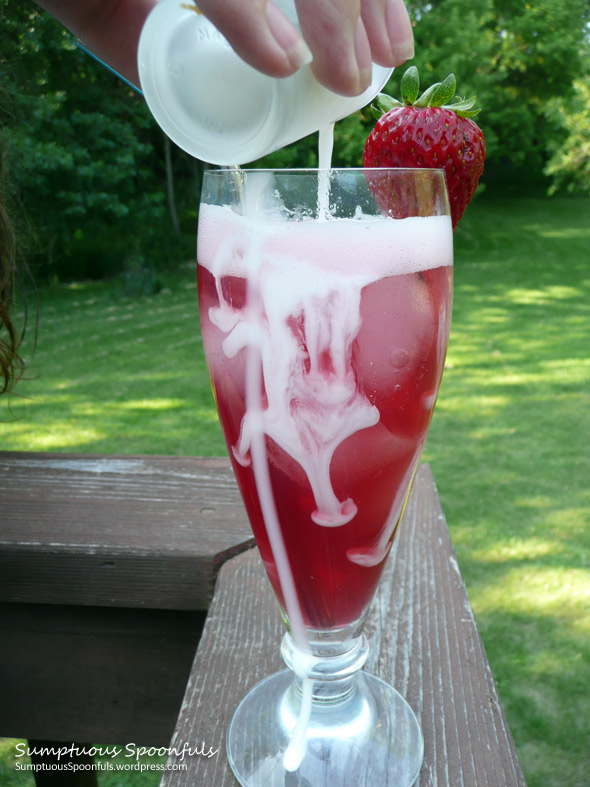 Keep pouring, taking care NOT to spill over the side like we did … 😉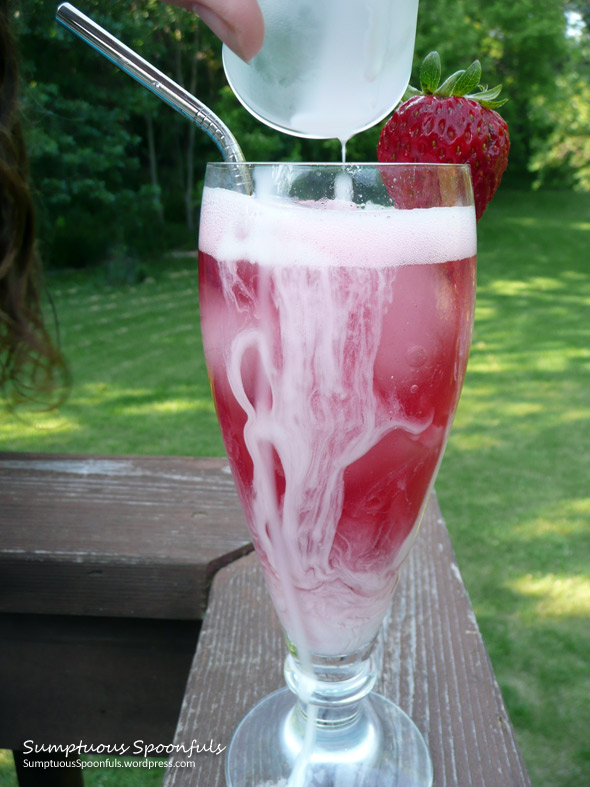 Watch the cream dance and swirl in the glass till you can't stand the suspense anymore, then stir up the soda with your straw to mix all the flavors and savor the deliciousness …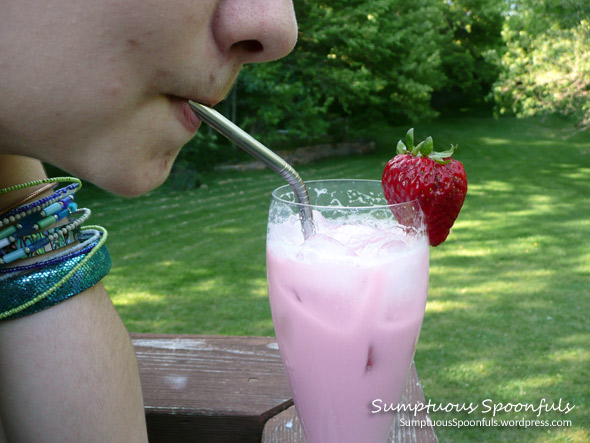 Adults-Only Version of Very Berry Italian Cream Sodas:
Fill tall glass most of the way with ice, but when you add the club soda, leave a little extra room on top. Add 1 Tablespoon of the syrup and 1 shot of Chambord (or homemade berry liqueur). Drizzle a Tablespoon or two of cream on top, stir and enjoy.
Blooper shot!
We had to do this photo shoot twice … the first time, we made a bit of a mess and we had to clean up the spilled cream and the poor drowned strawberry, BUT the swirl in the glass looked really cool, didn't it? (Added Bonus! We got to make two sodas : )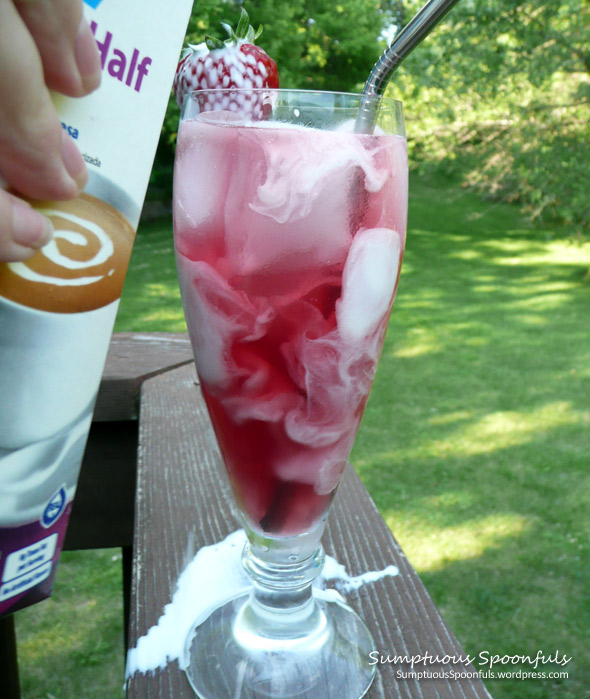 This recipe was shared at Scrumptious Sundays, Cast Party Wednesday, Tastetastic Thursday, It's a Keeper Thursday, Full Plate Thursday, Thursday's Treasures, Iron Chef Mom Strawberry Battle and the Newlyweds Recipe Linky.