Whiskey Green Tomato Cake {Again}
I'm re-sharing this post from July 2012 because it got screwed up in the move from the old blog to the new one … and it's a really good cake, with a good story …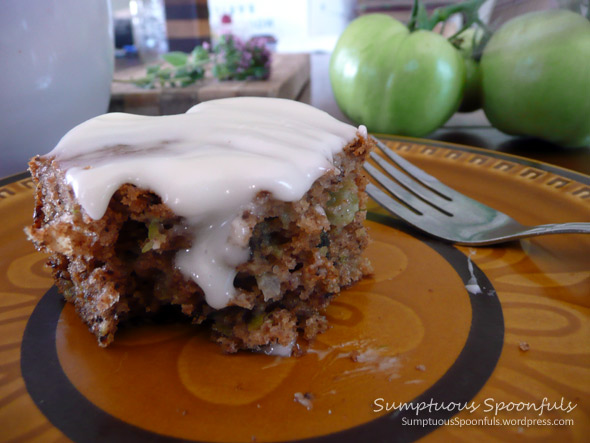 Last week my aunt from Florida came to visit. I don't know how many stops she had planned on her trip, but one of them was to visit my parents … I suspected she would go see mom, but I didn't really know until it was my turn to see my aunt.
My daughter and I drove down to meet my aunt and her artist friend for dinner. It was then that my aunt told us she had been to my parents' place and my dad had made this green tomato cake for dessert … what?!? … my dad made a green tomato cake?! What the … ?
I thought it sounded really odd, and then when we went to see my parents this weekend, dad mentioned his green tomato cake. Mom said that it was more like a bar than a cake and Dad said the recipe he used just had too much green tomato in it. I could see the wheels turning in his head … I asked him to tell me about this green tomato cake … and he had already figured out how to make it better. I looked him in the eye and said "let's make a cake!" … and so my dad and I set to work making a green tomato cake.
We started with our favorite carrot cake recipe, which is from The Jack Daniel's Cookbook, but by the time we finished, I don't think you'd even recognize the original recipe. Nonetheless, my dad was totally right (he usually is) … the cake turned out absolutely amazing. Both dad and I had two pieces of it for dessert after brunch (I NEVER have two pieces of cake …) and then later, on my way home, I brought some to my friend and had another piece of cake with her. Three pieces of cake in one day. This is totally a record for me. I'm not a cake person (unless it's like some kind of of amazing decadent chocolate cake), and this cake isn't even chocolate! … but it is SO worth it. The tart green tomatoes taste so much better than carrots in this (kinda pretty awesomely healthy) moist and flavorful cake.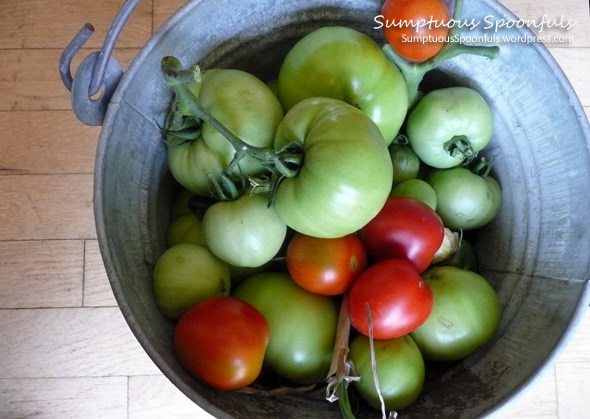 The green tomatoes came from mom and dad's garden. They fell off the vines while Mom was trimming the tomato plants. There was a whole bucket full of them. Their tomato plants are just thick with fruit … there will be LOADS of tomatoes this year. Only a few are ripe yet; the rest are yet to come.
My very favorite part of the day? I got to cook with my dad. The big bonus was that it turned out to be something totally jaw-dropping awesome.
This recipe is highly adapted from The Jack Daniels Spirit of Tennessee Cookbook
Whiskey Green Tomato Cake
Ingredients
3/4 cup raisins
1/4 cup whiskey
1 cup all-purpose flour
1 cup whole wheat flour
2 teaspoons baking powder
1 1/2 teaspoons baking soda
1/2 teaspoon salt
1 cup sugar
2 teaspoons vanilla
1/2 cup vegetable oil
2/3 cup applesauce
4 eggs
2 cups chopped green tomatoes (about 2 large green tomatoes)
3/4 cup walnuts

For the Heavenly Frosting:

2 Tablespoons butter, softened
2 oz. light cream cheese, softened
4 oz. powdered sugar
1 Tablespoon whiskey
Instructions
Preheat the oven to 350 degrees F. Put the raisins in a cup with the 1/4 cup of whiskey to plump them up.
In a large bowl, mix the dry ingredients, then make a well in the center and add in the wet ingredients. Whisk up the eggs and other wet ingredients together, then stir to incorporate them into the batter. Add the raisins & whiskey, green tomatoes and walnuts and stir just until everything is mixed up well.
Pour the cake batter into a 13 x 9 x 2 inch pan and bake for about 40 minutes or until a toothpick inserted in the center comes out clean.
While the cake is cooling, make the frosting by mixing the butter, cream cheese, powdered sugar and whiskey until smooth. Let the cake cool, then frost it with the Heavenly Frosting.
http://www.sumptuousspoonfuls.com/whiskey-green-tomato-cake-again/
Copyright 2012 by Sumptuous Spoonfuls. Recipes are meant to be shared! Nothing makes me happier than to hear about someone who has tried one of my recipes. All I ask is that if you are going to share my recipe online, give me credit and a link. And if you want to use one of my photos, please ask first. You can contact me at http://www.SumptuousSpoonfuls.com/contact/
This recipe was shared at Cast Party Wednesday, Full Plate Thursday, Farm Girl Friday, Foodie Friends Friday and Weekend Potluck.