White Whole Wheat Bread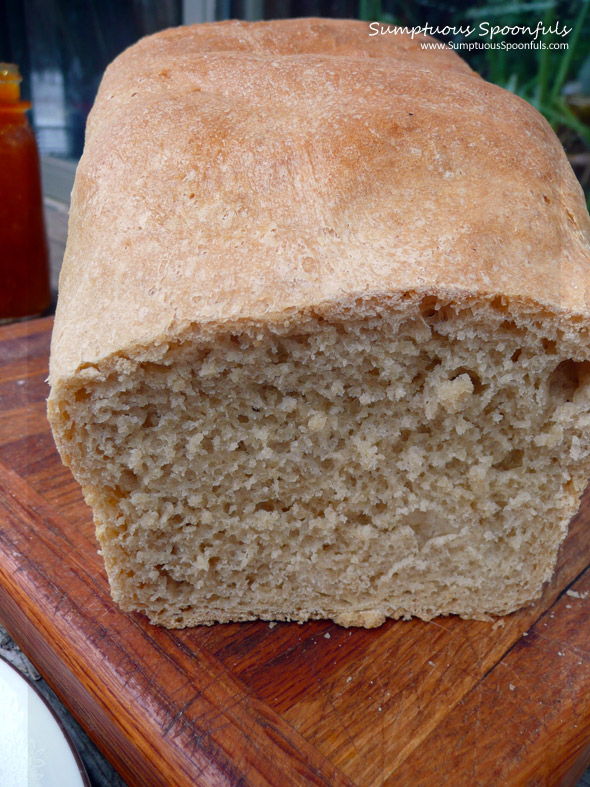 One day my daughter came to me and said,
"Mom, why don't you ever just make plain old bread? I want some plain old bread."
"You mean bread like grandpa bakes?"
"Yes, bread like that."
I said to her that I would make her some, and I would teach her how to make it so she could do it herself. So I showed her what ingredients to put in the bread machine, and how to check the dough in the machine to make sure it's making a nice ball of dough. I had her add  a Tablespoon of water because the dough wasn't sticking together as it should. Then I showed her how to shape the loaf, spray it with cooking spray, cover it and let it rise. I showed her what it should look like when the loaf is ready to bake, and how to test if it's done when the top turns golden brown.
Then I wrote it down for her on an old purple envelope and hung it on the fridge. But I realized that paper won't be around for her when she goes off to college and wants to bake a loaf of bread, or when she's off on her own, with her own family to take care of. So I'm writing it down for my dear sweet daughter, so it will always be there for her when she needs it. Here is your recipe for "plain old bread" my dear girl. I bet you would laugh at me if you could see there are tears in my eyes as I write this … I'm such a sap, but the thought of you growing up and moving away and having your own family makes me all teary-eyed.
Ingredients
2 cups bread flour
1 cup good-quality white whole wheat flour
1 Tablespoon yeast
1 Tablespoon sugar
2 Tablespoons olive oil
1 teaspoon salt
1 1/4 cups water
Instructions
Put all the ingredients in your bread machine or mixer and set on the dough setting.
When the dough is ready, spray a loaf pan with cooking spray, shape the dough into an oblong shape about the length of the loaf pan and set it in there. Spray with cooking spray and let it rise in a warm place until it's puffed up over the top (about an hour or so ... sometimes more, sometimes less, depending on how warm your rising spot is).
Set the oven on 350 F and bake for about 40 minutes, until the loaf is nicely golden brown and sounds hollow when you lightly thump the top.
Remove from the oven and spray the top of the loaf with cooking spray. Let the bread sit for about 10 minutes before cutting into it.
Notes
I'm including "rising time" in the "cook time" ... You can bake the bread in the bread machine if you like, but I prefer to shape my loaves and bake them in a loaf pan.
The quality of the flour you use makes all the difference! I use Prairie Gold White Whole Wheat Flour and Dakota Maid Bread Flour. My dad swears by Dakota Maid, but I can't find their whole wheat flour anywhere in town, so I go with Prairie Gold.
A tip for faster rising: preheat the oven to the lowest temperature (170 F usually), then shut it off. Set the pan in the oven and cover it. The dough will rise in 30 - 45 minutes. When it's time to bake the bread, you can just leave the bread in the oven, uncover it, and then turn the oven on. It will rise just a bit more while the oven heats up, which is always a good thing. 🙂
http://www.sumptuousspoonfuls.com/white-whole-wheat-bread/
Copyright 2012 by Sumptuous Spoonfuls. Recipes are meant to be shared! Nothing makes me happier than to hear about someone who has tried one of my recipes. All I ask is that if you are going to share my recipe online, give me credit and a link. And if you want to use one of my photos, please ask first. You can contact me at http://www.SumptuousSpoonfuls.com/contact/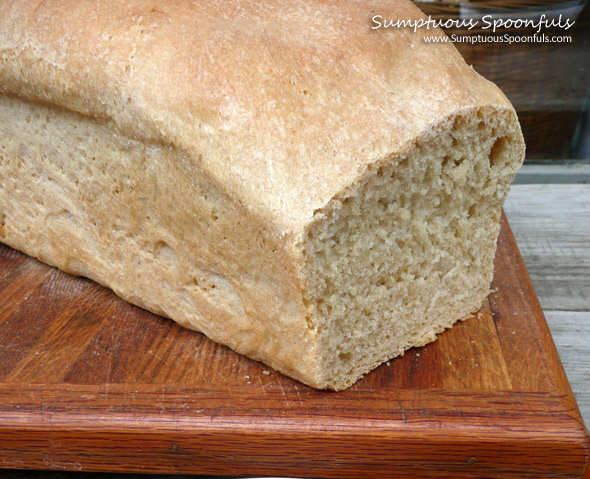 This recipe was shared at Scrumptious Sunday, Mop it Up Monday, Melt in your Mouth Monday, Clever Chicks Bloghop, What'd You Do this Weekend? and Everyday Mom's Meals.