Yellow Watermelon Basil Sorbet & the Versatile Blogger Award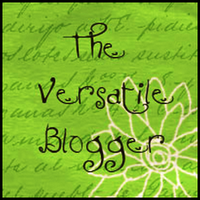 Last week was an incredible week … I was awarded the Versatile Blogger award FOUR times! I am so grateful to have such awesome foodie friends.
Three Rules come with this award:
Thank and link back to the person who gave you the award.
Share 7 things about yourself
Send it along to 15 other Bloggers and let them know you have awarded them!
First a GREAT BIG HAPPY THANK YOU!
Thank you to my sweet sweet foodie friends for this award:
As a special thank you, I made some delicious Yellow Watermelon Basil Sorbet! (made with yellow watermelon … and a bit of tequila) I SO wish we could all sit down and have some together.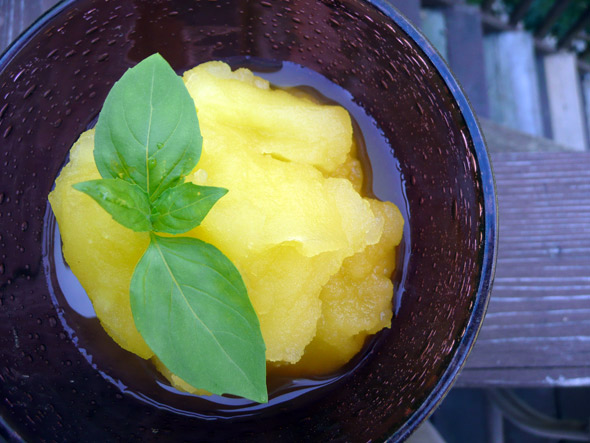 Second, the 7 things about me:
I have a black cat who I think secretly wants to keep me all to himself. He sits right next to me all day every day while I'm working, blogging or facebooking. He's fat and he's lazy but he loves me and I love him. Even if he is the stinkiest cat ever.
I have two wonderful children. (Well okay, maybe that's not such a secret.)
I love trees.
My favorite color is purple.
Both my kids are now taller than me. And they really love that.
My kids and I all do TaeKwonDo.
I sing in a choir. It makes me happy.
And FINALLY: The Winners!
So now I get to honor 15 other awesome bloggers! The most wonderful thing about having a food blog is meeting such wonderful people along the way! Every day I meet more foodies and the whole community is just infused with joy and love and sharing.
I always have a hard time selecting awardees … there are SO many great foodies who deserve it. So yeah, I couldn't quite stick within the limit (can't follow a recipe either  …) On this list are great cooks, amazing people, fantastic photographers, and some health and nutrition experts. Eat well, live well, be well, my friends.
And I know you've all been waiting for the recipe for the Sorbet: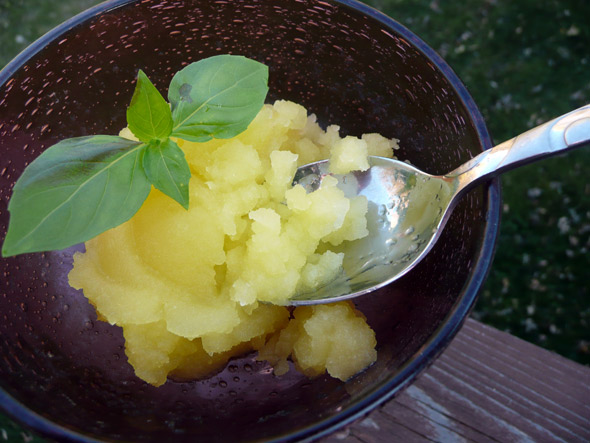 Basil Watermelon Sorbet
This is sort of a cross between a watermelon tequila slushie and a sorbet–if you want it to be more of a slushie beverage than a sorbet, add more alcohol. If you're making it for the kiddos, leave out the booze! It's very refreshing. You could probably substitute stevia or agave or honey for the sugar if you like.
The subtle basil taste with the watermelon is just heaven. I really love the added little bite from the tequila too.
4 c. cubed, seeded watermelon. I used a yellow watermelon from my mom and dad's garden. Have I mentioned I am a very very lucky girl?
1/2 c. sugar
1/2 c. water
A handful of fresh basil leaves
1/2 c. tequila (Add extra watermelon flavor by using watermelon tequila in this recipe! Just fill a jar with watermelon cubes and fill with tequila. Store in the fridge for two weeks. Then use the watermelon and tequila as you like. It keeps in the fridge for a LOOOOONG time and it's awesome in watermelon margaritas!)
1/8 c. Cointreau
Directions:
Put the watermelon in the blender and blend till the watermelon turns into juice. Strain through a strainer to catch any missed seeds and remove the excess pulp.
In a small pan, boil the sugar and the water till the sugar dissolves. Add the basil and remove from heat, allowing the basil to steep in the syrup for about 5 minutes. Strain the syrup to remove the basil leaves. Cool the syrup before adding to the watermelon juice.
Combine the watermelon juice, the syrup and liquors, then freeze in a ice cream freezer (I have one of those little Cuisinart jobbies and I just love it!) until it's frozen.
Enjoy immediately or freeze for later. If you make this without the liquor, you're going to want to eat it right away because it will get too hard in the freezer.
Recipe adapted from Rosemary and the Goat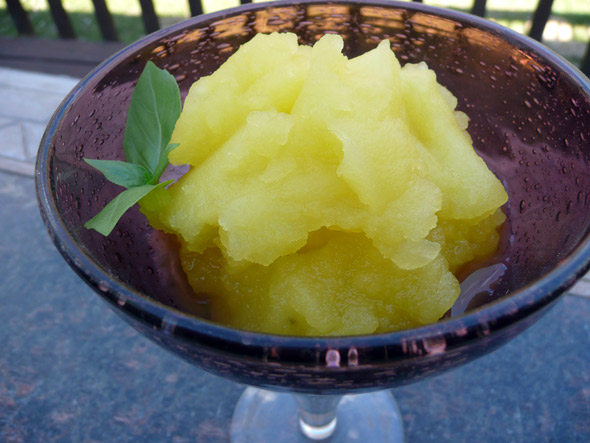 This is part of my series of 31 Days of Warmer Connections. Every day in October, I am blogging about connections through food.
This recipe was shared at Miz Helen's Full Plate Thursdays.