Avocado Ranch Salad Dressing (Low Sodium Option)

I found some lovely ripe avocados at the store today and it just occurred to me that avocado would be delicious in a Ranch Salad Dressing. Maybe I live in a hole, but why haven't I ever seen that before?
Before today, that is. Because here it is! Tada! Super quick, super healthy, super delicious, and if you have someone who is watching their sodium, then just leave out the salt! It's still fantabulous.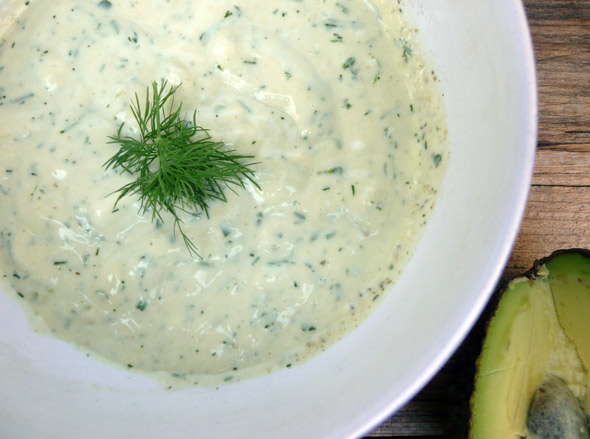 Avocado Ranch Salad Dressing with Low Sodium Option
To reduce sodium: If you leave out the salt altogether, this salad dressing has 75 mg of sodium per 2 Tablespoons; with 1/4 teaspoon of salt, this dressing has 149 mg sodium. I did a quick check and store-brand ranch dressings have sodium content ranging from 200 to 500 mg in 2 Tablespoons of dressing.
Makes about 1 cup of dressing (8 servings/2 Tablespoons per serving)
1/3 c. light mayonnaise
1/3 c. 1% milk
1 clove of garlic
About 1/2 a handful of fresh basil leaves
½ teaspoon sugar
Several fresh parsley leaves or ½ teaspoon dried parsley
A few fresh dill twigs or ½ teaspoon dried dill weed
1/2 teaspoon onion powder
Several chives
Freshly ground pepper
A sprig of fresh rosemary leaves
3 green onions (tops only)
1/4 of a ripe avocado (you could probably even add more avocado if you want …)
1/4 teaspoon salt (Leave out the salt altogether if you want less sodium … I made sure to taste it before I added salt, and it was delicious.)
1/3 c. nonfat greek yogurt
Whir all the ingredients except the yogurt in a handy chopper or food processor until smooth. Stir in the yogurt. Adjust seasonings to taste. Store any leftovers in a covered container in the fridge.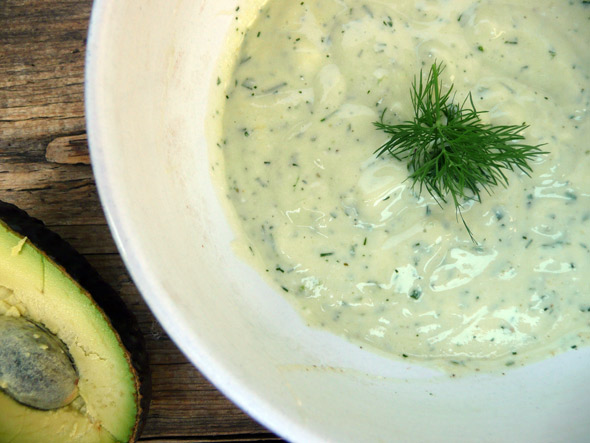 This recipe was shared at Newlyweds Recipe Linky and Full Plate Thursdays.