Blue Devil Bacon Jalapeno Poppers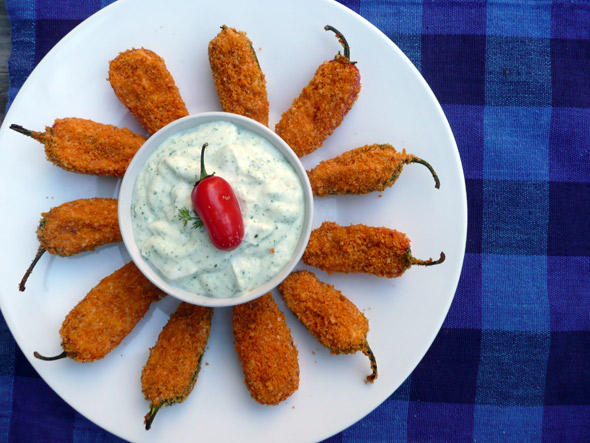 with lowfat Garlicky Basil Buttermilk Ranch Dip (for chasing the vampires away!)
It's Halloween and FINALLY the last day of October. I am breathing a sigh of relief because I took a challenge to blog about connections through food every day in October. I did it! Perhaps I didn't do as well talking about connections every day as I would have liked to, but I actually blogged every single day this month. I have made a lot of new friends this month and we've shared a lot of recipes, jokes, stories, ideas, and thoughts about food. I feel very close to all my foodie friends.
It was a good month, but honestly I think I cooked a little TOO much. Not all the food that I made got eaten. I had a few recipe failures that I didn't share, so I had to make something new to blog about. I don't like to waste food.
In order to make my goal, I started making food, photographing it, and waiting to blog about it until I needed a post on my blog. I discovered I don't like to blog about something long after I've made and eaten it. I want to blog about it in the moment, share it right then. I still have a few things to post that I prepared and photographed, but didn't get posted yet. I promise you I will post them because they are really good.
But from now on, I am not going to pressure myself to blog every single day.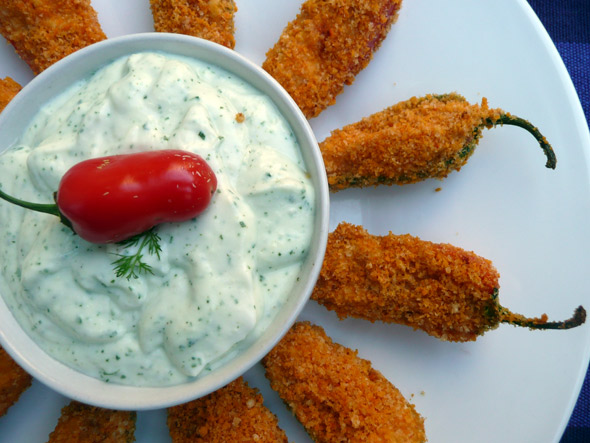 Here's a Halloween appetizer you could really enjoy anytime of year. I know they don't look very scary, but watch out. They definitely have a BITE to them. And the garlicky dip will help fend off vampires.
Blue Devil Bacon Jalapeno Poppers (Baked!)
About 15 jalapenos
1 egg + 1 egg white (you can also use eggbeaters or all egg whites)
Cheesy filling:
5 oz. light cream cheese
1 – 2 T. blue cheese crumbles
1/3 c. chopped onion
1/3 c. shredded sharp cheddar cheese
1 – 2 T. bacon crumbles
Breading: (Note: This is way more breading than you will need for your jalapenos. Use the rest to bread other vegies you have laying around–or cut the breading in half.
1 c. bread crumbs (whole grain bread is fine! I used crumbs from my dad's whole wheat yogurt bread)
1 c. cheese cracker crumbs (I recommend using healthy, lowfat, whole grain crackers and whirring them in your handi chopper or food processor till finely ground)
1 t. Red Robin Seasoning
1/2 t. onion powder
1/2 t. garlic powder
Directions:
You probably want to make the dip first so it has time for the flavors to blend. So scroll down to the end of this post to whip up the dip.
Preheat oven to 350°. Spray a baking pan with cooking spray.
Cut jalapenos in half lengthwise and scoop out the seeds and membrane. You  may want to wear gloves to protect your hands, eyes and other body parts from the spicy jalapeno juice.
Combine cheesy filling ingredients in a bowl until well mixed.
Using a spoon or knife, fill the halved jalapenos with the cheesy filling.
In a separate bowl, combine breading ingredients until well mixed.
In another bowl, whisk the eggs & egg white until frothy.
Dip each cheese-filled jalapeno half in the egg, then set it in the breading and cover. I found it worked best when I used my left hand ONLY in the egg bowl and my right hand ONLY to coat the jalapeno with breading.
As you finish them, set each jalapeno on a cooking sheet sprayed with cooking spray. When you've finished breading all the jalapenos, spray them with cooking spray.
Bake in the oven for about 20-25 minutes, until golden. The cheese might ooze out in some cases, that's quite all right!
Dip and enjoy! (These can be made ahead of time, kept in the fridge until serving time, then re-heated briefly in a 350 degree oven.)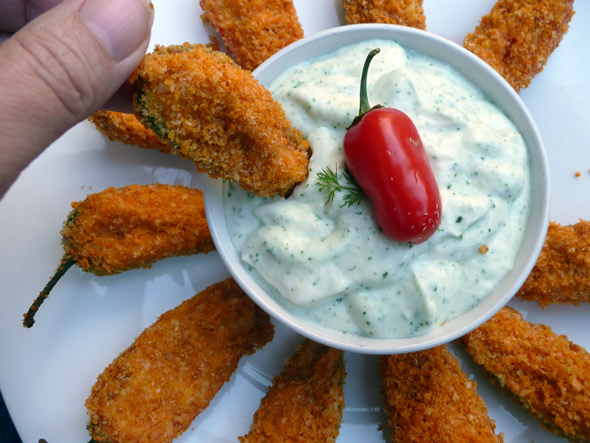 Garlicky Basil Buttermilk Ranch Dip (to scare the Vampires away)
Inspired by Mother Thyme and Alice Q. Foodie
1/3 c. light mayonnaise
1/3 c. buttermilk
1/4 c. greek yogurt
2 big fresh cloves of garlic
A handful of fresh basil leaves
½ teaspoon sugar
Several fresh parsley leaves or ½ teaspoon dried parsley
A few fresh dill twigs or ½ teaspoon dried dill weed
1/2 teaspoon onion powder
1/2 teaspoon salt
Freshly ground pepper
Whir all the ingredients in a handy chopper or food processor until smooth. Adjust seasonings to taste.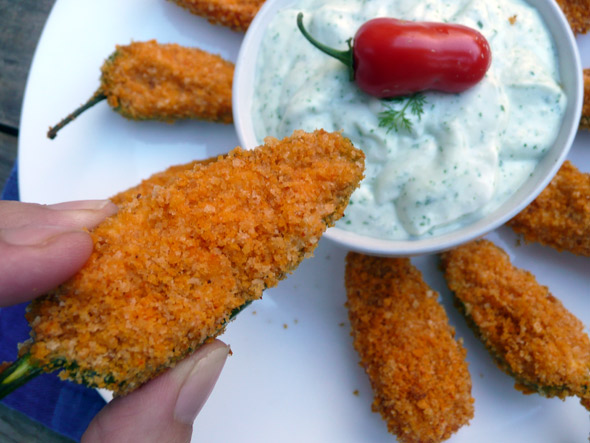 This recipe was shared at Recipe of the Week: Superbowl Snacks, Fit & Fabulous Fridays: Superbowl Edition, Katherine Martinelli's Game Day Bloghop, Manic Monday (SuperBowl Edition), The Superbowl & Chili Cookoff, Tuesday's Table and Recipe of the Week: Hot & Spicy Recipes.