Carabaccia: Italian Onion Soup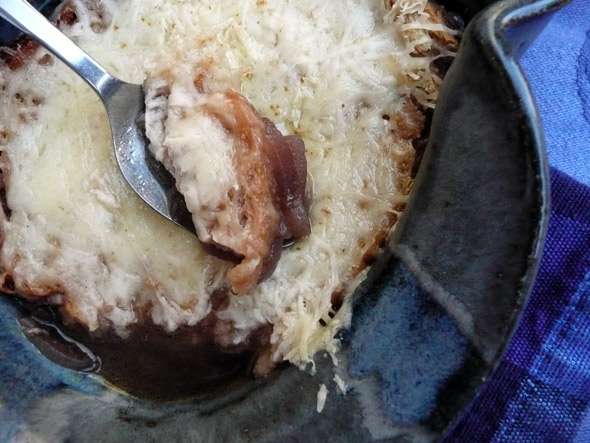 Carabaccia … doesn't that word just sound romantic? Carabaccia is very much like French Onion Soup; it has that same beefy onion broth flavor with the mmm melted cheese, but it's also got a dark red burgundy color (and taste) to it, and a subtle bit of spice that just draws you into the bowl.
Did you know French Onion Soup was not originated in France?
I learn the most interesting things from my foodie friends.
Several days ago, Linda's Italian Table posted a recipe on my wall in facebook. A little onion soup history lesson courtesy of Linda:
"French Onion Soup was not always French and was introduced to the French by none other than Catherine de Medici at the ripe old age of 14, when she married Henry II of France. Apparently she brought her well equipped Tuscan chefs with her to France and also taught the French the use of the fork. (Funny – I thought the French knew everything.) During medieval times, and also during Catherine's era, the dish was much sweeter than the present day version and has changed over centuries."
There are differing opinions on what the word "carabaccia" actually means. Some say it is a small boat.
I say it's delicious.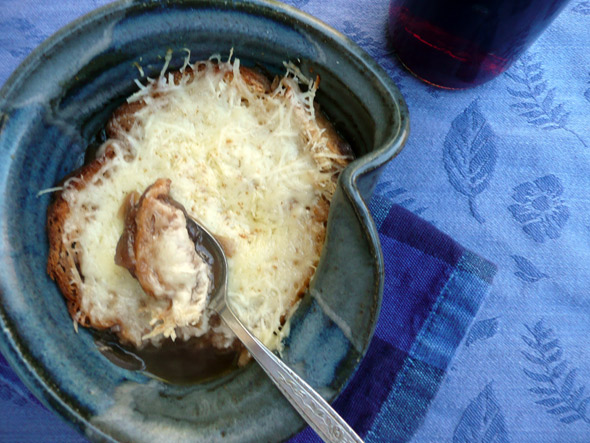 Carabaccia (Italian Onion Soup)
This is my twist on Linda's Carabaccia. Serves 3 or 4, depending on the size of your bowls.
Tuscan Onion Soup
2 large red onions, peeled and thinly sliced
1 t. butter
1 T. olive oil
3/8 c. red wine
1 cinnamon stick
2 whole cloves
1 bay leaf
1 t. honey
3 1/2 c. beef broth
Shredded Parmigiano–Reggiano Cheese and/or other Italian cheeses. (Italian purists will hate me for this, but I ran out of Parmigiano and used some Swiss in place of part of it and OH the swiss with the parmigiano was even better …)
Directions:
Peel and slice the red onions.
Cook the sliced onions in the butter and oil at medium to med. high heat until onions are caramelized and begin to brown. This takes about 30 minutes. Stir them occasionally so they do not burn. (I don't think I cooked mine quite that long … probably about 15 minutes.)
Add the wine, honey, cinnamon stick, cloves and bay leaf. Cook about 3 min. more, stirring.
Add the beef broth. Bring to boil and then reduce the heat to simmer about 40 minutes. Taste for seasoning – add salt and freshly ground pepper to taste. (I didn't think it needed any salt! But perhaps my broth was saltier than Linda's?)
When finished, fish out the bay leaf, cinnamon stick, and cloves and discard.
Toast very thin slices of bread.
Pour the hot soup into oven-safe bowls.
Place a slice of toast into each bowl and top with cheese.
Bake in the oven at 350 degrees for about 10 minutes or until the cheese is melted and bubbly.
Serve immediately. It goes very well with a glass of red wine.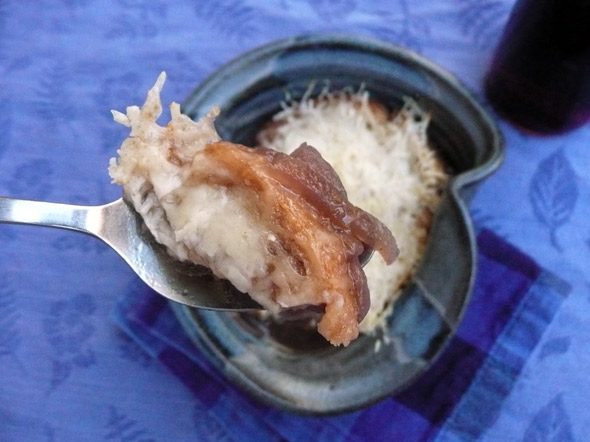 Shared on: Katherine Martinelli's Onion Bloghop