Barley Lentil Harissa Veggie Stew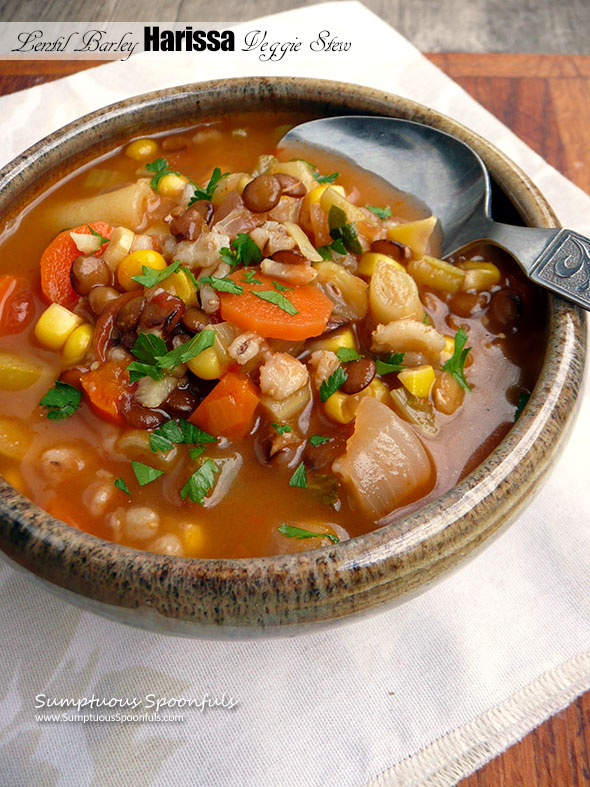 Do you have a kinder, more adaptable friend in the food world than soup? Who soothes you when you are ill? Who refuses to leave you when you are impoverished and stretches its resources to give a hearty sustenance and cheer? Who warms you in the winter and cools you in the summer? Yet who also is capable of doing honor to your richest table and impressing your most demanding guests? Soup does its loyal best, no matter what undignified conditions are imposed upon it. You don't catch steak hanging around when you're poor and sick, do you?
~ Judith Martin (Miss Manners)
That's my favorite quote about soup. Soup is one of my soul foods. It's a bowl of comfort when I'm sad, it's a bowl of cheer to share with friends, it dresses up or down as I wish. It cares for me when I'm sick, sustains me when I am well, warms me when I am cold. And when I am worried about my waistline, I turn to soup to help me out then too. It's so easy to make a healthy, low-cal soup that tastes amazing! This hearty veggie stew has just 200 calories per serving and yet it's high in protein and fiber and it's loaded with veggies.
If you'll please excuse me, I have a small rant I need to get off my chest … feel free to skip this if you don't want to hear it. It's something I need to say.
My "boyfriend" recently decided he needed to go elsewhere. Looking back now, it amazes me now that I was dating a man who "wasn't really a soup person", "didn't like curry" (although he loved two curry dishes I made for him … wait, what? you "don't like curry?" He even held one of the curry dishes that he professed to love as I photographed it! It's right here on my blog and there are his arms, holding the curry) … and also he claims he "doesn't eat desserts". Except, I found, that sometimes he wants a dilly bar from Dairy Queen. Or lemon drops. Or baklava. All of this makes no sense to me. He raved about my cooking, yet refused to even taste so many of the things that I cooked. He broke up with me because he was moving away to another state (but said "there is nobody else … I still love you and miss you and I feel like an ass for hurting you, but I have to go") … and then he stayed in town and found another woman within a couple weeks. Um, yeah. I'm not buying it. The boy is either a liar or he is very confused. She can have him, gladly. I don't want him anymore. He'll just move on again … to another pretty dark-haired girl, like the others before (and, I'm sure, after) me. He loves the chase, and when the chase is over and he's won her heart and placed little things to remind her of him everywhere in her life, that is when he'll move on. And then when she is angry that he's leaving her, he'll use guilt trips to talk her into being kind and still loving him forever ("as a friend") while he moves on to new romantic escapades. Yeah, that whole thought makes me ill … and very angry … right now.
To be fair, he made me laugh and we had a lot of good times together. I saw our differences immediately and they scared me … but my friends saw how happy he made me and convinced me that "it could work" and told me of examples of how couples who are very different DO work. I see it now all around me: couples who are so very different who appreciate and embrace their differences and they are very happy … and honestly, once I learned to see past it, I really, really loved that about us, too. But in the end, he said it was "our differences" (and his supposed need to "get out of this town") that became his excuse to leave. And instead of making his path to the independence and growth that he so needs, this boy goes chasing after another long-haired woman. Hmmm …
Okay, but seriously, what kind of person doesn't like SOUP? A good creamy seafood chowder, a spicy, meaty chili, a funky gypsy stew, a creamy tomato soup or hearty taco soup … or how about Onion Soup in all it's cheese-ilicious glory? French or German … or Italian, I love them all. Oh and there's Broccoli Cheddar Soup! Or Baked Potato Soup with blue cheese and bacon? Hellooooo! How could you NOT fall in love with THAT? There are sooo many more soups that I adore and so many more I have yet to discover. Soup is something I return to again and again and again. I have to believe that my soul mate will love soup.
When I find him, he will love soup. If he loves soup, I know can feed his soul. And then all we will need is for him to want to feed my soul in kind. (If he sincerely wants to, he will know … or find … the way. And he will be true to me, with all his being, and I will be true to him, with all of mine.) I know in my heart and soul that this  …  will … happen.
For the rest of you who are skipping my silly romantic diatribe, I hope you enjoy this hearty soup!
Barley Lentil Harissa Vegetable Stew
Ingredients
1 teaspoon olive oil
1 medium onion, peeled and chopped (about 1 cup)
3 stalks celery, chopped (about 1 cup)
2 - 4 cloves garlic, peeled and chopped
2 carrots, peeled and sliced
1 cup canned tomatoes
1 cup frozen corn
1 cup green or yellow wax beans
1 quart (4 cups) chicken or vegetable broth
1 bay leaf
1/3 cup quick-cooking barley
1/3 cup lentils
1 - 3 teaspoons harissa (to taste)
Salt & freshly ground pepper, to taste
Snipped fresh cilantro or parsley, for garnish
Instructions
In a soup pot, heat the olive oil, then add the onion, celery and garlic and saute until the onion is soft and translucent. Stir in the carrots and saute a little longer.
Add the canned tomatoes, corn, beans, broth and bay leaf, then the barley, lentils and harissa. Cook for 15 - 20 minutes or so until the barley and lentils are tender.
Adjust the amount of harissa and add salt & pepper as needed, to taste.
Serve hot with snipped cilantro or parsley leaves for garnish.
Notes
RECIPE SOURCE: http://www.sumptuousspoonfuls.com/
© Copyright 2016, Sumptuous Spoonfuls. All images & content are copyright protected. I love it when you share, but please do not use my images on your own site/page without prior permission. If you want to publish any of my images, please ask first. Sharing, pinning, and tweeting is always appreciated as long as the shares and pins link back to here for the recipe. If you want to republish this recipe as your own, please re-write the recipe in your own words or link back to this post for the recipe.
http://www.sumptuousspoonfuls.com/barley-lentil-harissa-veggie-stew/
Copyright 2012 by Sumptuous Spoonfuls. Recipes are meant to be shared! Nothing makes me happier than to hear about someone who has tried one of my recipes. All I ask is that if you are going to share my recipe online, give me credit and a link. And if you want to use one of my photos, please ask first. You can contact me at http://www.SumptuousSpoonfuls.com/contact/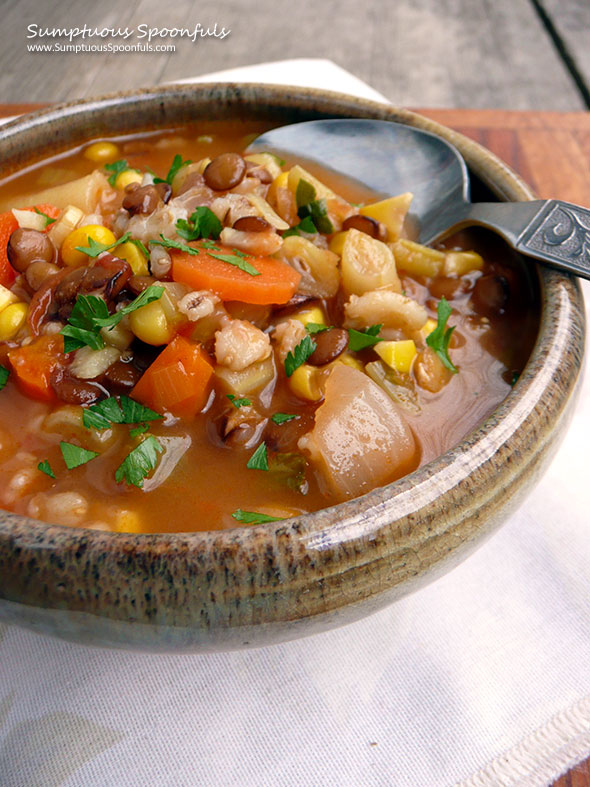 This post was shared at Full Plate Thursday, Foodie Friends Friday and Sunday Fitness Food Linkup.