French Onion Soup MTM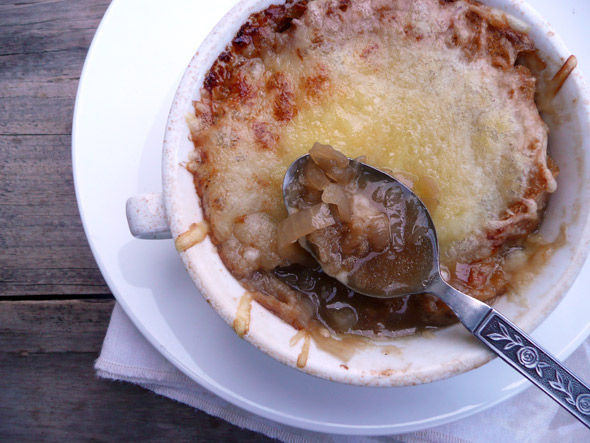 Back before there was internet, facebook, Google or Pinterest, when personal computers ran completely on floppy drives and the screens were about 5 inches square, all black and white, all text. Back then, you had to go to the library to look something up. Back then, my cooking inspiration came from cookbooks and Cooking Light magazines.
This is Mary Tyler Moore's recipe for French Onion Soup. It's from one of my very favorite cookbooks: Love a Fare, given to me by my Aunt and Uncle for Christmas in 1982. The cookbook is all soups and appetizers. I have spent many hours with this book over the years, reading through it, picking out recipes I want to try, cooking my favorites. Can you tell it's a well-loved book?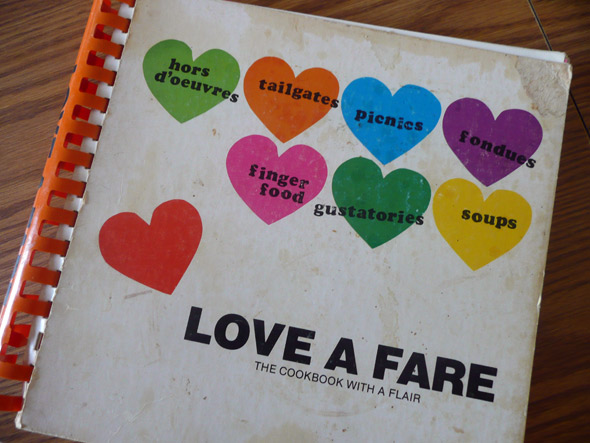 It's filled with adorable cartoons like this. This one makes me laugh every time I see it. Yes, I am easily amused …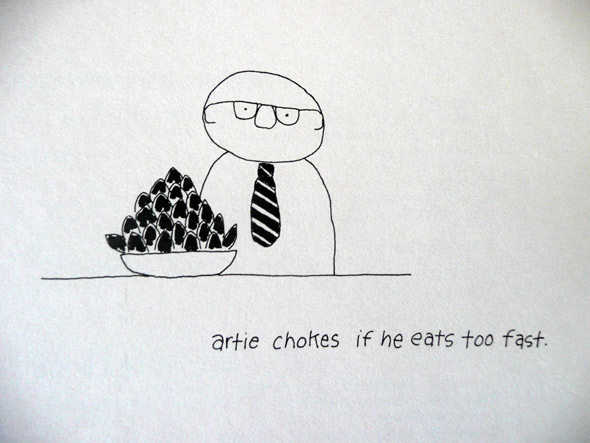 I can't tell you how many times I've made this particular recipe. French Onion Soup is one of my very, very favorite soups and I was SO excited to find a good recipe for it. I guess since it's Mary Tyler Moore's recipe, it's really American, not French. But it's still delicious.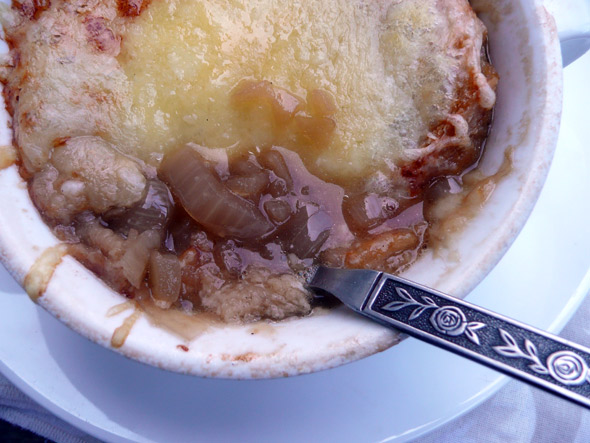 French Onion Soup MTM
From Love a Fare: the Cookbook with a Flair
Serves 4
2 large onions
4 thin slices of french bread (I used this bread recipe, made without the cheese/herbs)
4 teaspoons of butter
1/4 cup dry white wine
4 cups beef stock (or water/boullion)
1/2 teaspoon freshly ground black pepper
salt to taste
2 cups grated swiss cheese
Directions:
Slice onion vertically and very, very thin. Melt the butter in a saucepan or heavy skillet and cook, covered, over low heat until the onions are soft and tender.
Uncover and cook over medium-high heat, stirring constantly, until the onions brown lightly or your arms fall off. (It takes several minutes, and my arms always get tired on this step, but it is SO worth it.)
Add wine and cook until wine is almost absorbed. (This happens quite quickly.)
Add the beef stock and pepper and let simmer for 5 minutes. Taste the broth and add salt (or beef boullion) to taste.
Meanwhile, slice the bread thinly and toast or bake in 300 degree oven for 5 minutes.
Pour the steaming hot soup into 4 oven-proof bowls, top each with a slice of bread, then sprinkle with a generous amount of swiss cheese.
Bake the soup bowls at 350 degrees for 15 – 30 minutes or until the cheese is all melted and bubbly. Serve immediately.
This soup makes a great make-ahead meal. I like to make the soup ahead of time and keep it in a quart jar in my fridge … then heat up a bowl at lunch time. One bowl of this hearty cheesy soup is enough for me for lunch, but you can always add a salad or half a sandwich if you like. Or it's a wonderful hot evening meal with a glass of white wine, like right here, right now, tonight.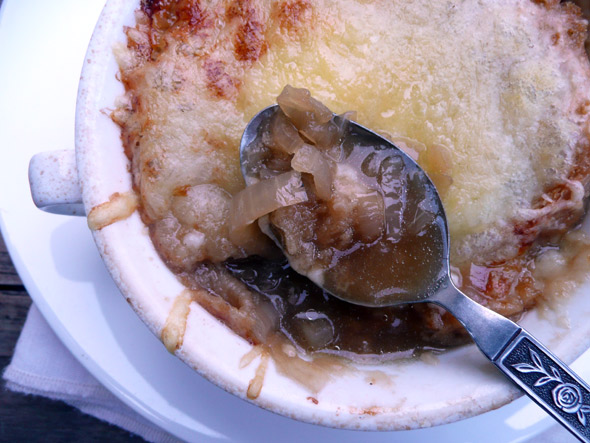 This recipe was shared at French Cuisine Friday, Sunday Night Soup Night and Melt in your Mouth Mondays.