Crab Artichoke Dip with Asiago & Bacon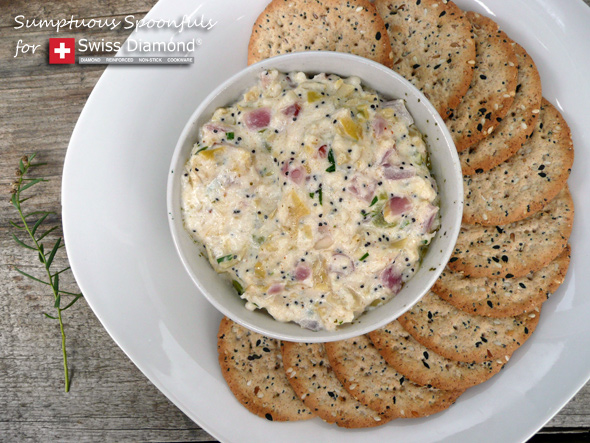 Several months ago a friend of mine and I went out for a glass of wine. We started talking … and talking … hours passed and we decided to move to this funky bar downtown. By this time, my little tummy was starting to grumble, so I convinced my friend we needed to order an appetizer. We chose the crab artichoke dip because it sounded so good, and oh it was so rich and cheesy and decadent my little heart started singing. I decided right then I needed to make this at home. I went out the next day and bought a can of crab meat and a little jar of artichoke hearts. I didn't have time right away to make it, though, so they got shoved into the cupboard and left there. I don't know how long they really sat there … every time I opened the cupboard I would see them sitting there, one on top of the other, just waiting. They seemed to be calling to me …
Well, time flew by and it so happens a few of my friends from high school were coming for a visit, so shortly before they arrived, I decided it was time to make the dip. What better way to welcome my friends than with a lovely hot crab artichoke dip! Honestly, my version of the dip doesn't taste at all like the dip we had at the bar, but it is really delicious and I'm sure it is much healthier.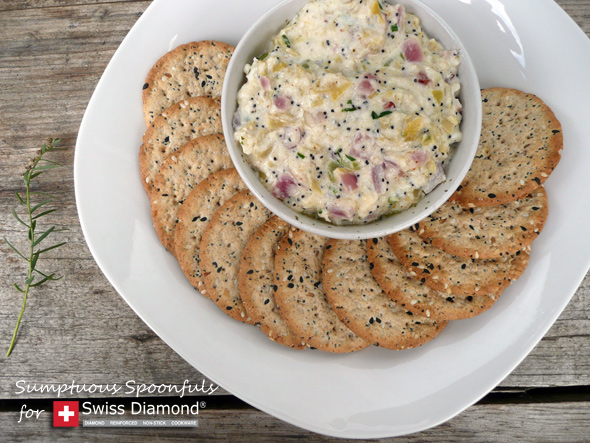 My friends devoured it quickly … even my friend who didn't think she liked artichokes. She thought "well, I'll just taste it to be polite" … and ended up enthusiastically dipping with the rest of us until it was all gone! Well, that meant I had no dip to photograph and share with all of you, so (oh darn!) I had to make the dip again. I went out and bought another little jar of artichokes and another can of crab meat. I'm really not too upset that I have a whole batch of this dip to enjoy all over again. I might find some friends to share this batch with … or then again, I might not.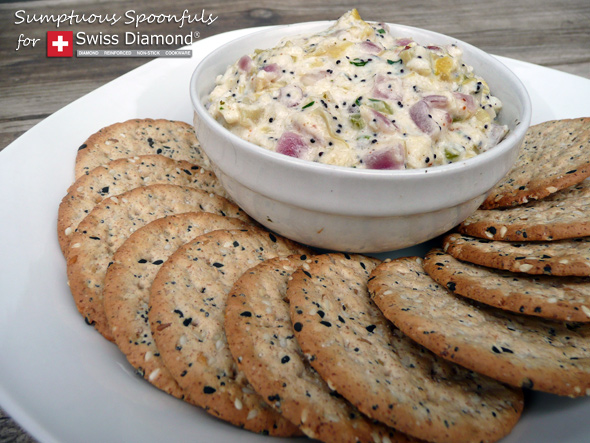 I need to take a moment to tell you a bit about the pan that I used to make this dip. I developed this recipe for Swiss Diamond. It's one of the Swiss Diamond International pans that Swiss Diamond sent me … the 3.2 quart sauce pan. All of the Swiss Diamond pans are a dream to use and this saucepan is no exception. The bottom of this saucepan is small … it fits perfectly on the small burner on my stove, yet it heats up quickly and evenly and nothing sticks to it. You don't even need to use any oil for sautee-ing vegies. I included just a touch of olive oil in this recipe sheerly for the taste of it. I love the flavor of olive oil infused with garlic. Cleanup for this recipe was such a breeze. Since nothing sticks to the pan, any remnants of the dip rinse right out. Sometimes I just rinse with hot water, wipe with a clean towel and I'm done, but I do put the pan in the dishwasher from time to time, just to make sure I've cleaned off any residual germs. As you can see, the pan holds a LOT … I think you could triple this dip recipe and it would still fit nicely in the saucepan.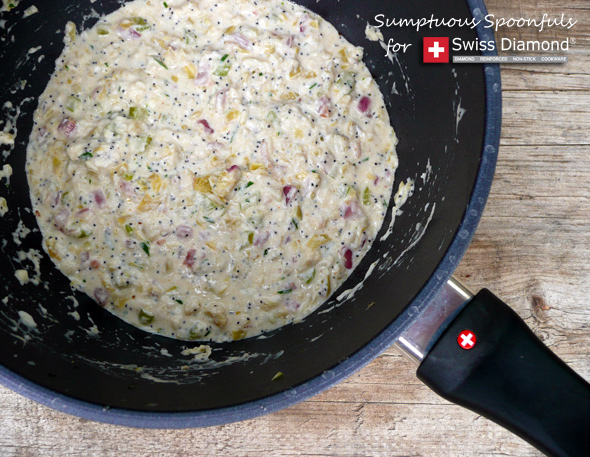 Crab Artichoke Dip with Asiago & Bacon
Ingredients:
1 – 3 cloves garlic, peeled and chopped fine
1 teaspoon olive oil
1/3 cup chopped celery (about 1 rib)
1/3 cup chopped onion (red, yellow, or white … I used yellow onion the first time I made this and red onion the second time)
1 – 6.5 oz. jar of marinated artichoke hearts, chopped fine (about 1/2 cup after chopping)
2 teaspoons of marinade from the artichokes
1 teaspoon white wine
6 oz. lump crabmeat, shredded (fresh would be best, but I usually have to settle for canned)
3 oz. light cream cheese
1/3 cup fat free Greek yogurt
2/3 cup shredded Asiago cheese
1 strip of lean bacon, fried crisp, drained and chopped (about 1 Tablespoon)
1 teaspoon poppy seeds
1/4 teaspoon Old Bay Seasoning
About 1 Tablespoon fresh tarragon leaves, chopped
Directions:
Peel the garlic and chop fine. In a small bowl, mix the garlic and olive oil and set aside to infuse the oil with the garlic flavor while you prep the rest of the ingredients. Drain the artichokes, reserving the marinade, and chop finely.
Heat a saucepan over medium heat. Pour the olive oil and garlic into the pan and sautee for a few minutes, then add the celery and onion. Sautee until the onion is very soft and translucent, stirring frequently. Add the marinade from the artichokes and sautee until the liquid has evaporated, then add a teaspoon of wine and sautee until that has evaporated as well.
Stir in the crabmeat, cream cheese and yogurt, lower the heat to medium low and continue cooking, stirring frequently, until the cream cheese has melted and the mixture is smooth, about 10 – 15 minutes.
Stir in the Asiago, bacon, poppy seeds and seasonings and cook for just a minute longer to make sure the Asiago melts and everything is mixed well.
Pour the dip into a serving bowl and serve hot with crackers, chips, or vegetables for dipping. You can also make this dip ahead of time, refrigerate in a covered container, then reheat when it's time to serve.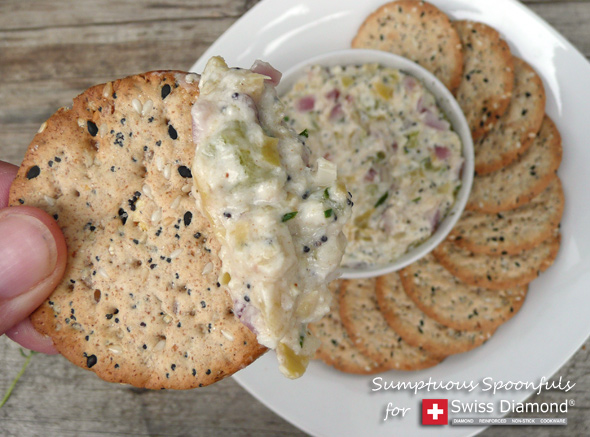 This recipe was shared at Foodie Friday, Weekend Potluck, Show & Tell Saturday, EveryDay Mom's Meals, Weekend Gala Dinner Party, Melt in your Mouth Monday, Manic Monday (SuperBowl Edition), Tasty Tuesday and The Bulletin Board.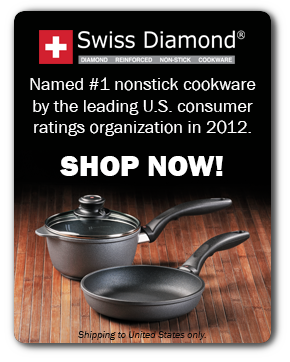 Purchasing Swiss Diamond Cookware through this link helps support this blog. Thank you!