Creamy Havarti Cabbage Soup with Cheddar Croutons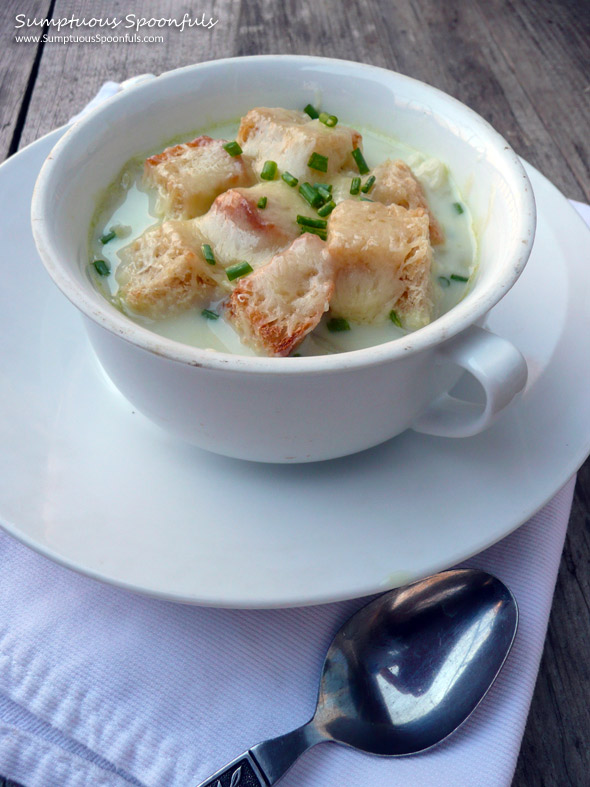 It is the first day of spring and I keep waiting for spring-like weather, but spring seems to be dragging her feet this year. We are still having wintry weather, the forecast calls for more snow and cold and wind, and everything outside (including the sky) is gray or brown or white. Total soup weather!
I discovered this year for St. Patrick's Day that I quite like cabbage when it is sauteed with butter, onion, and garlic, so I thought a creamy, cheesy soup with cabbage, butter, onion and garlic would be marvelous. And so I tried it … my cheesy cabbage soup turned out rather nice … it's a delicate-tasting soup, quite pleasant and creamy, but I really needed an extra level of comfort to help me get over this yucky weather we're having lately, so I tried it with some toasted croutons and melted cheddar and ooooh, yes, that is just what I needed. I could eat this soup all week (and possibly into next week ….)
The only problem is we don't have an oven at work to properly bake the toasted croutons and cheese on top! … I am thinking I need to bring a toaster oven to work.
The inspiration was my own, but, as I often do, I googled my inspiration, then adapted the recipe from the many things I discover. This one was adapted from the New York Times.
Creamy Havarti Cabbage Soup with Cheddar Croutons
Ingredients
1 - 3 teaspoons of butter
1 3/4 cup onion, thinly sliced, then chopped roughly
1 - 4 cloves of garlic, peeled and chopped fine
1/3 of a large cabbage, shredded (about 6 cups)
1 large russet potato, peeled and shredded
4 - 5 cups of chicken or vegetable broth
2 cups fat free half & half (or lowfat milk, as you prefer)
1 cup shredded Havarti cheese
2/3 cup mashed potatoes (optional)
Salt & freshly ground pepper to taste
Thick slices of bread, cut into chunks and toasted (I used our White Whole Wheat bread, but a crusty French bread would be marvelous too)
Shredded white sharp cheddar cheese (I used Cabot's Horseradish White Cheddar)
For the top: fresh snipped chives or green onion
Instructions
Peel and chop the onion, garlic, and cabbage, then heat your soup pot over medium heat and add the butter. I used just a teaspoon of butter.
Melt the butter, then add the onion and garlic and saute until the onion is soft and translucent.
Add the cabbage and potato and stir to mix well, then add the broth (start with 4 cups) and stir to mix.
Bring to a boil, then reduce heat, cover and simmer for 30 minutes or so or until the cabbage is tender.
Stir in the half & half and then the cheese. I added in another cup of broth to thin it, then I thought it was too thin so I added my leftover mashed potatoes from St. Patrick's Day to help thicken it up. Add potato or broth to thicken or thin as you please ... then add salt & pepper to taste.
Now, cut some thick slices of bread, then cube them into 3/4 inch chunks, and set them on a baking sheet. Set them in a 400 degree oven for 3 - 5 minutes or until they are browned and crunchy on top, then turn them and set them back in the oven for just a couple minutes until they are browned on the other side.
Ladle the cabbage soup into oven-safe bowls, top each bowl with several croutons, then add a good amount of shredded white cheddar cheese on top of the croutons. Set the bowls in the oven until the cheese is nicely melted.
Remove the bowls from the oven, sprinkle a few snipped chives or green onion on top, set each bowl on a cool plate and serve immediately.
http://www.sumptuousspoonfuls.com/creamy-havarti-cabbage-soup-with-cheddar-croutons/
Copyright 2012 by Sumptuous Spoonfuls. Recipes are meant to be shared! Nothing makes me happier than to hear about someone who has tried one of my recipes. All I ask is that if you are going to share my recipe online, give me credit and a link. And if you want to use one of my photos, please ask first. You can contact me at http://www.SumptuousSpoonfuls.com/contact/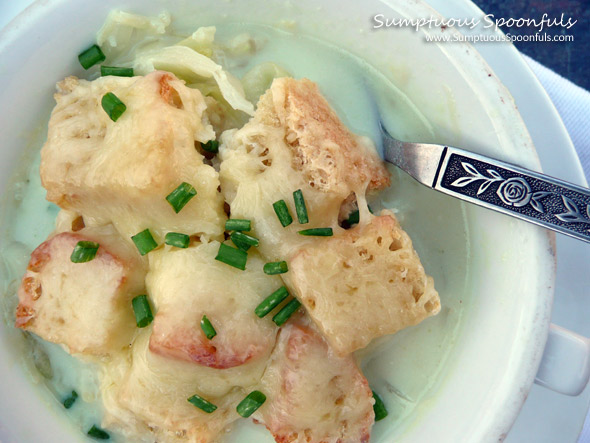 This recipe was shared at Foodie Friends Friday, Weekend Potluck, St Patrick's Day Green Recipes and Marvelous Monday.