Decadent Double Chocolate Zucchini Bread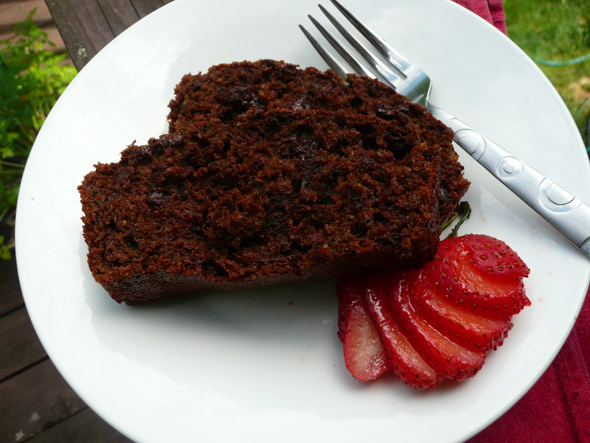 I need to tell you right now: if you don't seriously love chocolate, skip this post. This recipe is strictly for chocolate lovers. It's best if you are a dark chocolate lover although I think you could possibly mellow it out if you cut some of the chocolate and used milk chocolate chips. But I wouldn't. Really, this is so good and dark and rich. And yes, it's healthy too. All that dark chocolate is full of antioxidants–and hey it's got zucchini in it so you are sneaking vegies into your pleasure zone. It's low in fat, full of whole grains and if you wanted to cut the fat further, you could skip one of the eggs and use 2 more egg whites. This is not like any zucchini bread you've ever tasted. Did I mention it's chocolate?
The recipe makes 2 loaves so you could eat one, and share one with one of your chocolate-loving friends. Or eat one, and freeze the other for chocolate emergencies. I'm having it for breakfast … all … week … long. Mmmmm. Chocolate.
Decadent Double Chocolate Zucchini Bread
Ingredients:
2 1-oz. baking chocolate squares, melted
1/4 cup cocoa
2 eggs
2 egg whites
1 1/4 cups sugar
1/3 cup canola oil
1/3 cup non-fat vanilla yogurt
2 1/2 cups grated zucchini
1 teaspoon good quality vanilla extract. I like to use Mexican vanilla.
1 cup whole wheat flour
3/4 cup all-purpose flour
1/4 cup flaxmeal
1 teaspoon baking soda
1 teaspoon salt
1 teaspoon cinnamon
3/4 cup dark chocolate chips. Use really good quality chips like Ghirardelli 60% Cacao chocolate chips–you won't be sorry.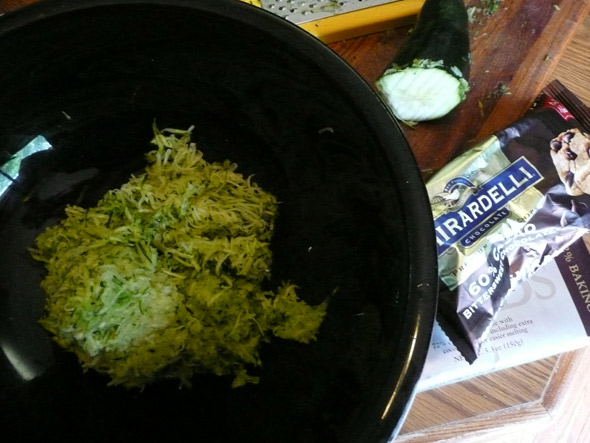 Directions:
Preheat oven to 350 degrees F.
Spray two 9×5-inch loaf pans with cooking spray.
In a large bowl, combine chocolate, cocoa, eggs, egg whites, sugar, oil, yogurt, zucchini, and vanilla. Beat well.
Stir in the flour, baking soda, salt and cinnamon. Fold in the chocolate chips.
Pour batter into prepared pans. Sprinkle the tops of the loaves with raw sugar.
Bake in preheated oven for 60-70 minutes, or until a knife or toothpick inserted into the center of a loaf comes out clean.
I chopped up the chips a bit to distribute the chocolate taste …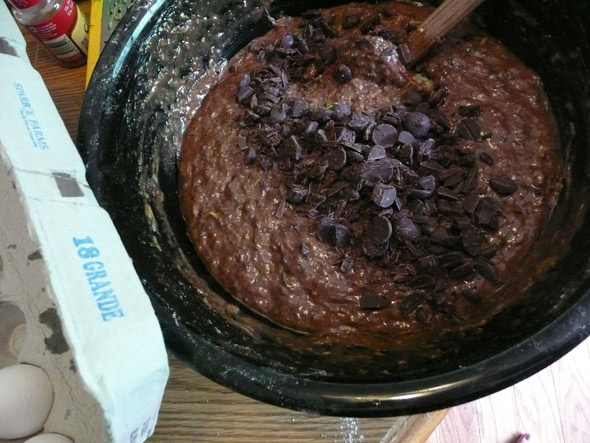 Done! I had to cut it right away …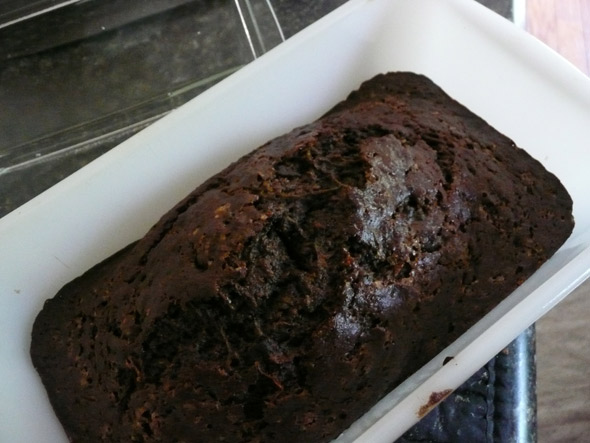 Nutrition Information:
1 serving = 1/10 of 1 loaf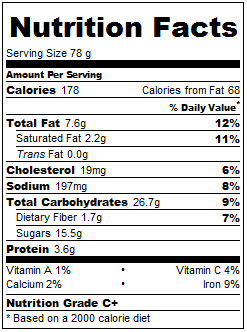 Recipe analysis from http://caloriecount.about.com/cc/account/flog_add.php?tab=new_recipe
Come join the fun at the My Baking Addiction and GoodLife Eats Holiday Recipe Exchange sponsored by Scharffen Berger.
This recipe was shared at Best Bread Recipes of 2011 and Retro Re-Pin Party.