Harissa Moroccan Chicken w/Roasted Peppers & Olives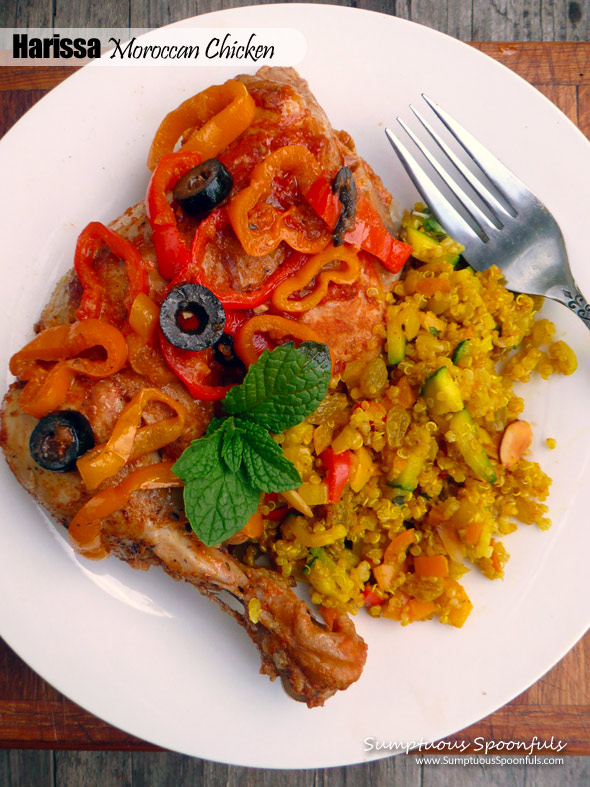 It's always a delight for me when I can sit down and thumb through the pages of a good cookbook. If it's a really good one, I need lots of bookmarks, one to mark each recipe I want to try. So when I was asked if I wanted to review my friend Alice Phillip's new cookbook, the answer was an immediate yes. I didn't have to hesitate at all because I knew this book would be a good one.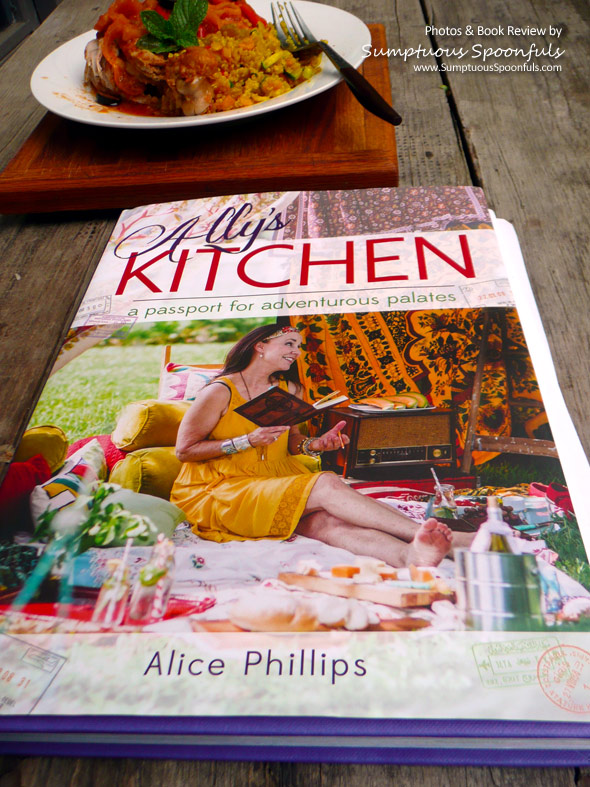 Ally and I have been foodie friends online for years and I've always loved her bold, Bohemian style of cooking. I thought I knew Ally's style of cooking, but when I took time to peruse her beautiful cookbook, I discovered that even after years of following her recipes, it turns out I really only had a slight glimpse into the cooking repertoire of this talented lady. It was terribly hard to choose what to make. Her cookbook literally takes you around the world in flavors and you do feel a bit like you're on Ally's magic carpet … how could I possibly choose? I wanted to make every single one of the boholicious sauces and spices. I was intrigued by the refreshing grape mint tomato salad, fascinated by the rosemary red potato and leek galette and I had only gotten through the first two sections of the book. The next section was the stunning Mediterranean. Oh, this section was calling to me!
Should I make the Adriatic Feta Tomato Shrimp Skillet? Or perhaps the Chianti Eggplant Chicken Parmesan? Oooh catalan flatbread, and Moroccan spicy meatballs & red wine fruit sauce. That one was tempting. I paged on, though, anxious to see what else my dear friend Ally had in store for me. The Dead Sea Spiced Granola looked interesting … and oh, lamb shank shawarma. That sounded so good! I paged through so many more delightful salads, sumptuous main dishes, and tempting desserts before I finally landed in Africa and settled on this Harissa Moroccan Chicken with Roasted Peppers and Olives.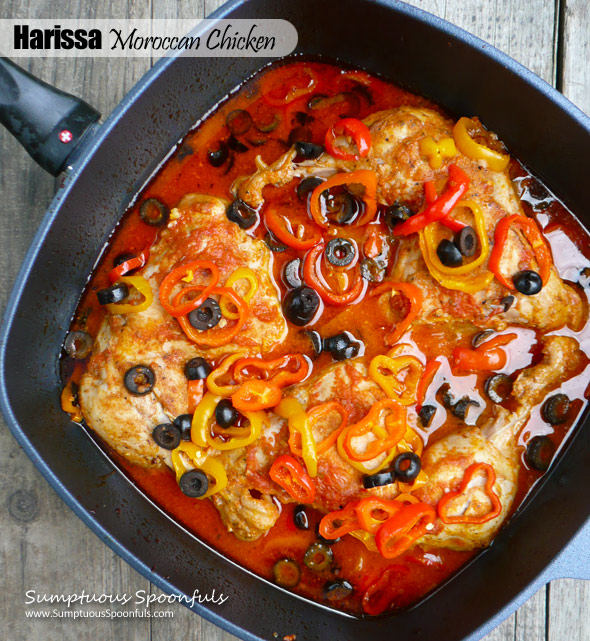 I was super excited to try Harissa. I'd heard of the spice before, but never had tried it. I used Ally's recipe for Harissa powder from the "spices and sauces" section. (There's a paste version noted there, too … I just made the powdered Harissa.) The chicken turned out tender and juicy, and the Harissa along with the peppers, olives, tomato pesto and salsa gave the chicken a marvelous Moroccan flavor with a bit of spice to dance on the tongue. You definitely want to serve this up with something to soak up that luscious sauce. I thought my Minted Moroccan Quinoa Pilaf was just the perfect compliment.
I have many more recipes from this delightful cookbook bookmarked, truly the sign of a great cookbook in my house.
If you'd like to win a copy of this Bohemian flavor trip around the world, here's your chance. There are three copies to be given away! Enter to win using the rafflecopter below.
Harissa Moroccan Chicken w/Sweet Peppers & Olives
Ingredients
3 - 4 large chicken leg quarters, skinned
1 Tablespoon harissa
1 teaspoon sea salt
1 teaspoon pepper
1 cup buttermilk
2 Tablespoons coconut oil
1/2 cup tomato pesto (I used my Pesto Rosso recipe)
3/4 cup chardonnay or other white wine
1 cup medium-heat salsa (I used my Copycat Chili's salsa recipe)
1/2 cup water
9 - 12 sweet mini peppers, sliced
1 - 2 small cans of olives (black and/or green)
Instructions
Put the chicken in a glass container and coat all over with the harissa, salt & pepper. Pour the buttermilk over to coat the chicken pieces. Let marinate at least 20 minutes or up to 1 day.
Preheat the oven to 350 F. Put the oil in a heavy skillet on medium-high heat. Add the chicken and pan-sear on all sides a golden brown. Add white wine and deglaze the skillet, moving the chicken around to scrape off anything that's sticking to the bottom of the skillet. Add the tomato pesto, salsa and water; stir to blend in and around the chicken. Sprinkle with the pepper slices.
Cover tightly with a lid and bake in the oven for about 1 hour 5 minutes. Pull from the oven, remove the lid and add the olives. Put the lid back on and let the chicken rest about 15 minutes before serving.
Notes
I did "tweak" this recipe a bit from Ally's version, but it is pretty close to hers. You'll have to get the cookbook to see her version!
Recipe tweaked from Ally's Kitchen: a passport for adventurous palates
http://www.sumptuousspoonfuls.com/harissa-moroccan-chicken-wroasted-peppers-olives/
Copyright 2012 by Sumptuous Spoonfuls. Recipes are meant to be shared! Nothing makes me happier than to hear about someone who has tried one of my recipes. All I ask is that if you are going to share my recipe online, give me credit and a link. And if you want to use one of my photos, please ask first. You can contact me at http://www.SumptuousSpoonfuls.com/contact/
Cheers to the Journey!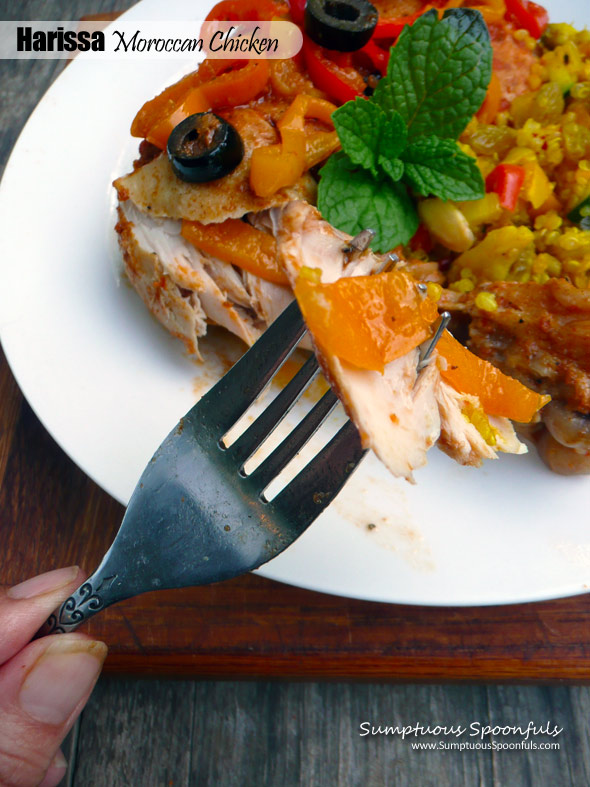 This recipe was shared at Tuesday's Table, Foodie Friends Friday, Freedom Friday with All my Bloggy Friends, Weekend Potluck and Hearth & Soul Bloghop.
Get your copy of Ally's Kitchen on Amazon: