Mmmm … Moussaka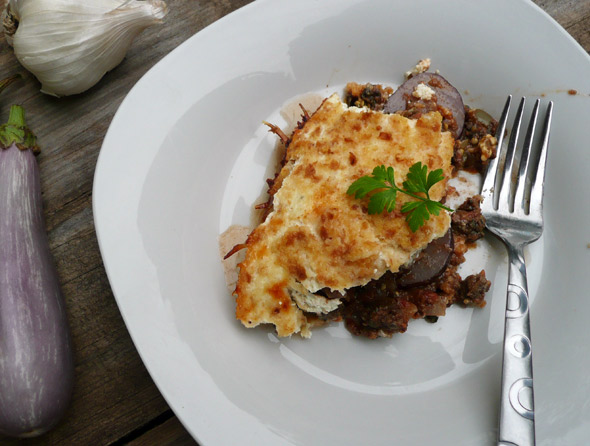 When I was young, my dad did all the cooking. Mom was a registered dietician and she worked all day with food, so when she came home from work, the last thing she wanted to do was cook.
We always had a big garden and in the fall when the eggplant and zucchini came in, my dad would make Moussaka. The first time he made it, he made it with eggplant. This was back in the days before I liked eggplant, and I remember complaining about the eggplant, but then starting to eat the dish … and I found the cinnamon-spiced meat sauce and that creamy cheesy bechamel sauce on top was sooo lovely … I just ate AROUND the eggplant. One time, Dad made it with zucchini instead of eggplant … oh that was GOOD! So my sisters and I would always beg Dad to make Moussaka. He would whine a little about how much work it was to make Moussaka, but we would persist until he finally broke down and made it for us.
Moussaka is a layered Greek dish (can't quite describe it as "lasagna", but that's the closest thing I can think of to it …) and I have seen it prepared many ways. Some include potatoes, some don't, but they all involve the preparation of TWO sauces: a tomato-meat sauce and a white bechamel sauce. (I am going to show you an ingenious way to skip the work of making the second sauce which incidentally makes the whole dish much healthier as well.) And yes, Moussaka includes eggplant, but if you don't like eggplant (or don't have any), substitute zucchini. It will still be delicious.
So this recipe is for my dad, who taught me so much about cooking and still thinks he knows a better way to do everything in the kitchen. We are constantly "arguing" in the kitchen, but it's not really a fight. It's sort of like sparring in the kitchen. Sometimes one of us wins the other over to our own way of thinking, sometimes I just tell him to go away and let me do it my way! It always comes out tasting good, no matter whose method we follow … I regret I didn't get to fight with him this day, but I am sure we will be cooking together again soon.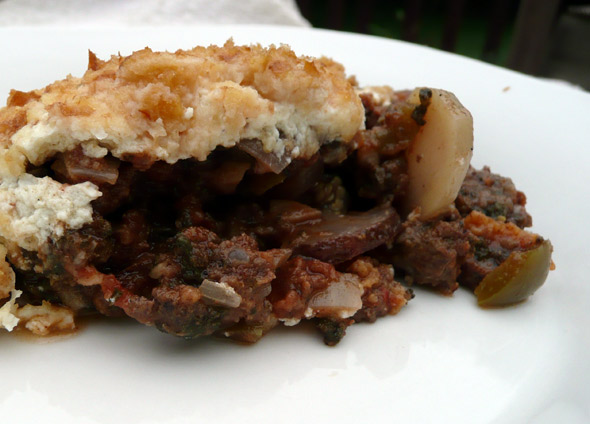 Moussaka
Meat Sauce:
1 t. olive oil
1 lb. of lean ground beef, lamb, or venison (I used a mix of beef and venison I had left over from my Gyro burgers)–if you like intensely flavored dishes, spice the meat as if you were making Gyro burgers before cooking it
1 t. cinnamon
1/4 t. ginger
1/4 t. allspice
1 onion, chopped
5 – 6 cloves of garlic, peeled and chopped
1 bell pepper, chopped
1/2 c. red wine (optional)
1 large can of tomatoes including the juices, all whirred in a blender or food processor to break up the tomatoes
salt and freshly ground pepper, to taste
For the filling:
1 medium sized eggplant, peeled
1 large potato (I used several small purple potatoes from my Dad's garden), peeled
about 3/4 c. whole wheat bread crumbs
For the "Bechamel Sauce":
2 c. of plain lowfat yogurt
2 eggs
1/4 t. nutmeg
1/4  t. salt
Freshly ground pepper
And to top it all off:
About 3/4 c. freshly grated parmesan or romano cheese
Some of the breadcrumbs reserved from earlier
Spray a large flat pan with sides (or saucepan) with cooking spray, then add olive oil. Heat the oil over medium heat till the pan is hot, then add the spices and stir, allowing them to "toast" briefly in the pan. Add the meat and cook until brown.
Pour the meat into a strainer in the sink and allow the juices/fat from the meat to drain off. There should be just an ultra-thin coating of oil left in the pan from the meat. Next, put the onion, garlic and bell pepper in the pan and sautee over medium-high heat, stirring frequently, until the onion is soft and translucent. If you are using the wine, add the wine in and let it cook over medium heat, stirring occasionally, until most of the wine is evaporated, about 10 – 15 minutes.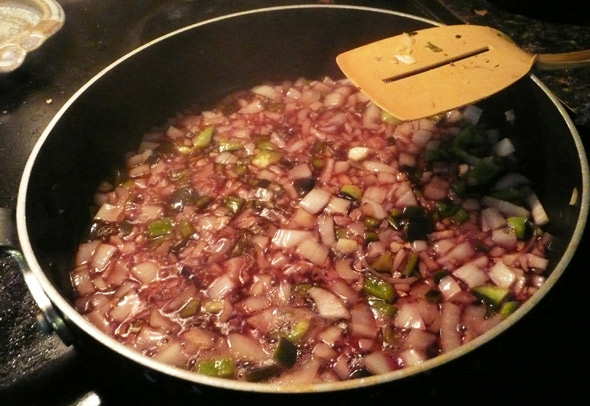 Add the meat mixture back into the pan, and then add in about 3 cups of the processed tomatoes. Cook uncovered over medium-high heat, stirring occasionally, until the sauce is reduced to a thick meaty tomato sauce, about 30 minutes. Add salt and pepper to taste.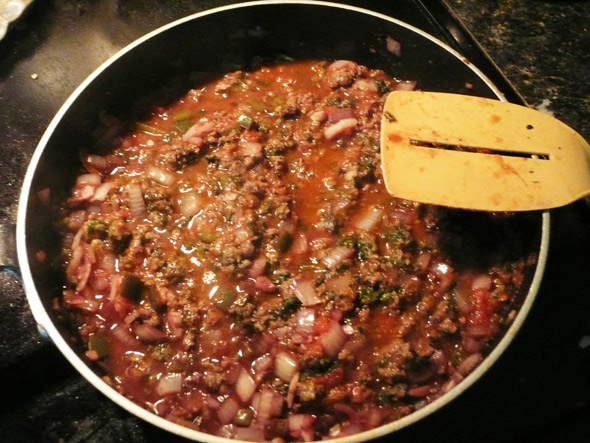 Now, while the sauce is cooking, thinly slice the eggplant (I usually slice it vertically) and potato. The eggplant should be no more than 1/4 inch thick. The potato slices can be even thinner. I have to show you the lovely purple-ness of these potatoes! Look at that color …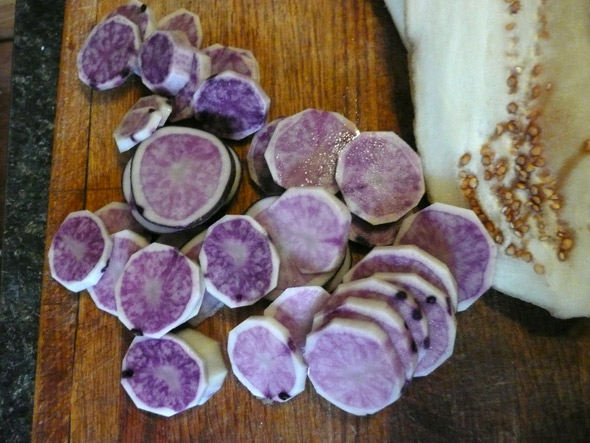 Spray a cookie sheet with cooking oil and place the eggplant in a single layer on the sheet. Spray the eggplant with cooking spray and sprinkle lightly with salt. Bake at 350 degrees F. for about 5 minutes or until just lightly golden brown on top, then flip and cook for about 5 minutes on the other side, until the eggplant is soft. If you have room you can cook the potatoes this way as well … I just threw my potatoes in a bowl, sprayed with cooking spray and cooked them in the microwave.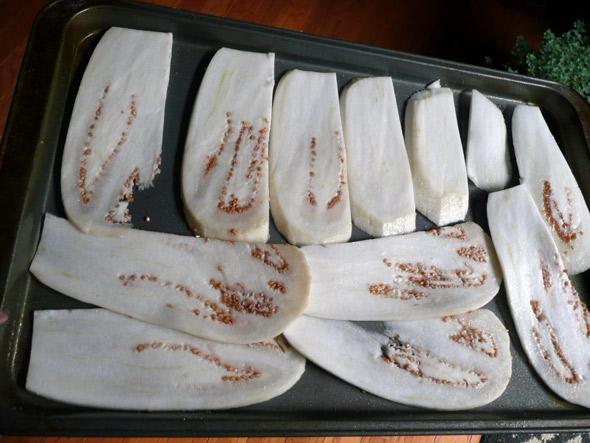 Once the meat sauce and the eggplant is done, you are ready to assemble the layers!
You can make this in a large flat casserole dish like I did or a rectangular baking pan. Spray your baking pan or casserole with cooking spray, then cover the bottom of the pan with a thin layer of breadcrumbs. Make this layer very thin — save some breadcrumbs to sprinkle on the top!
Top with a thin layer of the meat sauce.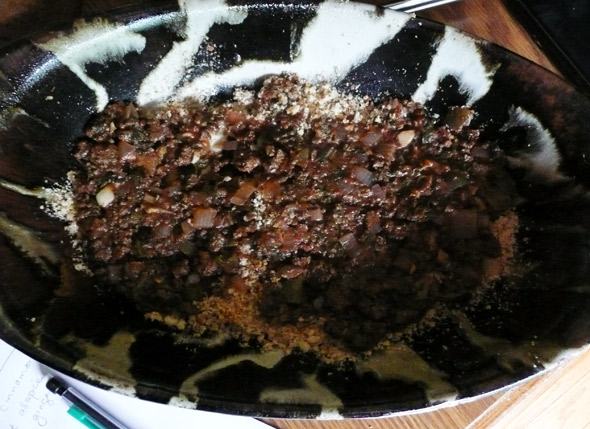 Then a layer of eggplant.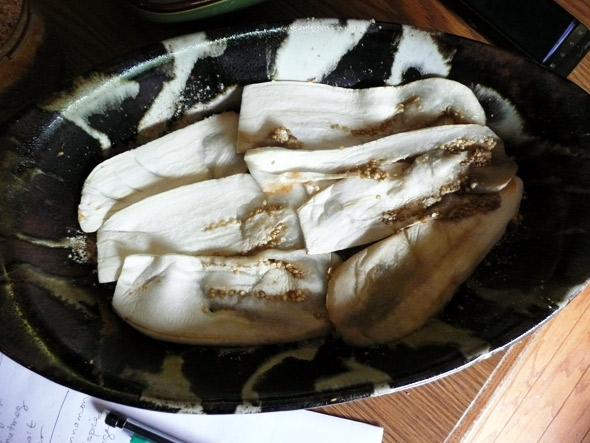 And the potato slices!
Now pour on the rest of the meat sauce and spread it flat.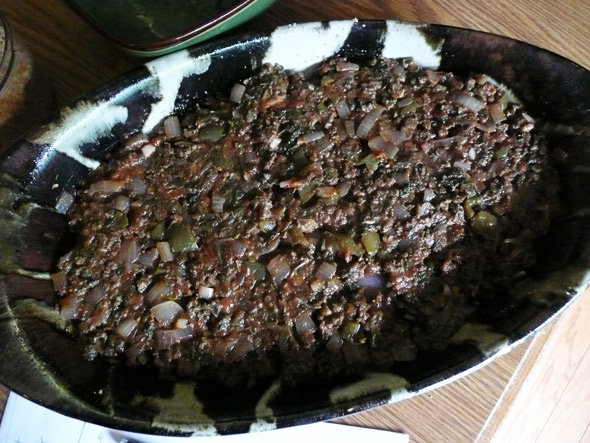 Okay now you can whisk together the "bechamel sauce". Just pour the plain yogurt in a bowl and whisk together with the eggs, nutmeg and salt. (Use a fork if you don't have a whisk.)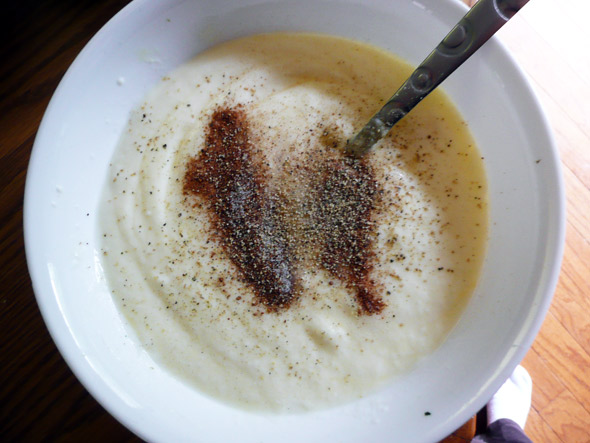 Pour the bechamel sauce on top of the meat sauce, then sprinkle on the shredded parmesan cheese.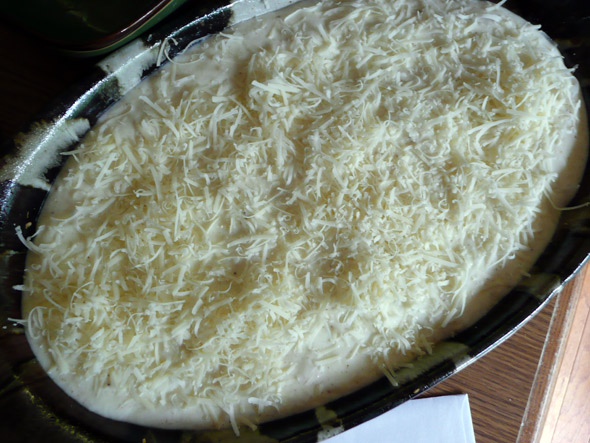 And then sprinkle on the rest of the breadcrumbs.
Now bake it in a 400 degree F. oven for 45 – 50 minutes or until the top is golden brown and "set" (that is, not runny, but springs back a little when you touch it). Let it rest for about 15 – 20 minutes before serving.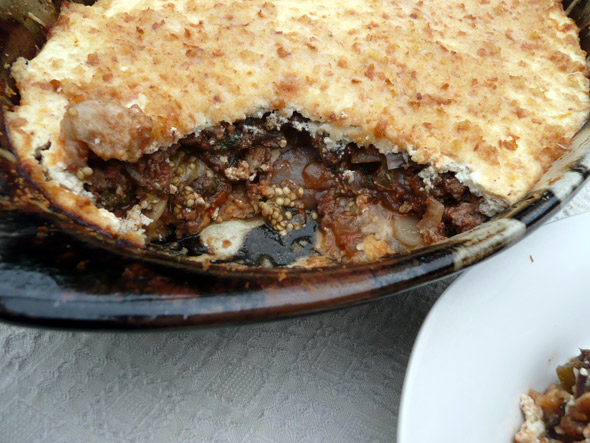 Now comes the best part!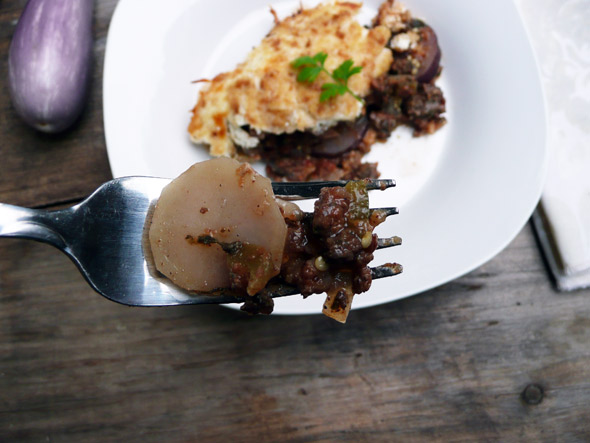 This recipe was shared at Gooseberry Patch Trip Around the World and Katherine Martinelli's Family Recipes.