Skinny Garlic Basil Buttermilk Ranch Dip

This is an incredibly flavorful dip, but it doesn't have to be a dip … add a little extra buttermilk and it's a salad dressing. Or use it as the sauce for a pizza, instead of the red sauce. Spread it on little toasts and top with your choice of bruschetta toppings. It could be a sandwich spread. There are so many things you could do with this stuff!
I have actually shared this dip before, with my Blue Devil Jalapeno Poppers, but I made it again to use in a different way, and I think it deserves its own post. You can serve it with vegies or chips or jalapeno poppers or chicken nuggets. Add some blue cheese and use it for dipping buffalo chicken wings. This is such a versatile dip. You really need this in your life.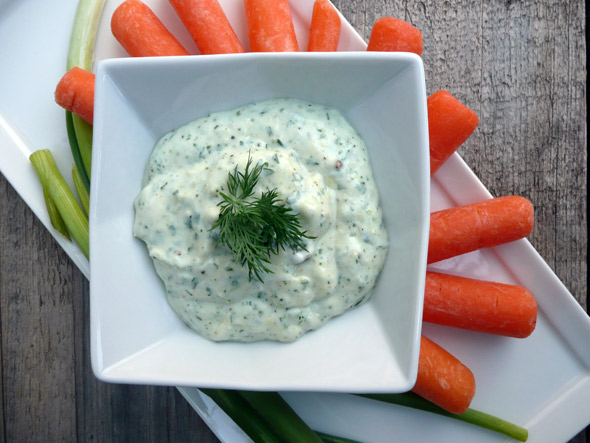 Skinny Garlic Basil Buttermilk Ranch Dip
This dip has an intense garlic flavor … if you don't like things too garlicky, reduce the garlic.
Inspired by Mother Thyme and Alice Q. Foodie
1/3 c. light mayonnaise
1/3 c. buttermilk
1/4 c. nonfat greek yogurt
2-3 big fresh cloves of garlic
A handful of fresh basil leaves
½ teaspoon sugar
Several fresh parsley leaves or ½ teaspoon dried parsley
A few fresh dill twigs or ½ teaspoon dried dill weed
1/2 teaspoon onion powder
1/2 teaspoon salt
Freshly ground pepper
A sprig of fresh rosemary leaves
2 green onions (tops only)
Whir all the ingredients in a handy chopper or food processor until smooth. Adjust seasonings to taste.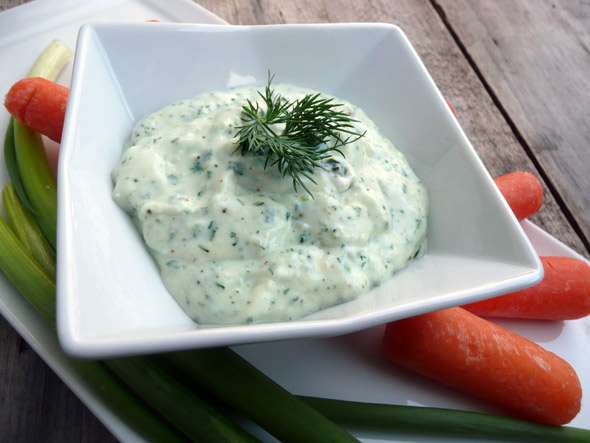 This recipe was shared at Midnight Maniac Meatless Mondays, Totally Tasty Tuesdays, Cast Party Wednesday, Midweek Fiesta and Fit & Fabulous Fridays.