Smoky Red Shredded Chicken Enchiladas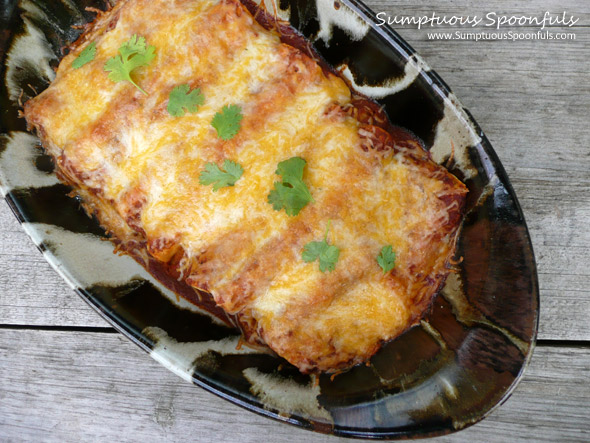 Moist and tender shredded chicken enchiladas drenched in a fire-roasted smoky red enchilada sauce. The chicken is simply cooked in the crockpot, then tossed with sauteed onions, peppers, tomatoes and spices, while the vegetables for the sauce are fire roasted on a grill to give the sauce a nice smoky taste.
Usually I prefer green enchiladas, with a green chile sauce made with roasted New Mexico green chiles. I've been making green chile chicken enchiladas for years … but this time I'm trying my enchiladas with a red sauce that I made with the tomatoes and peppers from my mom's garden. I actually made the sauce a little while ago and was just waiting for the time to be "right" to make the enchiladas.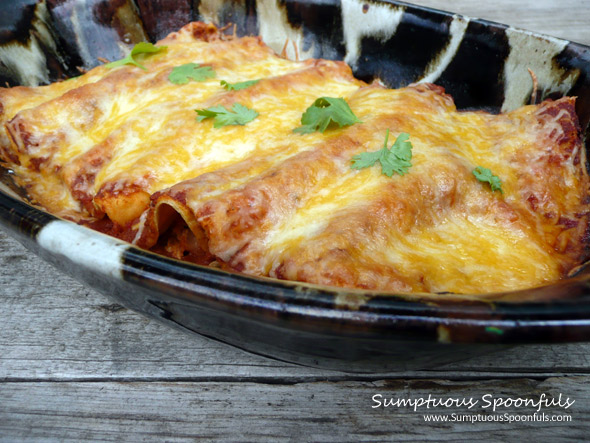 Today for some reason, it felt like it was time to make enchiladas … I didn't make a huge batch. I made just enough to fill this pan … so I'm estimating how many the total recipe will make by measuring the amount of shredded chicken I have left. But I have to tell you I was so pleased with the results! I may just possibly become a "red" enchilada person. I am not sure, really, if I can give up my beloved green sauce … but yes, these smoky red enchiladas have definitely earned their place on my table.
I want to thank Melissa's Southern Style Kitchen who was my inspiration for the filling and my friend Mia from Mia's Domain who suggested making enchilada sauce with my mom's tomatoes.
Smoky Red Shredded Chicken Enchiladas
Ingredients
1 batch of Fire Roasted Enchilada sauce (Recipe here ... or use your favorite red enchilada sauce)
About 20 corn tortillas (5 inches in diameter)
About 4 - 5 cups shredded Mexican blend of cheeses (or mix cheddar and monterey jack)

For the shredded chicken:

2 large chicken breasts (mine were about 1.5 lb total)
1 cup salsa
1 cup chicken broth
1 cup beer
1 teaspoon olive oil
1 cup finely chopped onion
2 - 4 cloves of garlic, peeled and chopped fine
1/2 cup chopped peppers (I used Ancho chile peppers from the garden that I had fire roasted and peeled, but you could use bell peppers too)
1/4 cup salsa
1/2 cup chopped fire roasted (or canned) chopped tomatoes with juices
1/2 teaspoon taco seasoning mix
1/2 teaspoon cumin
1/4 teaspoon cinnamon
1/4 cup fresh cilantro leaves
Instructions
First, make the enchilada sauce. (Recipe here) You can make the sauce ahead of time and keep it in the fridge until you're ready to make the enchiladas.
You can also pre-cook the chicken and keep it in the fridge until assembly time. Simply put the chicken breasts in your crockpot, pour in the salsa, beer and broth and let cook on low for 8 hours or so or until the chicken is fall-apart tender. Take the chicken out of the crockpot and shred it with two forks. Mix in some of the cooking liquid if the chicken seems dry.
Now, heat a large frying pan or wok over medium heat and add the olive oil, then the onion and garlic. Sautee until the onion is soft and translucent, then add the peppers. If the peppers are fresh, sautee them for a few minutes as well. Then add the shredded chicken, salsa, tomatoes, and seasonings and stir and cook for about 10 minutes until the flavors are mixed well. Reduce heat to low to keep the mixture warm while you roll up your enchiladas.
To assemble the enchiladas, first prepare your baking pan by spraying with cooking spray and preheat the oven to 350 F.
Next, you need to soften the corn tortillas so they roll well. This is usually done by dipping them briefly in hot oil, but I have found a couple other methods that work well without adding a lot of fat to the dish. You can either dip the tortilla in the hot enchilada sauce for a minute till it softens, or you can spray the tortilla lightly on both sides with cooking spray and heat in a covered frying pan over medium heat for about a minute on each side. This time I used the cooking spray method.
Once the tortilla is soft, set the tortilla in your prepared baking pan and spread about 1/4 cup of the chicken mixture down the center of the tortilla and sprinkle with a tablespoon or two of shredded cheese. Roll the sides of the tortilla over so it covers the filling and turn the enchilada so the seam side is down. Move it to the side of the pan. Repeat this process until your pan is full of enchiladas.
Pour hot enchilada sauce over the enchiladas, covering them completely, then sprinkle the top all over with shredded cheese. (I used about a cup of cheese to cover 6 enchiladas.)
Bake at 350 degrees for about 25 minutes or until the cheese is melted and bubbly. Serve hot and enjoy!
http://www.sumptuousspoonfuls.com/smoky-red-shredded-chicken-enchiladas/
Copyright 2012 by Sumptuous Spoonfuls. Recipes are meant to be shared! Nothing makes me happier than to hear about someone who has tried one of my recipes. All I ask is that if you are going to share my recipe online, give me credit and a link. And if you want to use one of my photos, please ask first. You can contact me at http://www.SumptuousSpoonfuls.com/contact/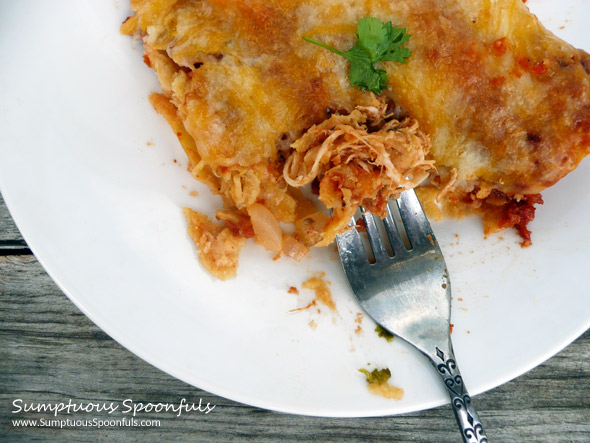 This recipe was shared at Totally Tasty Tuesday, Tasty Tuesday, Wonderful Food Wednesday, Cast Party Wednesday, Wednesday Extravaganza, Full Plate Thursday, Tastetastic Thursday, Frugal Food Thursday, Fantastic Thursday, Fresh Foods Link Up, Recipe Box Linkup, Show off your Stuff, Foodie Friends Friday, Katherine Martinelli's Comfort Food Bloghop, Farm Girl Blog Fest, French Cuisine Friday, Strut your Stuff Saturday, Weekend Potluck, Manic Monday, Back for Seconds, Christmas Leftovers Party, Foodie Friends Friday Crockpot Party, Katherine Martinelli's Cinco de Mayo party and All my Bloggy Friends.