Sweet Hot Habanero Ham & Gruyere Sandwich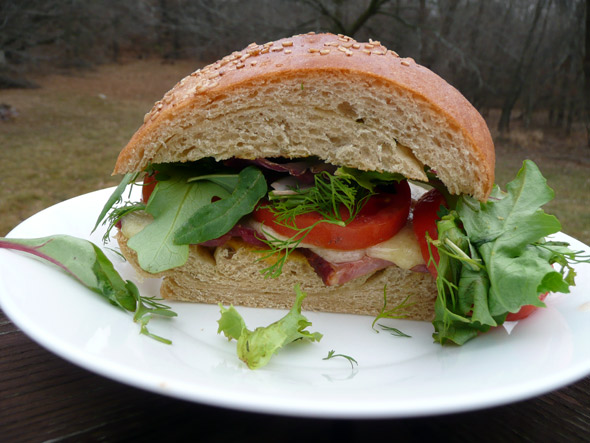 My friends and family take such good care of me. The other night after yoga, we went out for a glass of wine and my friend says to me "I have something for you." … I got really excited because she KNOWS me well.
It was a little jar of habanero jelly. Someone had given it to her for Christmas and she and her family just don't eat hot pepper stuff. She said "I'll give it to Ann … she'll know what to do with it." … I tell you I just about did a happy dance right there in the middle of the restaurant. I love love love hot pepper jelly and there are really so many delicious ways this hot sweet little concoction can enrich your life.
This is one of them.
Sweet Hot Habanero Ham & Gruyere Sandwich
French Bread
Gruyere cheese slices
Lean ham slices
Tomato slices
Herb salad mix
Habanero Mustard Sandwich Spread (recipe below)
Directions:
First, mix up the sandwich spread (recipe below).
Slice off a hunk of your french bread and then slice horizontally. Toast the bottom half lightly.
Warm the ham briefly in a hot frying pan coated with cooking spray, then lay the slices on the bread … top with slices of gruyere cheese. Place it in the toaster oven (or oven) to broil for a few minutes until the cheese is melted.
While the cheese is melting, toast the top half of the bread in the hot frying pan.
Remove the cheesy bottom half of the sandwich and top with tomato, lettuce, and the top half of the bread. And enjoy …
Habanero Mustard Sandwich Spread
1 Tablespoon habanero pepper jelly (or other hot pepper jelly)
1 Tablespoon spicy brown mustard
1 – 2 Tablespoons light mayonnaise
1/2 teaspoon granulated garlic
1/4 teaspoon turmeric
Mix all ingredients well. Use as a spread on sandwiches. Refrigerate leftovers in an airtight container.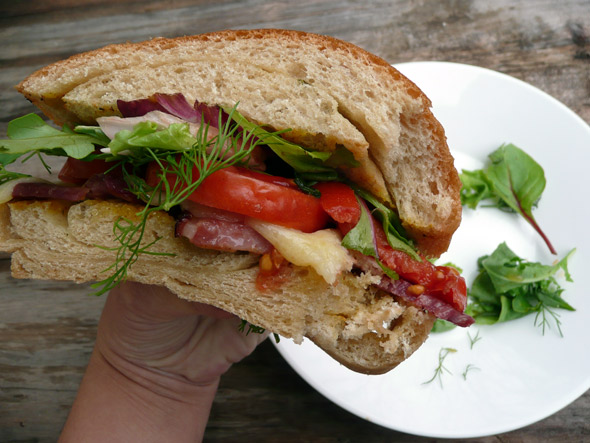 Nom!
This recipe was shared at Trick or Treat Tuesdays, Cast Party Wednesdays, It's a Keeper Thursdays, Full Plate Thursdays, Tastetastic Thursdays and Katherine Martinelli's Pepper Blog Hop.