The Big Cooking Planit T-Fal Cookware Set Giveaway

Hey my foodie friends … I normally don't do giveaways on my blog, but when I was contacted to ask if I would like to participate in this giveaway, this one was too good to pass up. There is this really fun and very useful app (& web site) called Cooking Planit and if you are willing to give it a (free) try, you could win a beautiful shiny new 12-piece set of T-fal cookware. You can win from me or any of the other bloggers who are participating in this HUGE giveaway–there's a total of FIFTY of us. Yes, seriously, they are giving away 50 full sets of this really nice cookware (I already have my set and I lOVE it!), so your chances of winning are really good (like eons higher than a lottery ticket or casino) and it costs you NOTHING to enter. Nada. Zip.
What's Cooking Planit?
It's a very cool app that is designed to help you stay organized an on top of things when you are cooking! You can search for and select recipes, plan meals, set up your shopping list (all organized for you by grocery store isle), then (and this is the coolest part!) Cooking Planit actually takes you step-­by-­step through the cooking process so that your entire meal is ready at at the same time.   You don't need to worry about timing everything right or reading three recipes at once … Cooking Planit does all that for you! Check out Cooking Planit ONLINE or on your IPHONE or IPAD.  I'll be doing a more in-depth review later, but I really encourage you to create a free account and give it a try.
And the cookware?
Oh yes, the cookware! I'm giving away this complete 12-piece set of cookware from T-­fal. This set is made of a new non-­stick stainless steel material called ProMetal ™.  And some of the pans have this cool red dot heat indicator that lets you know when it's hot and ready to cook. I'll be doing a review of the set … but I've already used it to make my Bolognese sauce, cook up the beans for my Black Bean Baba Ghanoush, and tons of other things. All the pans work like a dream! You can learn more about this wonderful T-­fal cookware here. Here's what the set looks like … isn't it gorgeous?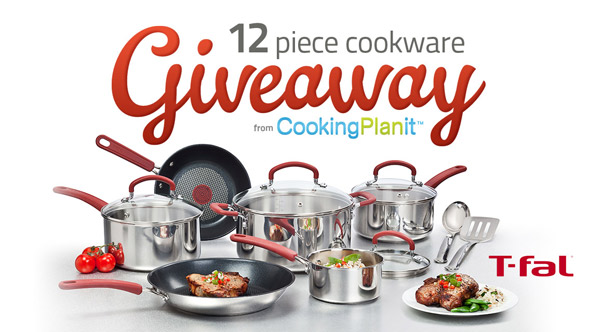 How can you win?
It's really easy. Each week two bloggers will be giving away a set of cookware. Visit the two bloggers' sites during that week and follow their posted instructions to win. I'm posting the schedule below for you. If you don't win the first week, keep trying because yes, you can enter more than one contest! (However, you can only win once.) Each blogger will (most likely) be giving bonus chances to win. The only MUST-have requirement: in order to win you MUST create a free Cooking Planit account. So yeah, extra incentive to try out that cool free app that is going to be your right hand man in the kitchen.
My week is September 9 – 15, so please stop back here and enter MY contest that week! I would love to give you a free set of lovely cookware. And stay tuned to see what meal I'm going to make with my Cooking Planit app. I've been playing with it and trying to decide which of the lovely recipes to make …
The Cooking Planit and T-fal 2013 Giveaway Schedule
Contest is open to US citizens only. Limit one-winner per household/per family from the 50 blogs participating in the promotion. If an individual is the winner of more than one giveaway, they will receive only one set of cookware and an alternate winner will be chosen for the other set(s).