Tomato Basil Bruschetta & a #CookingPlanit Review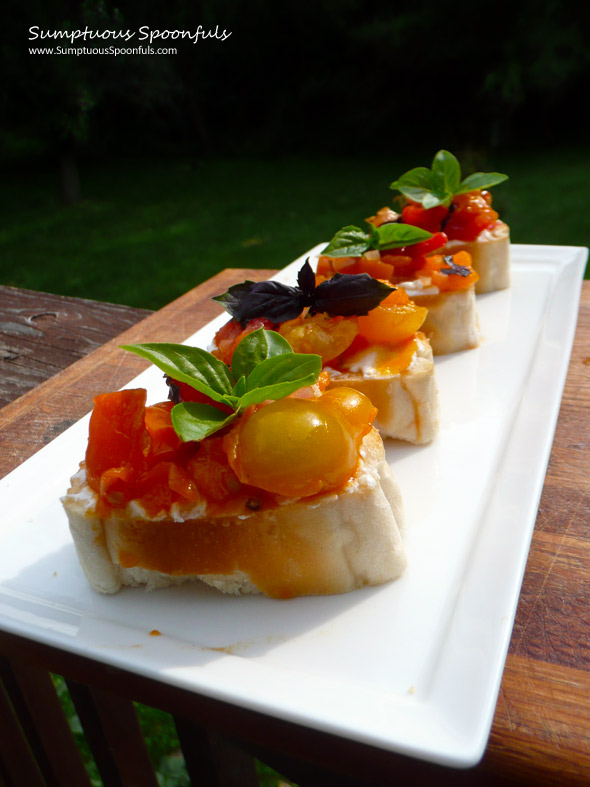 Have you heard about Cooking Planit yet? Maybe you have seen some of the buzz from the 50 bloggers raving about it. It is a really cool cooking app that makes it SO easy to make a meal and have it ALL done at the same time. It organizes things for you, adds everything to your grocery list, then steps you through all the steps ONE step at a time for ALL the recipes in the meal, until your meal is all perfectly complete, all at the same time. It's like having Chef Emily there guiding you every step of the way through your preparation and cooking, reminding you to check on the peppers and don't forget about the toast in the toaster oven, until your perfectly cooked meal is done.
To be honest, at first when I was contacted as one of the 50 bloggers who were chosen to participate in the Cooking Planit TFal Cookware giveaway, I was thrilled, but a little taken aback. They are asking me to make and follow and blog about somebody else's recipe. Can I handle that? Really, it's not like I don't make other people's recipes–I do, yes, but I almost always add my own twist to it. I wasn't sure I could just follow directions.
Well, it turns out you don't actually HAVE to follow the recipe. You can add your own twists to it, deviate from the directions. You don't have to sit and wait when it tells you to, you CAN skip ahead, you can substitute, you can change it up. You just have to remember when it tells you to rinse the kale that you're using zucchini instead, and if you're using quinoa that you cooked ahead of time in place of the orzo, you can just skip over that orzo cooking thing. Heck, you don't even have to measure if you're used to "judging" about how much of something a recipe needs.
Of course if you are one of those kinds of people that just likes to follow recipes, you can totally do it the way that Chef Emily, er I mean, Cooking Planit tells you to. It's totally up to you!
What I LOVE about Cooking Planit
Love that it combines the steps of all the recipes for the meal together so I don't have to think (too much) about what I need to do when for each recipe and try to juggle multiple recipes at one time. 
Love that I can select how many people I'm preparing the meal for (2, 4 or 6).
Love how it tells me how long it's going to take me to make the meal, and it times everything for me. It even gives me little "break times" during meal preparation. Gotta love that!
Love that it suggests lots of meals for me. There's so much deliciousness to choose from!
Love that it tells me when I'm prepping an ingredient for one recipe that I could go ahead and prep it for another recipe too.
Love the dietary restrictions. I just wish it had a few more options, like "low fat" or "low sodium" or "heart healthy".
Love the ability to add all the groceries for the meal to my list with one tap. It took me a minute to figure out how to remove the items I already had from the list, but really that wasn't too hard.  
Love the sing-songy voice on the timer. Well, okay, really I have a love/hate relationship with the timer. On the plus side, if you ignore the timer and keep going about your business, she starts talking to you, in a pleasant reminder, sing-songy sort of way. I LOVE that! It's cute, funny, pleasant, happy. On the minus side, the tone it starts out with is annoying and unpleasant. I hate that! (I am really picky about sounds, by the way.)
Love the sharing and photo options at the end! Oh, you know how I LOVE to take pictures of my food!
What about the recipe? Where's the recipe for that beautiful bruschetta?
You can find the recipe over at Cooking Planit. (Click on ANY of the photos in this post to go there.) Make yourself a free account and try out the app while you're at it! You'll have a head start on getting ready to enter my giveaway (that starts TOMORROW! Eeek! is live now! Go enter!)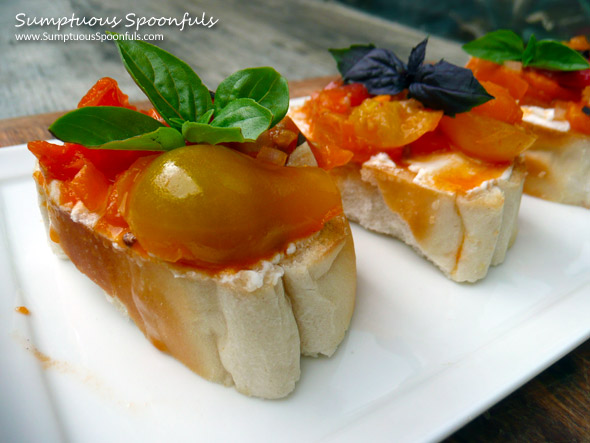 My only change was to sub my sister's colorful, sweet heirloom tomatoes for the beefsteak tomatoes, I upped the garlic quite a bit, and I spread some goat cheese on the bread … just cuz well, you know, I can't properly follow a recipe.
My Cooking Planit Wish List
I love love love the app and the recipes are fabulous, but I do have a few requests for the Cooking Planit developers:
What if I'm cooking for a crowd? This doesn't happen often for me, but it DOES happen when the family gathers together and I would really really love it if you could pretty please provide a way to scale up the recipe to more than 6?

When you are planning a meal, if you do a search for a recipe, then preview the recipe, when you click the "Done" button you lose your search results so you can't add the recipe to your meal. Can you put an "add to meal" button on the preview screen? And preserve my search results after I've previewed a recipe?

Can you remove the "Are you sure?" steps? I really don't need to be told that I've added cat food to my grocery list. I can see it there on the list. It's an unnecessary tap. If you're adding lots of items to the list, this doubles the time it takes me to add them.

Same thing with the timer. When I tell you to dismiss the timer, could you please just do it NOW? While you're at it, can you make the "Dismiss" button easier to see too? It's grayed out like it's not really a tappable option. And could you start the timer sound with a single pleasant "Ding", like I'm happy that something is done, because I should be happily anticipating the completion of my meal, right?

Can you please add some more dietary options, like "low fat", "low sodium" and "heart healthy"?

On my grocery list, I do wish they'd move those items down the bottom of the list once I've tapped them to check them off. I really don't want to look at them again once I've put them in my cart.

Could you maybe add some recipes from my favorite food bloggers? (hint hint… pick me!) Chef Emily's recipes are amazing, but I'm more of a recipe creator than a recipe follower. I am guessing that this isn't just a blogger thing: home cooks will want to add their own recipes too, and then they will want to share them with their friends when their friends and family ask for that fantastic recipe.

Just one more wish … could you let me "prep ahead" some of the recipe so I could get a head start on my meal when I have some time? For example, I can see if I wanted to make some stuffed peppers for a crowd, I'd really want to make the stuffing ahead of time and store it in the fridge till I was ready to make the stuffed peppers. That would make it SO easy to have a gourmet meal on the table in no time.
I'll share the stuffed pepper recipe with you soon. That is the recipe I TOTALLY tweaked! My little heart was singing (right up until the timer went off).
The Cooking Planit and T-fal 2013 Giveaway Schedule
Contest is open to US citizens only. Limit one-winner per household/per family from the 50 blogs participating in the promotion. If an individual is the winner of more than one giveaway, they will receive only one set of cookware and an alternate winner will be chosen for the other set(s).
I was given a set of TFal cookware and the Cooking Planit app as part of the Cooking Planit Giveaway and promotion. As always, all opinions are my own.
This recipe was shared at Scrumptious Sunday, What to Do Weekends, Munching Monday, Marvelous Monday and Try a New Recipe Tuesday.