Time to #GiveAway some #T-Fal #Cookware!

Are you ready? It's time! Wahoo … I'm sooo excited to see who wins this Cooking Planit T-Fal Cookware Giveaway.
Why am I doing this giveaway?
I am participating in the Cooking Planit T-Fal Cookware giveaway with 49 other bloggers. I was given a set of T-Fal cookware and a free Cooking Planit app to review, and the chance to give one of you lucky readers a chance to win the same set!
What is the prize?
You can win this beautiful 12 piece set of T-Fal Stainless Steel Thermo-Spot Cookware.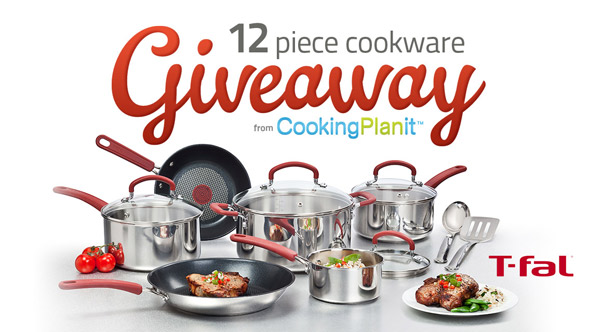 Want to know what I think of the cookware? Check out my T-Fal review here. Are you curious about what I think of the Cooking Planit app? Here's my review of Cooking Planit.
How do you enter?
Go sign up for your free Cooking Planit account, then enter using the little Rafflecopter thingy dingy below. You'll need to enter the email address you used for your Cooking Planit account to enter. Then I gave you lots of bonus chances to win, just cuz I think that's kinda fun.
If you want to (and this is totally optional … doesn't increase your chances of winning, but I do think you're going to love it), if you have an iPhone or an iPad, download the Cooking Planit app to your iPhone or iPad and you're on your way to easy meal planning, shopping and cooking.
When does the giveaway end?
My contest ends on September 15. The winner will be announced as soon as they confirm the entry is a valid Cooking Planit account owner. But that's not the end! There are still more bloggers giving away cookware:
The Cooking Planit and T-fal 2013 Giveaway Schedule
Contest is open to US citizens only. Limit one-winner per household/per family from the 50 blogs participating in the promotion. If an individual is the winner of more than one giveaway, they will receive only one set of cookware and an alternate winner will be chosen for the other set(s).
I was given a set of TFal cookware and the Cooking Planit app as part of the Cooking Planit Giveaway and promotion. As always, all opinions are my own.