Triple Green Crunchwrap Supreme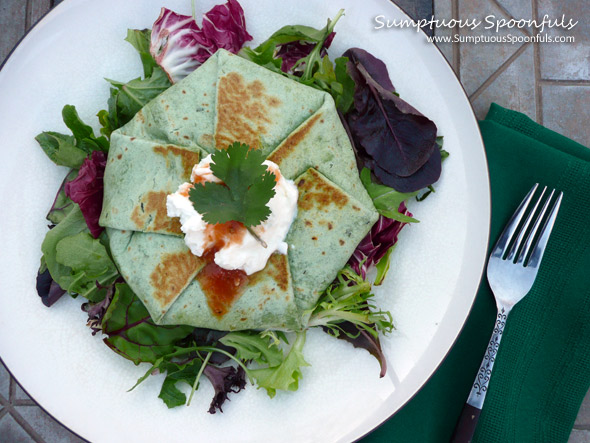 Have you ever been to Taco Bell and had their Crunchwrap Supreme? They take a tostada shell, add some taco meat and toppings and wrap a large flour tortilla around it, and grill it. It's really a cool idea for a portable Mexican style "sandwich" with a crunch factor, except I always wanted a little different twist on it. For one thing, I always want some beans in there. Why don't they schmear that tostada shell with some yummy refried beans before they go wrapping it up? And what's up with that Nacho cheese sauce? Why use cheese sauce … why not real cheese? I never quite understood that bit.
So St Patrick's Day is coming up and the whole foodie universe seems to have turned green and I happen to have some large green spinach wraps in my fridge and I got to thinking … why not make a green crunchwrap? Yeah I know I'm putting some kind of strange Cinco de Mayo twist on St Patty's Day, but so what? I just like putting a different spin on foods and mixing up ethnicities.
So I cooked up some taco meat and started playing … and since we're in Daylight Savings Time now, after I finished making my crunchwrap, I even had time to take a few pictures before dark. How about that?
I have, by the way, done this before (without the green-ness) and last time, I took step by step pictures of how to do this … so if you want to see the "how to" photos, here they are.
Triple Green Crunchwrap Supreme
Ingredients
For each crunchwrap, you'll need:
1 large spinach wrap or flour tortilla
1 tostada shell
Some Creamy Green Avocado Cilantro Bean Dip (recipe here)
Hot, cooked taco meat (chicken or beef, or skip it for a vegie version)
Shredded extra sharp cheddar cheese
Chopped onion, tomato, and/or peppers (whichever you please)
For serving: A bed of greens, Greek yogurt or light sour cream, salsa, cilantro
Instructions
Heat the tostada shell in the oven at 400 for a few minutes till it's good and hot.
Heat a frying pan over medium heat and spray with cooking spray or brush lightly with oil.
Take the large wrap (or flour tortilla) and warm it for about 15 seconds in the microwave to make it pliable.
Set the wrap in the hot frying pan and sprinkle the center of the wrap with some cheddar cheese, hot taco meat and chopped vegies of choice.
Now take the hot tostada shell out of the oven, spread the tostada shell with bean dip and set it on top of the meat and vegies in the frying pan. Add more meat and vegies on top of the tostada and then sprinkle some more shredded cheese on top of the tostada shell.
Fold up the wrap over all this goodness, origami style, holding the folds in place till the bottom of the crunchwrap is toasted and brown (or use a lid from a frying pan to hold it flat while the bottom cooks). (See this post for step-by-step photo instructions.)
Turn the crunchwrap over to toast the "origami" side. Don't worry if the wrap didn't totally enclose the toppings. The middle will just get a little toasted. It'll still be yummy.
When the "top" is toasty brown, set the crunchwrap on a bed of greens and serve with your choice of toppings and garnishes.
Enjoy it while it's hot!
http://www.sumptuousspoonfuls.com/triple-green-crunchwrap-supreme/
Copyright 2012 by Sumptuous Spoonfuls. Recipes are meant to be shared! Nothing makes me happier than to hear about someone who has tried one of my recipes. All I ask is that if you are going to share my recipe online, give me credit and a link. And if you want to use one of my photos, please ask first. You can contact me at http://www.SumptuousSpoonfuls.com/contact/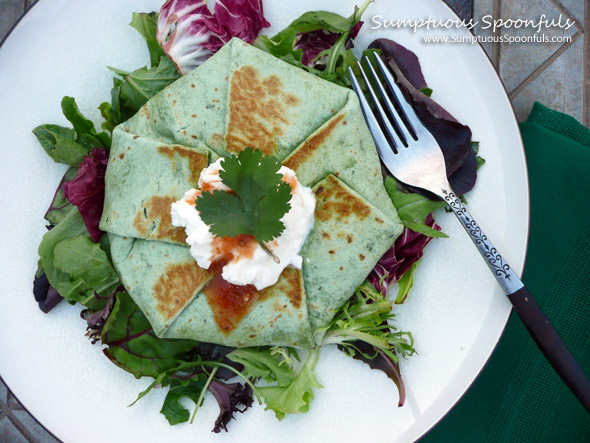 This recipe was shared at Tuesday Talent Show, Tuesday's Table, Try a New Recipe Tuesday, Wonderful Food Wednesday, Cast Party Wednesday, Show & Share Wednesday, Tasty Thursdays, Thursday's Treasures, Full Plate Thursday, Foodie Friends Friday, Katherine Martinelli's St Patrick's Day Bloghop, Manic Monday and All my Bloggy Friends.