Bailey's Irish Cream Chocolate Valentine Truffles

"The story of a love is not important – what is important is that one is capable of love. It is perhaps the only glimpse we are permitted of eternity."
~ Helen Hayes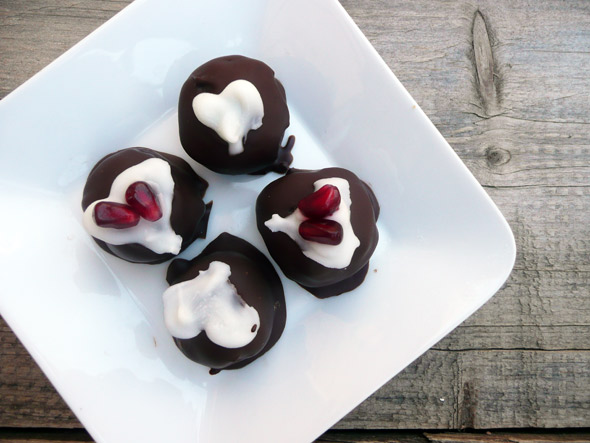 Bailey's Irish Cream Valentine Truffles
Makes 25 – 30 truffles. If you can't find chocolate graham crackers, use chocolate cookies. These are dark chocolate truffles … if you prefer a lighter chocolate, eliminate the cocoa and cappuccino powder and use milk or semi-sweet chocolate in place of the dark chocolate.
For the Filling:
9 chocolate graham crackers (4.8 oz.), crushed and finely ground into a powder
4 oz. light cream cheese
1/2 cup plus 2 Tablespoons of Bailey's Irish Cream (or homemade mocha cream liqueur)
2 teaspoons of good quality vanilla
2 Tablespoons of dark (dutch process) unsweetened cocoa powder
2 teaspoons of vanilla cappuccino powder
2 squares of dark chocolate (I used Ghirardelli 60% dark chocolate … each square is 0.375 oz. or 10.6 g)
1/4 teaspoon cinnamon
1/4 teaspoon pure almond extract
2 Tablespoons Nutella
For dipping and hearts:
White almond bark or white chocolate chips & pomegranate seeds (optional)
Good quality dark chocolate (I used Ghirardelli 60% cocoa … one 4 oz. chocolate bar plus an extra square or two)
Directions:
In a small mixing bowl, mix together all ingredients for the filling until well blended. Cover and chill in a freezer for 30 minutes or longer or until the mixture has firmed up enough to form into balls, but it's not yet frozen hard.
Spray a cookie sheet and your hands with cooking spray and form the filling into balls about 3/4 inch in diameter, setting the balls on the cookie sheet with some space in between them so they don't stick together. If your hands start getting sticky, rinse off all the gooey chocolate mixture, spray your hands and start again until you have all the filling formed into balls.
Set the cookie sheet in the freezer on a flat surface … or, if you happen to live in the frigid north and it's a particularly cold day outside  like it is here today, you can just set them outside to chill for a couple hours.
(This step is optional … you can do a white chocolate drizzle much easier than the hearts, but I thought hearts would be nice for Valentine's Day.) To make the white chocolate hearts, line another cookie sheet with a sheet of waxed paper. Melt a square of the white almond bark and put it in a ziploc bag. Snip off a small corner of the bag and pipe the white chocolate into heart shapes on the waxed paper. If you want, you can stick pomegranate seeds onto the hearts while they are still wet.
Wait 15 – 30 minutes or so till the white chocolate has hardened, then carefully put one hand under the waxed paper and loosen the hearts from the paper, lifting each heart off the paper with your other hand and placing them on a plate.
Set the waxed paper back on the cookie sheet.
Once the chocolate truffle balls are cold and fairly firm, melt the dark chocolate in a bowl or double boiler. Using a spoon, swirl one ball at a time in the melted chocolate to cover it completely, then set carefully onto the waxed paper, taking care not to touch them with your hands. Immediately "glue" one of the white chocolate hearts onto the chocolate-covered truffle before dipping the next one (because the melted chocolate will harden fairly quickly). Set the cookie sheet in the refrigerator (or other safe cold place) until the chocolate is firm.
Store the truffles in a covered container in the refrigerator.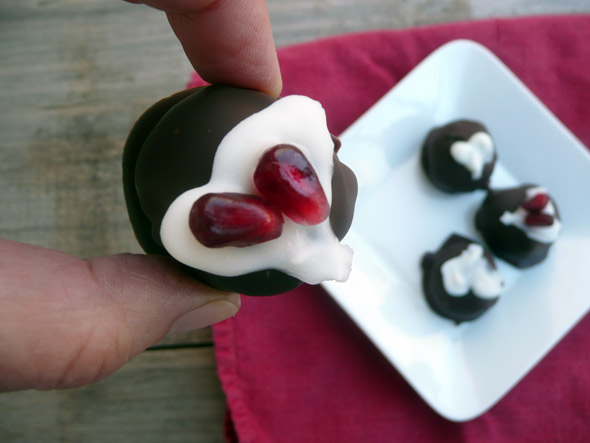 This post is for #chocolatelove … powered by Linky Tools
Click here to see all the other #chocolatelove posts!
This recipe was also shared at Fabulous Valentine's Ideas, a Valentine's Day Blog Hop, Everyday Mom's Church Supper, These Chicks Cooked Recipe Swap, Weekend Potluck, Food of the World-Ireland, and Katherine Martinelli's St Patrick's Day Blog Hop.