Fire Roasting Tomatoes, Peppers &/or Eggplant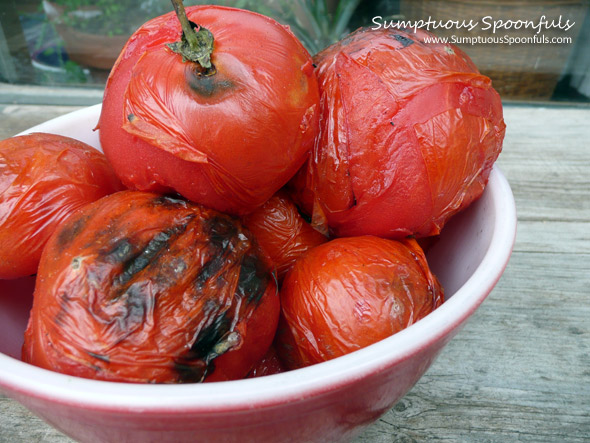 Fire roasting tomatoes and other vegetables is a great way to add a new dimension of smoky flavor to salsas, soups, dips and sauces and it's quite easy to do. Someone asked me how you fire roast tomatoes, so I thought I would do a quick post to show how I do it. I've got some very tasty results by fire roasting vegies on my charcoal grill.
When you have an abundance of tomatoes or peppers from the garden, fire roasting is something different you can do to prep them for canning or freezing. For tomatoes, fire roast them, slip the skins off, cut out the core, and then heat and can like you would normal tomatoes. Peppers can be fire roasted, skinned, chopped and frozen. Eggplant freeze well too.
I like to use these fire roasted tomatoes and peppers in my Fire roasted salsas and my Fire Roasted Red Enchilada Sauce. The fire roasted Eggplant got turned into Baba Ghanoush.
I like to fire roast my vegies on a charcoal grill with natural wood charcoal, but I think you could do this on a gas grill if you prefer.
Light up your grill and when the coals are hot, place the tomatoes directly over the heat. No need to cut them unless they have bad spots … just set the whole tomato right on the grill.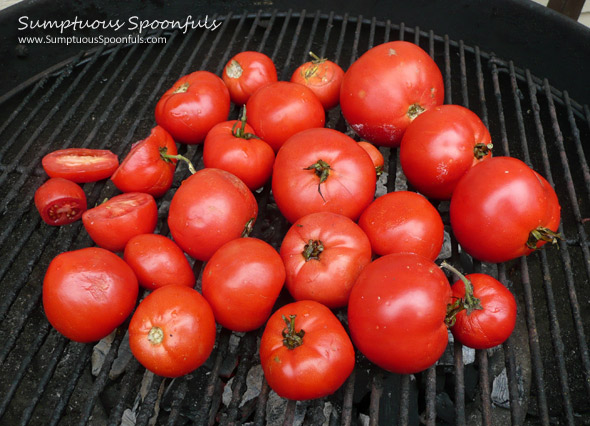 Cover the grill and go away for about 5 minutes. When you come back, the bottom of some of the tomatoes should be charred, others will be orange in color and starting to peel and crack. Turn these tomatoes over to roast the other side and go away for another five minutes.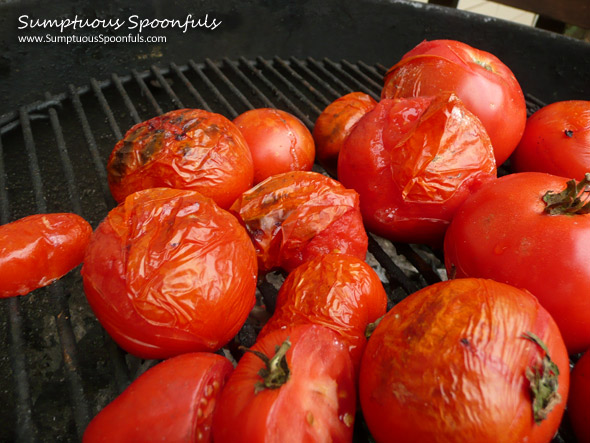 When some of the tomatoes are roasted on all sides, remove them from the grill into a bowl to catch the yummy juices that will drip from the cooked tomatoes and move the ones that aren't fully roasted yet onto the hotter part of the grill to finish.
Once all the tomatoes are done, set them in the bowl and set aside to cool.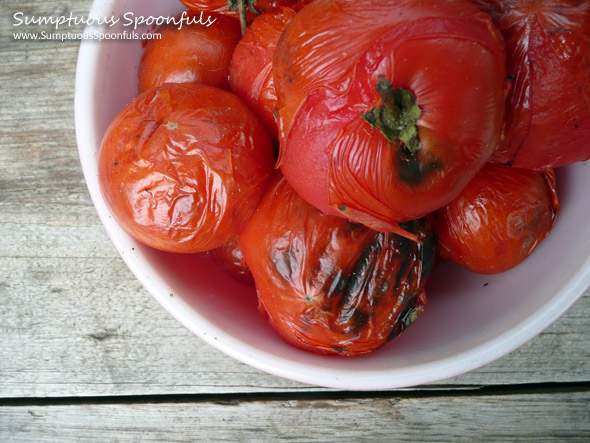 Now, it's the peppers and eggplants' turn. Peppers need no special preparation, but make sure you poke each of the eggplant with a fork before you roast them. If you don't poke the eggplant, there is danger that they might explode and make a big mushy mess. Piercing the eggplant with a fork provides a vent for the steam to release and keep that pressure from building up on the inside of the eggplant.
Okay, now set the eggplant and peppers over the hot part of the grill. You'll notice my eggplant are definitely at the point where they NEED to be processed or tossed.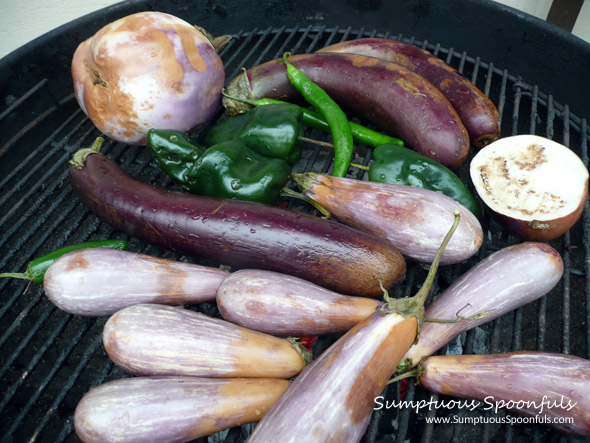 Cover the grill and go away for 5 minutes. When you come back, it's likely the peppers are charred on one side, but the eggplant will need more cooking time. Turn the peppers over if they are charred and black. Cover the grill and go away again. Come back in 5 minutes. The peppers might be done by now. If they are, take them off and put them on a plate to cool. Some of the eggplant might be ready to turn now. You can tell if the skin is charred and black. Turn them over if they are to cook the other side.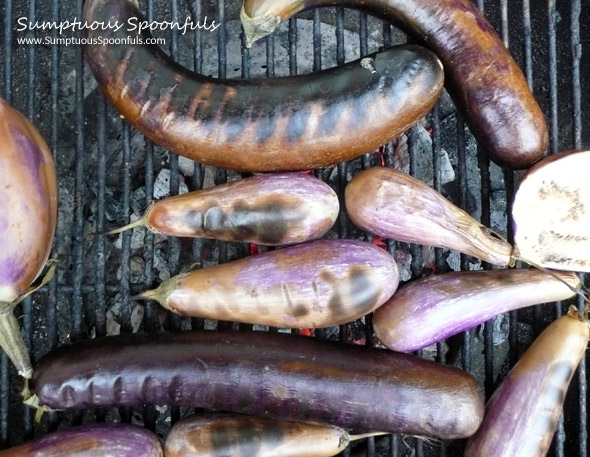 You will need to let the eggplant cook for quite a while longer … I'm not sure exactly  how long … probably 20 minutes for the smaller ones, and up to an hour for bigger ones. Check on them several times and turn them to cook all the sides of the purple fruit. When the eggplant are done, they will be limp and soft.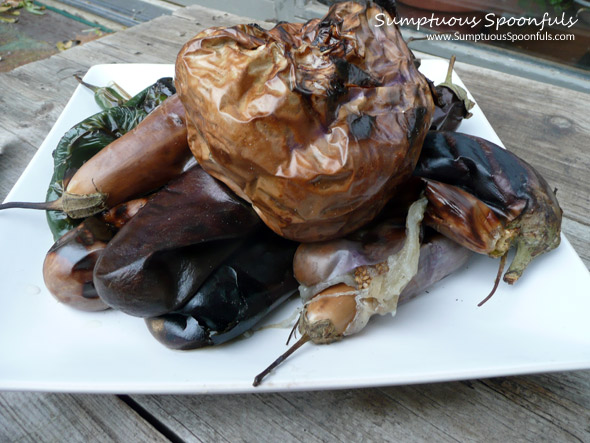 Now after they cool, if you want to peel them, the peels should slip right off the tomato and the peppers.  Sometimes I leave the skins on if I am pureeing the vegetables to give the dish a little more smoky taste.
To peel the eggplant, cut off the stem and make a slit down the side, then use your fingers or a grapefruit spoon to extract the mushy inside from the charred skin.
I find it intensely satisfying and so relaxing to fire roast a bunch of vegies. It gives me time to relax, have a beer, and just be outside with my roasting vegies. They smell SO good while they are cooking!
What do you make with fire roasted tomatoes, peppers, and eggplant? Here are a few ideas:
Tomatoes and peppers:
Eggplant and peppers:
This post was shared at Mix it Up Monday, Tasty Tuesday, Tuesday Talent Show, Wonderful Food Wednesday, French Cuisine Friday, All my Bloggy Friends, Hearth & Soul Bloghop and Clever Chicks Bloghop.